By Andrea Greif |
The more we learn more about the underlying mutations that drive cancer the better we get at more precisely hitting those targets with specialized, less toxic treatments. We now understand that a one-size-fits all approach to treating cancer is ineffective for many patients. As The 62nd American Society of Hematology (ASH) annual Meeting ends, let's take a look at results from studies of targeted therapies that work by interfering with the altered genes that cause cancer cells to grow and spread. Much of the work stems from research supported by LLS.
Precision Medicine in Acute Myeloid Leukemia
More than four years ago, LLS launched its Beat AML Master Clinical Trial, a precision medicine study that uses genomic technology to identify a patient's subtype of acute myeloid leukemia (AML) and matches them with a targeted therapy in one of the Beat AML sub-studies. Eytan Stein, MD, of Memorial Sloan Kettering Cancer Center, presented data from one of those sub-studies on Monday showing that enasidenib is a highly effective drug in newly diagnosed older AML patients with the IDH2 mutation. IDH1 and IDH2 mutations make up about 20 percent of AML patients. Stein said that 47 percent of the patients in the study had a complete response to enasidenib, and the median overall survival was 24.4 months (half the patients were still alive after more than two years).
Patients who did not respond to enasidenib alone were given the drug combined with another drug, azacitidine, whichswitches on a tumor-suppressing gene. Seven out of 17, or 41 percent, of those patients achieved a complete response. Dr. Stein said Beat AML will test enasidenib with other novel agents in patients who are resistant to the drug on its own. The FDA approved enasidenib in 2017 for IDH2-positive AML patients who have relapsed or don't respond to previous treatment; it is being tested in Beat AML as a first-line treatment for newly diagnosed patients. A recent publication about the Beat AML study in Nature Medicine showed that patients in the study generally did better than those who opted for standard treatment.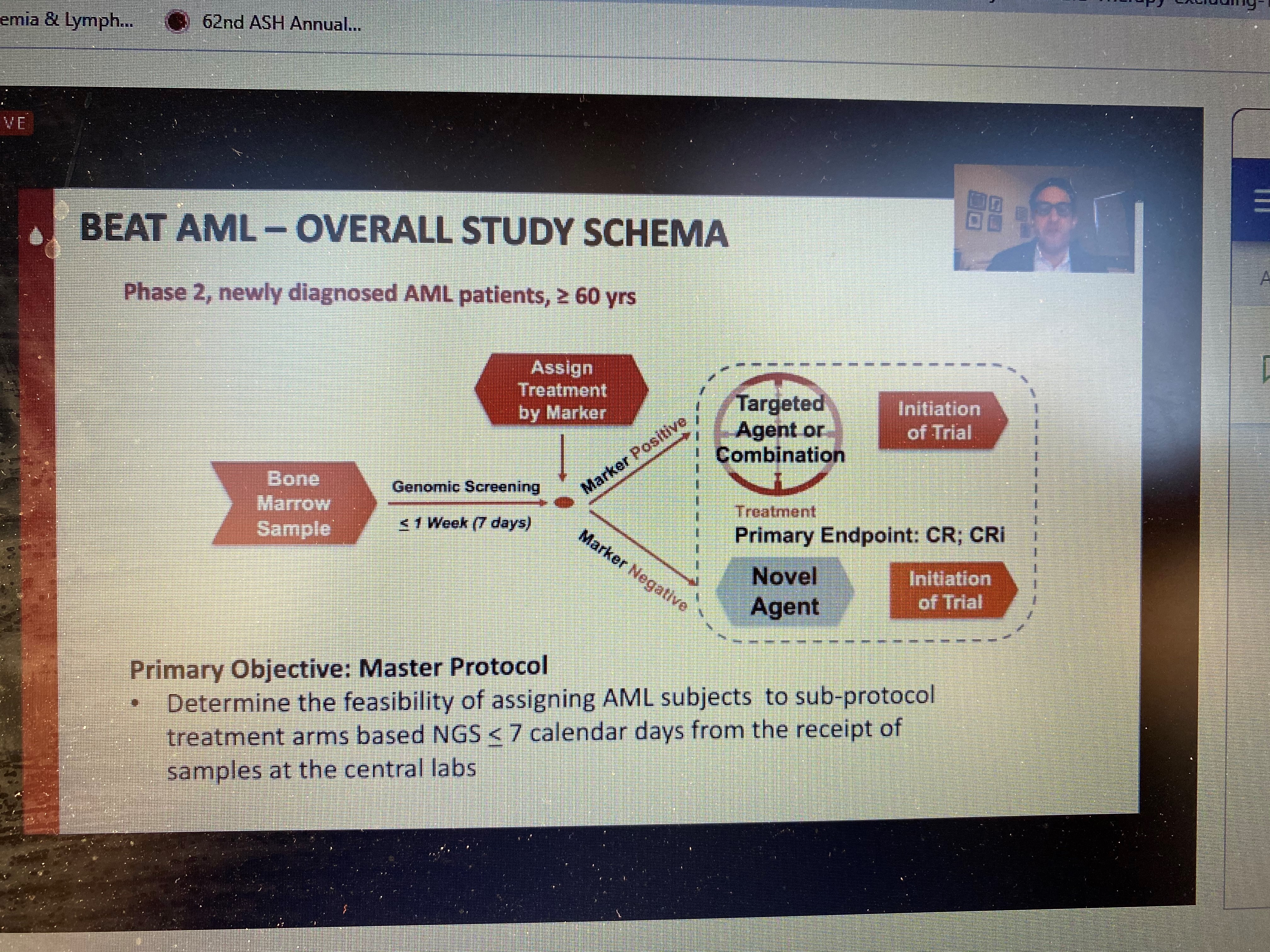 Read More