By Andrea Greif |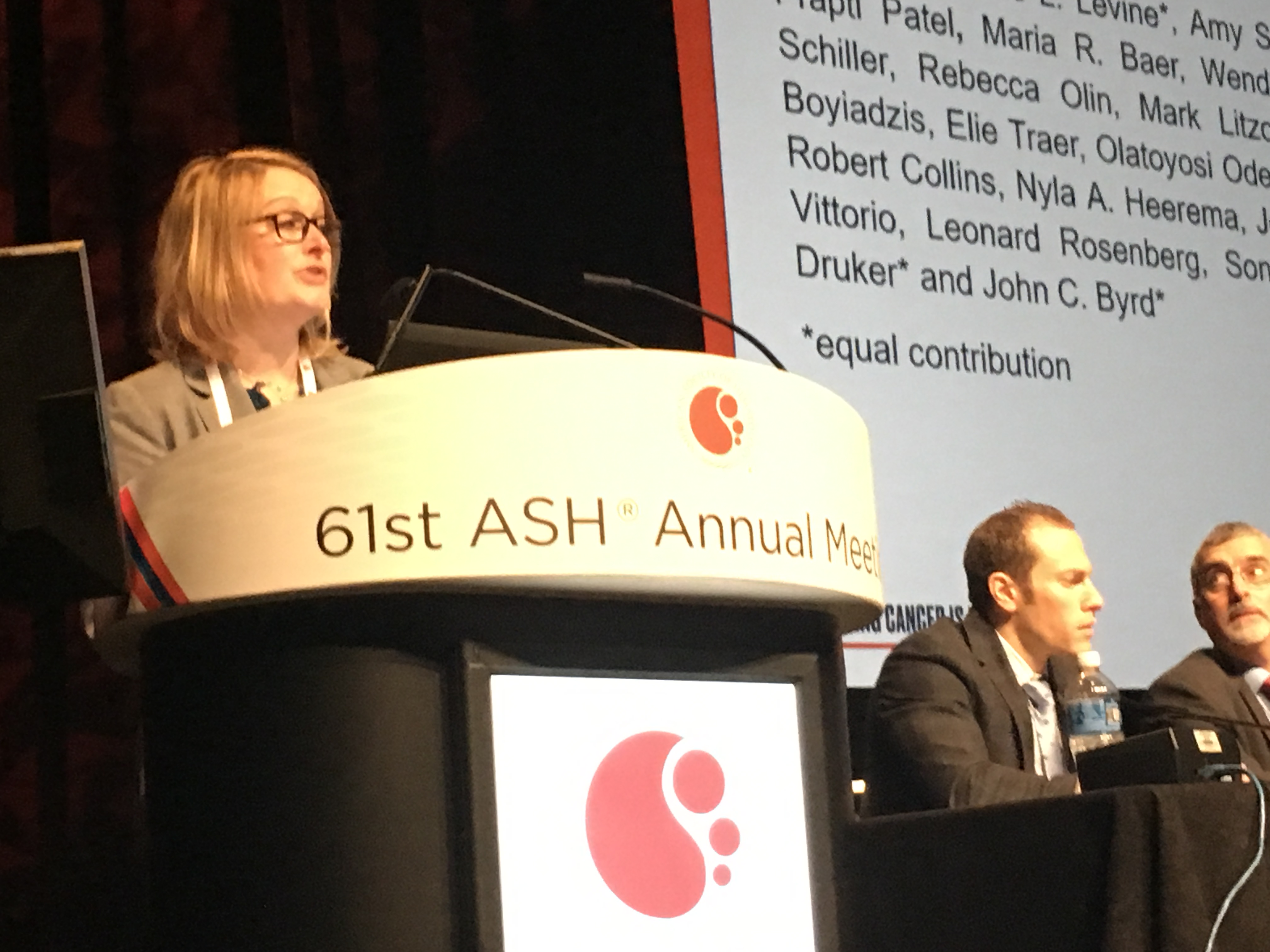 The Leukemia & Lymphoma Society (LLS) launched our Beat AML® master clinical trial in 2016 to revolutionize how we treat patients with acute myeloid leukemia. After forty years of basically doing the same thing and treating AML patients with a one-size-fits-all approach despite it being a disease of multiple subtypes, it was time to try something new. Our study is testing multiple drugs simultaneously at 16 cancer centers around the U.S., using genomic technology to give AML patients the option to try a therapy that has a better chance of working for the specific mutation driving their diagnosis.
We are here in Orlando at the 61st ASH Annual Meeting, and yesterday Amy Burd, Ph.D., vice president of research strategy for LLS, presented an update from the Beat AML trial. The key takeaway: patients on the trial generally do better than patients who opt for standard chemotherapy.
According to Dr. Burd: "We have demonstrated that a precision medicine approach to assigning treatment within seven days is feasible and safe. Patients who elected the assigned treatment had a lower early death rate and superior overall survival compared to patients who elected standard of care. The data suggests that this umbrella approach has the potential to improve both short and long term outcomes in AM, and sets the stage for a precision medicine approach in other blood cancers."
More AML News
Much discussion here at #ASH19 is focused on a drug called venetoclax, considered by many to be a game-changer for many forms of blood cancer. LLS has supported advances in venetoclax over the past two decades, helping to lead to its approval for chronic lymphocytic leukemia. The U.S. Food and Drug Administration approved it in 2018 for AML. Multiple studies presented at the meeting examine venetoclax in combination with other therapies for a variety of blood cancers, including AML.
One study by a team from University of Colorado, including Craig Jordan, MD, who leads a $5 million Specialized Center of Research grant from LLS, looks at why some patients with AML are resistant to venetoclax. Recent clinical trials report that more than 70% of previously untreated older AML patients respond to the combination of venetoclax with the chemotherapy azaciticine, but a subset of AML patients do not respond. The team's study shows that AML patients with a prevalence of a type of white blood cell called a monocyte do not respond to this combination and clearly new strategies are needed for this subset of patients.
After a 40 year drought in new therapies for AML, several new drugs that target specific mutations were approved by the FDA from 2017 to 2019, potentially improving outcomes for certain subsets of AML patients. However, more novel targets are still needed. LLS-funded researcher, Xiangguo Shi, Ph.D., of Baylor College of Medicine, is presenting a study Monday at the ASH meeting discussing the role of a gene called NMNAT1 (nicotinamide nucleotide adenylyltransferase 1) in AML. The study shows that developing drugs that inhibit this gene's activity warrant further consideration.
Read More