By Dean Nelson |
For 36 years, The United Food & Commercial Workers International Union (UFCW) has been a committed supporter of The Leukemia & Lymphoma Society (LLS), raising more than $86 million to drive forward our goal to end blood cancers.
Led by members of the UFCW, Labor Against Cancer is a movement to end the devastation of cancer through fundraising drives among members, retail campaigns, and walking with LLS's Light The Night.
Labor Against Cancer allows members like Dean Nelson, to do what they do best, empower their membership to band together for the good of others in the communities where they work and live. A longtime UFCW member, Dean knows firsthand the urgent need for lifesaving treatments. Here is his story.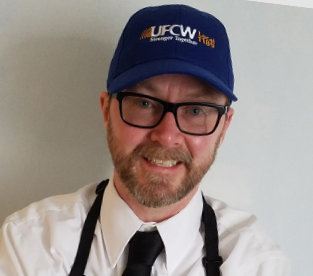 I'm a proud member of UFCW and I've worked as a retail meat cutter for our local grocer CUB foods for 24 years. I've always supported our partnership with LLS because I saw their dedication to find cures for blood cancers and help patients and families in need. Throughout the years, I've attended several of our annual Light The Night Walks with my local UFCW team, but it all became personal for me in June 2014.
After experiencing unusual symptoms such as difficulty breathing, I was diagnosed with chronic myelocytic leukemia. It wasn't an easy journey, but because of the advancement in therapies LLS helped fund, I was in the hospital for just three and a half days, and back to work in less than three weeks.
Next June, I will celebrate five years of being cancer-free and I will continue to give back through Labor Against Cancer and my UFCW Light The Night Walk team.
I can honestly say that I am alive today because of LLS and UFCW. The medication I take is a direct result of research funded by LLS with money raised by UFCW and many others in the fight against cancer. I'm proud to say I played a role in bringing forth the treatment that saved my life. Words of gratitude are hard to express.
Today I am a UFCW board member and I wear a UFCW butcher's cleaver tattoo on my left arm. It's a reminder of my survivor story and I carry it with me always.
Learn more about Labor Against Cancer here.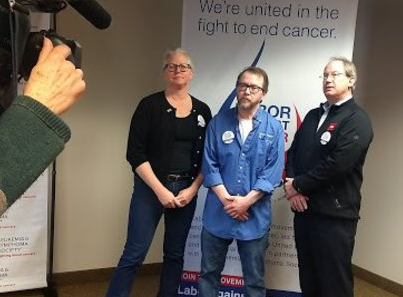 Left to right: UFCW Local 1189 President Jennifer Christensen; UFCW 1189 member, steward and executive board member Dean Nelson; and Cub Foods District Manager Bob Iacono.
Read More