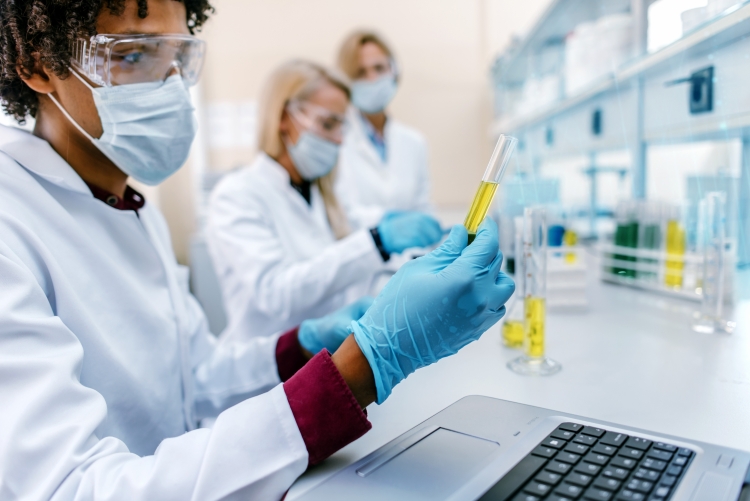 The 2021 American Society of Clinical Oncology (ASCO) Annual Meeting took place last week. ASCO brings together the cancer community to explore the latest advancements in research, treatment and patient care.  
The theme of this year's meeting was "Equity: Every Patient. Every Day. Everywhere." We were particularly gratified to see this topic because as a patient-focused organization, The Leukemia & Lymphoma Society (LLS) stands for all cancer patients, working to ensure they have access to quality affordable care.
The COVID-19 pandemic magnified the pervasive health inequities across the United States. To ensure that all patients can receive the benefits of the latest advancements in medicine, we advocate for health equity in access to cancer treatment.
On day one of ASCO, an education session focused on Addressing Disparities and Access to Care in Blood Cancer, highlighting differences in cancer incidence and ways to increase clinical trial enrollment for underrepresented populations.
LLS National Board Member Dr. Christopher Flowers from the University of Texas MD Anderson Cancer Center discussed disparities in patients with hematologic malignancies. Among the data he reported, the incidence of multiple myeloma among Black individuals is more than double the incidence among white individuals. Data from the National Cancer Institute also shows that more affluent patients, and white patients in particular, are more likely to benefit from available myeloma therapies.  
LLS launched Myeloma Link in 2017 to educate Black Americans about myeloma and help myeloma patients access leading-edge care and navigate the treatment landscape, including enrolling clinical trials, more effectively. Myeloma Link partners with trusted religious, social and medical institutions within Black communities to raise awareness about the disparities in myeloma incidence and access to treatment.
Dr. Karen Winkfield from the Abramson Cancer Center (ACC) at the University of Pennsylvania discussed their five-year community outreach effort to increase enrollment of Black patients into cancer clinical trials. Their efforts more than doubled the percentage of Black participants who enrolled in a clinical trial at ACC from 12% to 24%.
Increasing clinical trial enrollment among Black individuals is not only a matter of equity, but it is also about getting the full benefit of cancer research. We need to increase clinical trial participation overall, particularly among individuals who represent the diversity of the U.S. population, so we can learn how people of different ages, races and ethnicities respond to new therapies.
Earlier this year LLS launched the IMPACT research grants to improve access to clinical trials among geographically, ethnically and economically underserved communities. Each five-year initiative with our inaugural partners, Mayo Clinic, Vanderbilt University Medical Center and Weill Cornell Medicine, anticipates increasing trial enrollment from underrepresented communities to at least 20 percent.
The efforts by LLS and others are promising new starts to ensure equal access to treatment and its benefits are available to everyone.
Reports at ASCO Show Immunotherapies Are Paving New Paths in Cancer Treatment
LLS recognized early on that chimeric antigen receptor (CAR) T-cell therapy, which works by reprogramming T-cells to find and kill cancer cells, would hold great promise for patients with blood cancer. Our ongoing investment in CAR T, beginning in the 1990's, has led to game-changing treatments, giving new hope to patients with limited options and often very poor prognoses.
Today, seven CAR-T therapies are available that treat B-cell precursor acute lymphoblastic leukemia, diffuse large B-cell lymphoma, follicular lymphoma, mantle cell lymphoma and multiple myeloma. LLS continues to invest in CAR T and other immunotherapies through academic grants and our Therapy Acceleration Program® (TAP) to help this list grow so as many people as possible can benefit from this groundbreaking therapy.
Here are some of the highlights from ASCO, starting with CAR-T-therapy for multiple myeloma:
New data shows long-term effectiveness and safety of Ide-cel for multiple myeloma
In March 2020, the FDA approved ide-cel (Abecma®), a BCMA-directed CAR T-therapy for multiple myeloma. This is the first CAR T approved for myeloma and the seventh CAR T approved since the first approval in 2017. Longer-term efficacy and safety results from the KarMMA study reported at ASCO show that at a follow-up time of two years, 73% of patients treated with ide-cell had a partial response with 33% achieving a complete response, meaning their cancer remained undetectable. Patients received similar benefits regardless of the number of treatments they received before ide-cel.
There is also another ongoing study of ide-cel in patients with high-risk, newly diagnosed multiple myeloma. We're looking forward to seeing updates as this trial progresses.
These are just two of the many ongoing and important trials that will help improve care for people with multiple myeloma. LLS has 22 active grants focused on multiple myeloma supporting world-class researchers studying a range of novel treatment options, including clinical strategies to enhance the efficacy of BCMA-directed CAR T-therapy.
Data presented for cilta-cel, which is currently in review by the FDA
Cilta-cel is another BCMA-directed CAR T treatment for multiple myeloma. The data reported at ASCO show that positive results seen earlier in patients in the CARTITUDE-1 trial appear to be durable. A whole year and a half after a single dose of cilta-cel, 98% of patients continue to show a treatment response with no cancer progression in 77% of patients.
As with all CAR T therapies, there can be some serious side effects, but most can be managed.
The U.S. Food and Drug Administration (FDA) granted a priority review designation for cilta-cel based on data from CARTITUDE-1 with a decision expected this November.
Off-the-shelf CAR T-therapies aim for lower costs, quicker patient access
Allogeneic or "off-the-shelf" CAR T-cell therapies have moved into early stages of clinical testing in humans. These therapies use healthy donor T cells instead of reengineering a patient's own cells. This approach could make treatment less costly, almost immediately available to patients with rapidly progressing disease, and avoid manufacturing failures that can occur with CAR T cells derived from the patient.
In a study reported at ASCO, 41 patients with follicular lymphoma or large B-cell lymphoma received ALLO-501, an investigational anti-CD19 CAR T therapy. Three-quarters (75%) of patients responded to treatment and half achieved a complete response. These results are similar to results from already approved CAR-Ts that use the patient's own T-cells.
Of note, no patients in the trial experienced graft-versus-host disease (GVHD), a potentially life-threatening complication that can occur when using cells from donors.
First ever CAR T-therapy being studied for hard-to-treat follicular lymphoma
Also showcased at ASCO was data from the ELARA trial of tisagenlecleucel (Kymriah) in patients with follicular lymphoma that has worsened or returned after earlier treatment. Follicular lymphoma is the second most common form of lymphoma, accounting for 22% of diagnoses.
At 11 months after a one-time infusion of tisagenlecleucel, 86% of patients had a response to treatment with 66% showing no detectable signs of cancer. None of the 97 patients in the trial experienced grade 3 or 4 CRS, which is a common side effect associated with CAR T therapy.
According to the drug manufacturer, tisagenlecleucel for follicular lymphoma will be submitted for FDA for approval later this year.
Although many patients with follicular lymphoma go into a remission that lasts for years after their initial treatment, the disease can often return. CAR T-therapies like tisagenlecleucel have provided hope for patients with a disease that was once considered incurable. Another CD19-directed CAR T-therapy (axicabtagene ciloleucel, known as Yescarta) was recently approved for the treatment of relapsed/refractory follicular lymphoma.
Long-term benefit for patients with B-ALL
Brexucabtagene autoleucel (Tecartus®), which is approved for the treatment of mantle cell lymphoma, is being tested for treatment of adults with relapsed/refactory B-cell acute lymphoblastic leukemia (ALL). ALL is an aggressive type of blood cancer that can also involve the lymph nodes, spleen, liver, central nervous system and other organs. B-cell precursor ALL, or B-ALL is the most common form of the disease, accounting for approximately 75% of cases.
Data from the ZUMA-3 trial in patients with B-ALL were presented at ASCO. More than 16 months after a single infusion of brexucabtagene autoleucel, 71% of patients treated achieved a complete response. However, some had what is considered incomplete hematological recovery (CRi), with deficits in neutrophil or platelet count.
Considering approximately 40%-50% of adult patients with B-ALL relapse following initial treatment, the ZUMA-3 data shows evidence of much-needed progress toward an effective treatment. While longer-term data is needed, it seems brexucabtagene autoleucel will have a place in the management of adults with B-ALL.
According to the manufacturer, the FDA has granted priority review designation for brexucabtagene autoleucel in the treatment of adult patients, and a decision is likely to come later this year.
LLS is relentless in the fight against blood cancer
At LLS, our mission begins with the word cure. We recognize that groundbreaking research will lead us toward the cures we seek. Through the decades, LLS support has been instrumental in the development of nearly every breakthrough in blood cancer treatment. There are many reasons to be hopeful about the future of cancer care and research and I am as optimistic today as I have ever been about the progress in blood cancer.