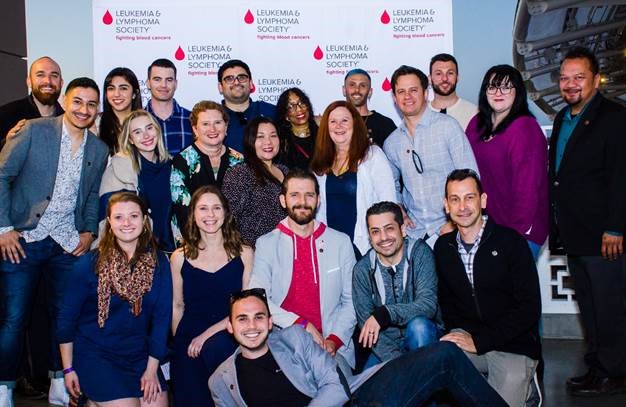 Photo Credit (Jogular Photography)
2019 MWOY Candidates at the official Campaign Kickoff Celebration at LAFC Banc of California Stadium on Sunday, March 24, 2019. Backrow (L-R): Robert Schwenker, Mona Akhiary, Richard Babineau, Naad Banki, Phylliss Bailey Brooks, Caleb G. Hinson, Andrew Jones. Second Row (L-R): Jose Rodriguez, Amanda Montell, Michele Nachum, Jennifer Chadwick, Dawn Krantz, Dave Kuba, Shannon Larner, and Robert Oania. Third Row (L-R): Elizabeth Smiley, Natalie Handler, Kyle Smith, Hosam Solaiman, Peter Steckelman. Fourth Row: Max Landwirth. Not pictured: Sofia Gomes and Paria Sadighi
Twenty-three extraordinary candidates plus one All-Star candidate from across Los Angeles have set goal of raising $2 Million to fight cancer, as they compete in a friendly fundraising competition for the coveted titles of 2019 Man & Woman of the Year.
Leukemia & Lymphoma Society's (LLS) California Southland Chapter celebrated the formal kickoff of the 17th Annual Los Angeles Man & Woman of the Year (MWOY) campaign at the new Los Angeles Football Club (LAFC) Banc of California Stadium on Sunday, March 24th. The evening included an exclusive VIP tour of the Banc of California Stadium for all candidates followed by an evening reception on the stadium's Sunset Deck. Family, friends, and fellow team members were privy to an energetic and inspiring program, where candidates were officially announced. The night featured the MWOY Boy and Girl of the Year – Pierce Kelly (3) and Francis Abu Shanab (13), young blood cancer survivors who shared their testimony of survival and hopes for this year's campaign success. To view more photos from our official kick off, check out our flickr account (MWOY LA Kick Off Album) or photos from our friends at (Air.Cam MWOY LA Kick Off Album).
The 2019 MWOY campaign officially kicked off at midnight on March 25th and will culminate on June 8th at the Grand Finale Celebration at Universal Sheraton Hotel. Information on how to buy tickets can be found below.
2019 MWOY Candidates include:



Mona Akhiary                     Wholesome Humans

Richard Babineau              BiLL$ for a Cure





Naad Banki         ​                           ​

Phylliss Bailey Brooks       Team Blair: Love is Action





Jennifer Chadwick             Faith, Hope, Love

Caleb G. Hinson                Team Youngblood 

Sofia Gomes                      A Team Has No Name

Natalie  Handler                 Nat Attacks Cancer

Andrew Jones                     Live Life Stronger

Dawn Krantz                      Team "Bear"

Dave Kuba                         Reality Fights

Max Landwirth                   #FromTheHeart

Shannon Larner                 ALL in the Family

Amanda Montell                 Lymphomaniacs

Michele Nachum             

Robert Oania    

Jose Rodriguez                   Hemomobbin'

Paria Sadighi                      Dream Big

Robert Schwenker              Every Drop Counts

Elizabeth Smiley                 Team Smiley

Kyle Smith                           Check 15's Cancer Avengers

Hosam  Solaiman                H.O.L.O. (Helping Others, Loving Others)

Peter Steckelman                Making Kids' Lives Better





2019 All-Star Candidate




Libby Fennell
Learn more about our candidates and support their efforts by visiting www.mwoy.org/california-southland/mwoy-los-angeles.
ABOUT MAN & WOMAN OF THE YEAR
Man & Woman of the Year is a spirited campaign which brings together community and business leaders to compete to raise as much money as possible in 10 weeks. All funds raised support the live-saving mission of The Leukemia & Lymphoma Society. Previous candidates have included entrepreneurs, actors, athletes and executives from local and national companies with strong connections to the Greater Los Angeles community. Candidates compete in honor of local children who are blood cancer survivors, the Boy & Girl of the Year.
ATTEND THE MAN & WOMAN OF THE YEAR GRAND FINALE
The Man & Women of the Year Grand Finale takes place on June 8, 2019 at Universal Sheraton Hotel (333 Universal Hollywood Dr, Universal City, CA 91608) from 5:00pm – 10:00pm. The evening will include a silent & live auction, cocktail hour, dinner & an inspiring program celebrating our candidates. Tickets can be purchased through any candidate's website or through our general campaign page: https://pages.mwoy.org/calso/los19/los19
ABOUT THE LEUKEMIA & LYMPHOMA SOCIETY
The Leukemia & Lymphoma Society (LLS) is the largest voluntary health organization dedicated to funding research, finding cures and ensuring access to treatments for blood cancer patients. Since 1949, LLS has been on the forefront of blood cancer advances such as chemotherapies and stem cell transplantation leading the way to the targeted therapies and immunotherapies that are saving thousands of lives today. LLS is changing the landscape of cancer with more than 300 active research projects that explore different avenues of new and adventurous research; ones with promise and ones that will save lives not someday, but today.
Sponsorship and Ad space opportunities are available. Please contact Toni Hull at 310-846-4706 or toni.hull@lls.org