The Leukemia & Lymphoma Society's (LLS) Southland Chapter celebrated its first Greater Los Angeles Light The Night® event with our Valley Walk on October 5th in Woodland Hills, presented by Amgen as the Community and Celebration sponsor of the red lanterns.
Each year, as the world's largest non-profit dedicated to fighting blood cancers, The Leukemia & Lymphoma Society (LLS), celebrates cancer survivors and supporters with an evening walk called Light The Night, a fundraising event to support research and care for people diagnosed with leukemia, lymphoma, myeloma, Hodgkin's disease, and all other blood cancers. Participants join together carrying illuminated lanterns to take steps to end cancer – white for survivors, red for supporters, and gold in memory of loved ones lost to cancer.
This year, the event featured a very special Emcee, Mindy Sterling, from Austin Powers, iCarly, and The Goldbergs! She reminded us the importance of community and supporting one another in every way.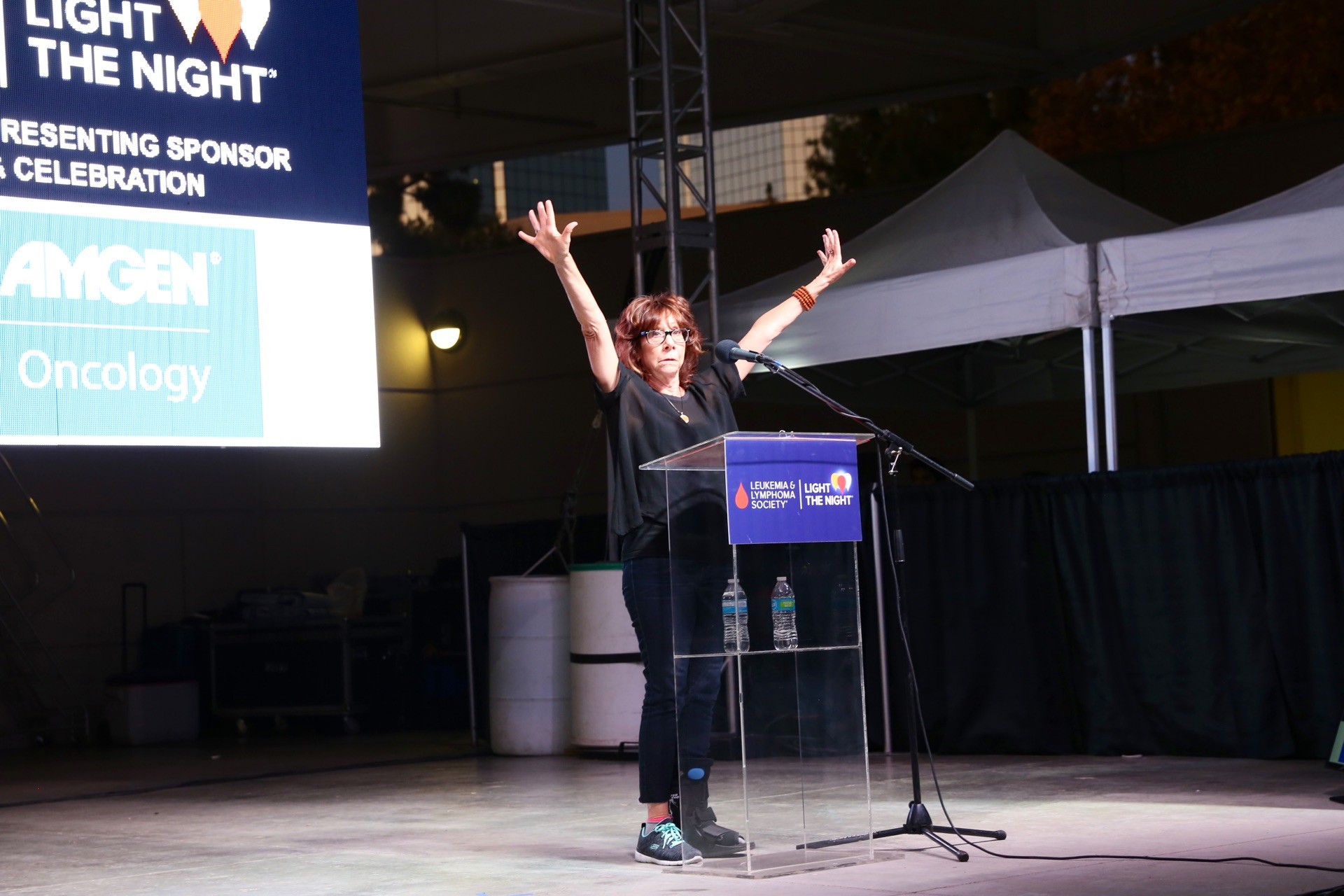 (Emcee, Mindy Sterling, photo credits Elizabeth Dixon, AirCam)
"At Light The Night, it is our aim to bring light to the darkness of cancer through research and cures. We are taking steps to end cancer," said Shannon Sullivan, LLS Executive Director. "The light and warmth we generate delivers hope in time of despair, community in place of loneliness, and life-saving research and support for cancer patients and their families LLS's Light The Night fund treatments that are saving the lives of patients."
This year's event featured incredible fundraisers such as Chaminade Preparatory who had over 600 students come out to celebrate their incredible achievement of over $30,000 raised to support LLS. They were joined by Team Ilana – Stay Strong, who has raised over $20,000 to date, Team Brutzkus Gubner, whose firm has raised over $18,000 to date, Team #melaniestrong, who raised over $10,000 so far, and Presenting Sponsor, Amgen, who also has raised over $20,000 to date, with a goal to raise $50,000 by the end of the year.
The Opening Ceremony featured incredible stories from our special Survivorship speaker, Aubrey Kelly, from Amgen, who shared her son, Pierce's, fight with blood cancer. Pierce wore his survivor shirt with pride as he stood with his mom on stage as she shared their incredible story.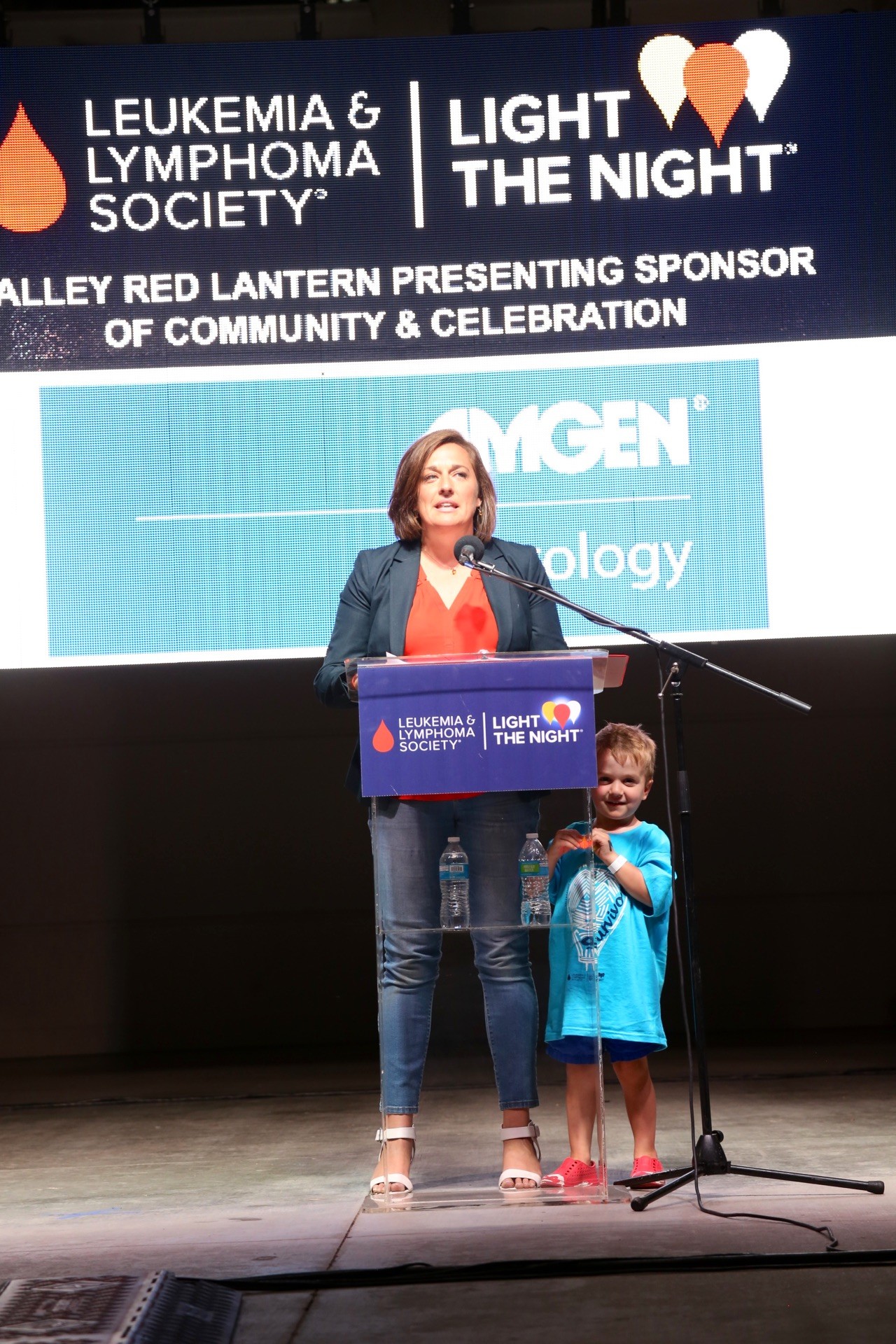 (Aubrey Kelly, from Amgen, photo credits Elizabeth Dixon, AirCam)
They were joined by our lantern holders, Selena Clark for gold, in memory and honor of multiple family members; Melanie Meyer for white, to celebrate her survivorship journey; Jeff Kobulnick for red, as long time supporters of LLS and the Valley Walk with the Brutzkus Gubner team.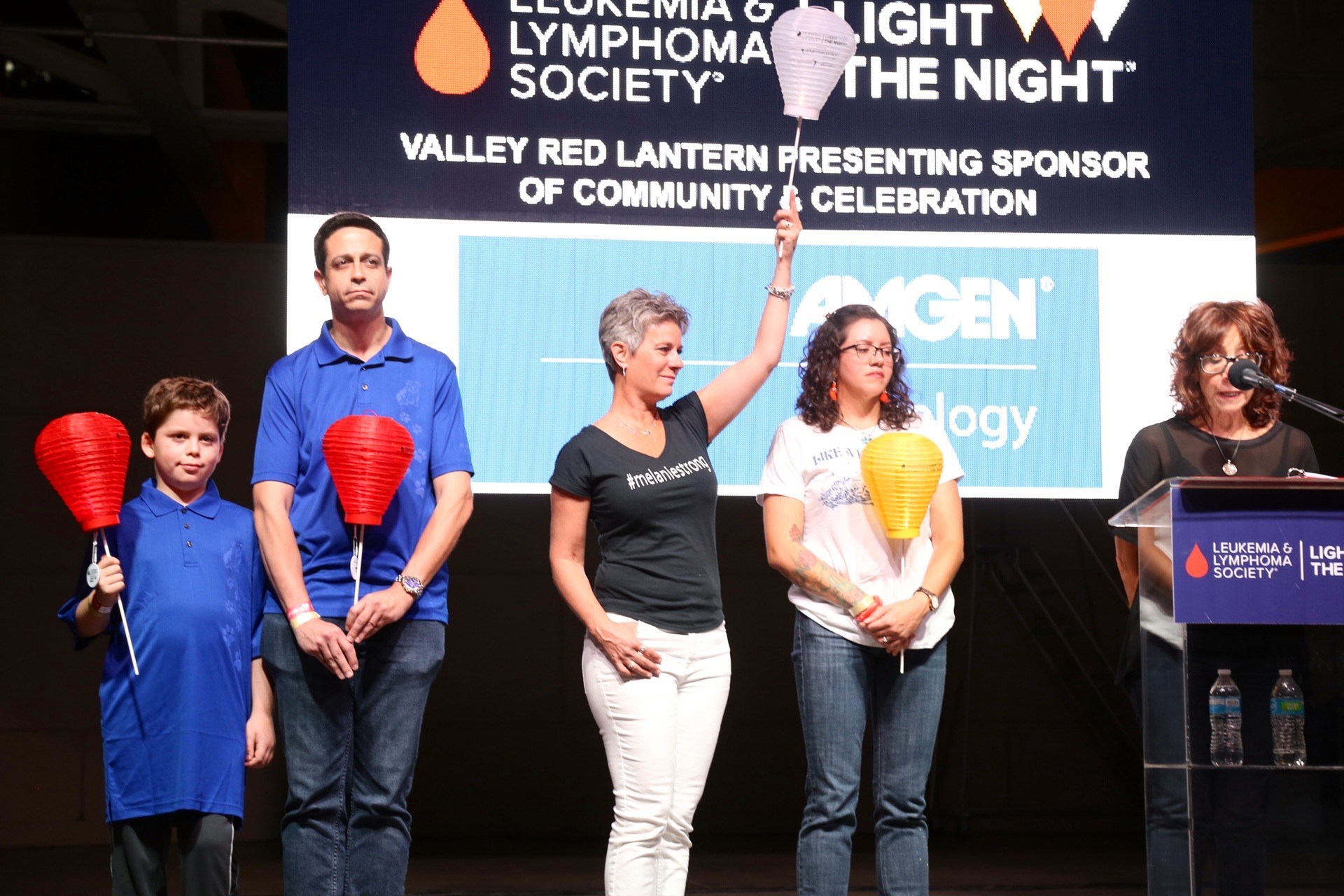 (From L to R: Jeff Kobulnick, Melanie Meyer, Selena Clark, and emcee Mindy Sterling, photo credits Elizabeth Dixon, AirCam)
LLS was founded by a family for families, beginning 70 years ago at a time when a diagnosis of leukemia was nearly 100% fatal. Now, with the development of new treatments for childhood leukemia, to today's advances in precision medicine and immunotherapy, LLS has had a colossal impact on advancing cancer cures, and changing the way cancer is treated and the care for patients. Since 2017, 51 new blood cancer treatments and therapies have been approved by the FDA and LLS funded 45 of them!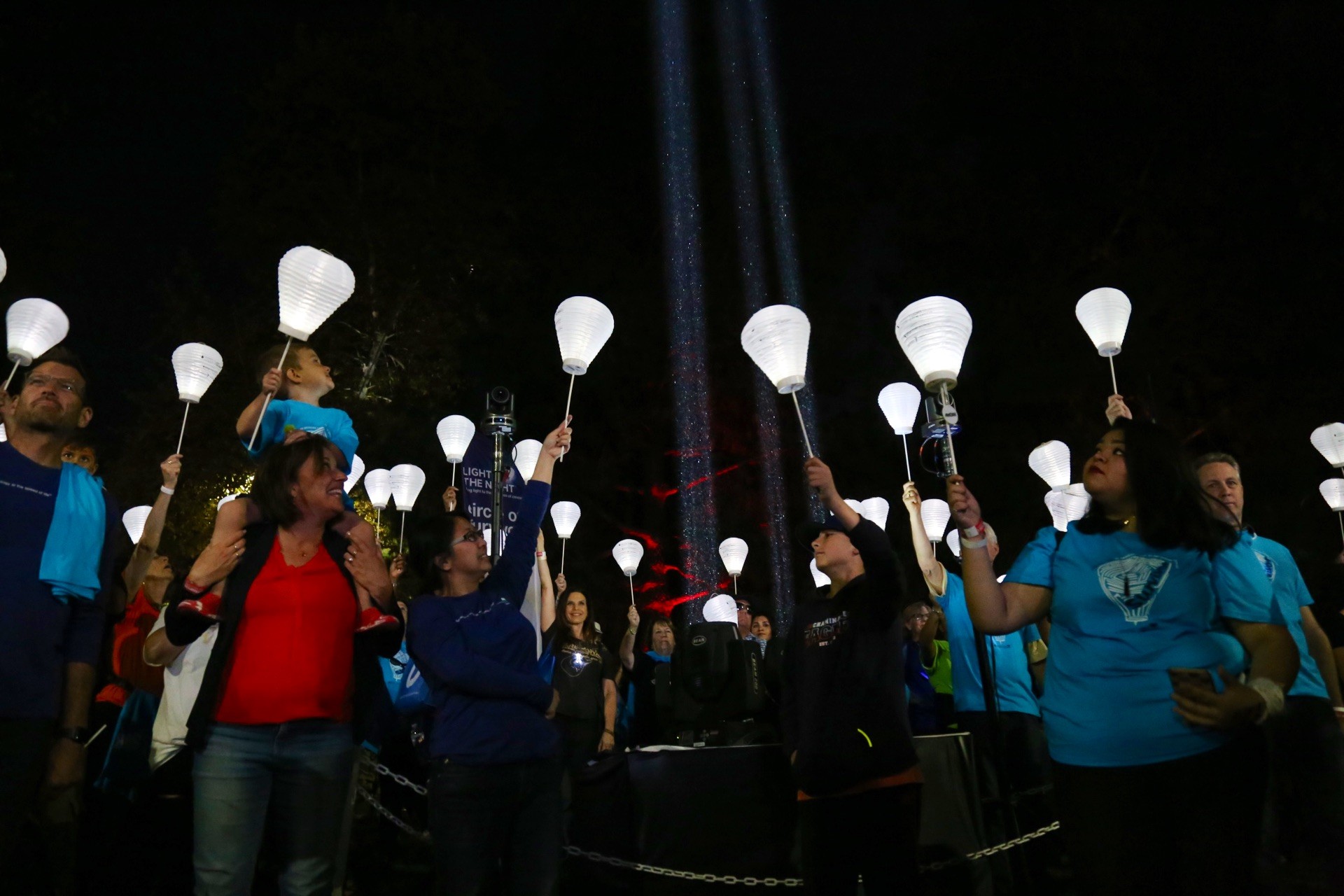 (Survivor Circle, photo credits Elizabeth Dixon, AirCam)

A special heartfelt thank you goes out to all of our local sponsors who make this incredible event happen! Red Lantern Presenting Sponsor of Community and Celebration, Amgen, along with incredible companies: Anthem, Brutzkus Gubner, TGI Fridays, Astrazeneca, Wendy's, and Walgreens!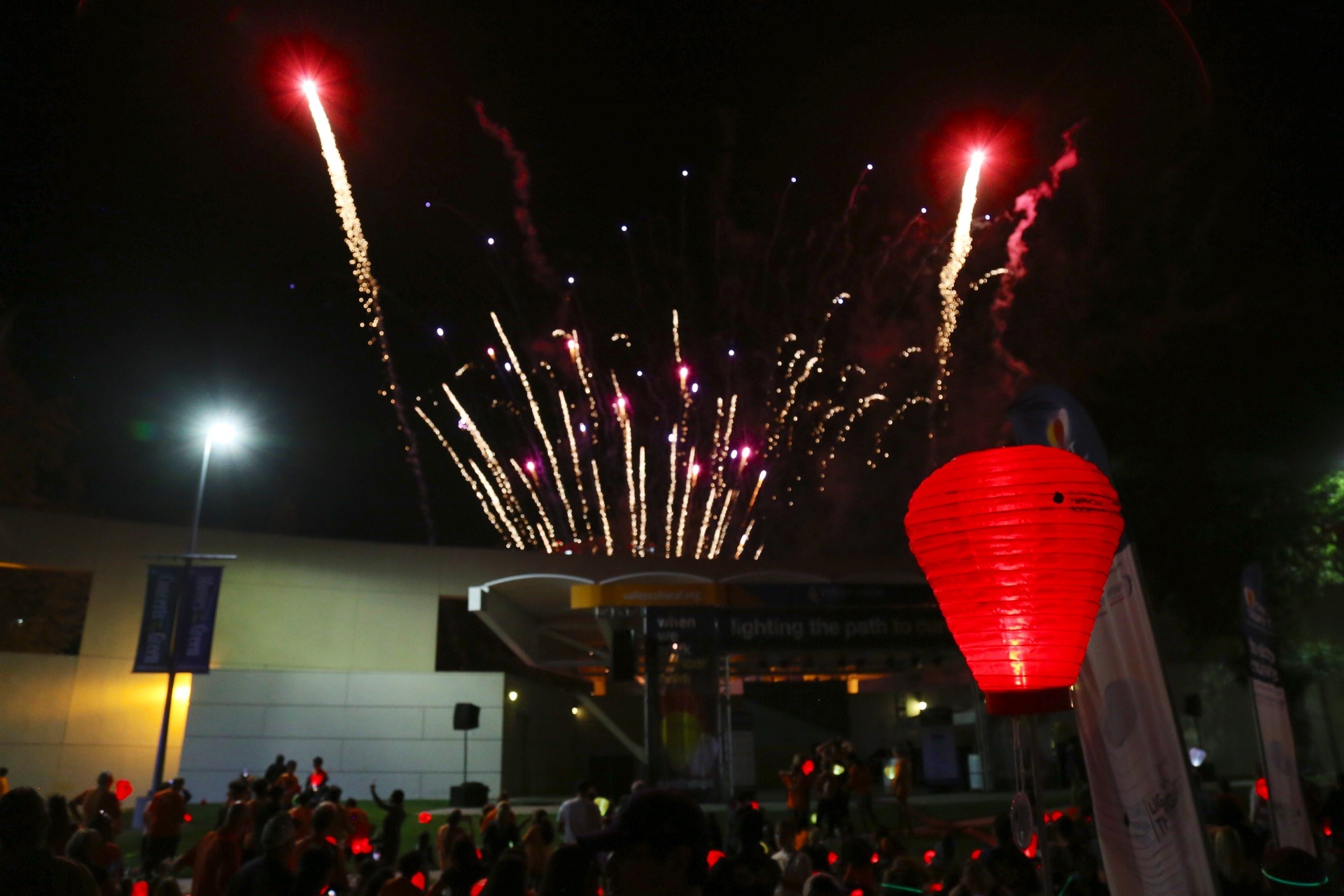 (Firework Finale, photo credits Elizabeth Dixon, AirCam)

To learn more about Light The Night, please call the California Southland Chapter at (310) 342-5800 or visit www.lightthenight.org/calso.