The Leukemia & Lymphoma Society California Southland Chapter was honored to participate in one of 450 Community Summits convened on Friday, September 21, 2018, as part of the Biden Cancer Summit. The effort, inspired by Biden's Cancer Moonshot Initiative, brings together thousands of people to focus national attention on the "urgency of now" to create actionable solutions in the fight against cancer.
LLS Advocacy Volunteer and Survivor Virginia Garner represented The California Southland Chapter at a Biden Cancer Summit event hosted by Congressman Brad Sherman, a member of the U.S. House of Representatives who represents California's 30th congressional district with the San Fernando Valley. Additional attendees included Scott Abrams, District Director for Congressman Sherman; Primo Castro, American Cancer Society Cancer Network; Deborah Stambler, Program Director, weSpark Cancer Support Center; Michael Tou, Director Government Relations - California, Providence St. Joseph Health; Brian Hammel, President, Northridge Hospital Foundation; and Casey Barbiera, RN, Director of Cancer and Palliative Care at Northridge Cancer Center.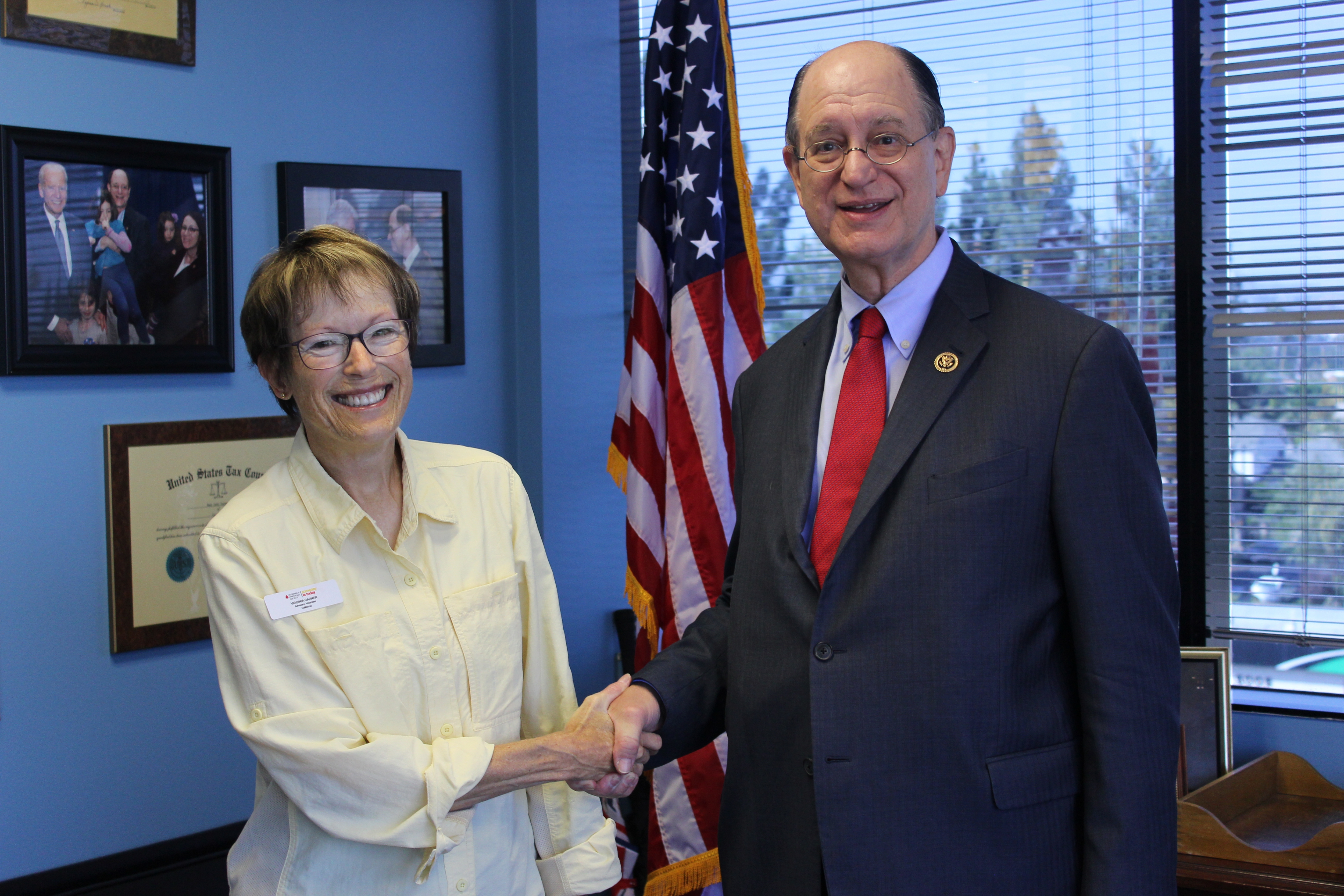 The discussion focused on patient access to lifesaving medications and what organizations are doing to help patients afford these treatments. Also discussed were access to enrolling in both public and private insurance plans, quality of benefits and services meeting minimum standards, research funding, and prevention.
Locally, LLS provides resources including financial support to patients and families. In the past year, 700 blood cancer patients received $1.3M in direct financial support to help pay for blood cancer treatments and travel expenses.
At the conclusion of the meeting, Congressman Sherman committed to looking into what actions are needed at the federal level to make cancer patients' lives easier and to bring us closer to cures and more effective treatments.
"This meeting was the beginning of a new collaboration that hopefully will lead to actions that will bring us closer to a world without cancer," said Garner.

About the Biden Cancer Initiative
The Biden Cancer Initiative (www.bidencancer.org) develops and drives implementation of solutions to accelerate progress in cancer prevention, detection, diagnosis, research, and care, and to reduce disparities in cancer outcomes. Through the Biden Cancer Initiative, Vice President Joe Biden and Dr. Jill Biden build on their work to inject a sense of urgency into the cancer research and care enterprise and to re-imagine how the government, academia, nonprofits and the private sector can better organize their resources and systems to collaborate to take on cancer, with the patient as the focus. The Initiative is a major convening force in driving new actions and collaborations toward ending cancer as we know it.

About The Leukemia & Lymphoma Society
The Leukemia & Lymphoma Society (LLS) is the largest voluntary health organization dedicated to funding research, finding cures and ensuring access to treatments for blood cancer patients. Since 1949, The LLS has been on the forefront of blood cancer advances such as chemotherapies and stem cell transplantation leading the way to the targeted therapies and immunotherapies that are saving thousands of lives today. LLS is changing the landscape of cancer with more than 300 active research projects that explore different avenues of new and adventurous research; ones with promise and ones that will save lives not someday, but today. Learn more at www.lls.org.
The California Southland Chapter, headquartered in Los Angeles, empowers community members to help beat cancer through Light The Night, Man & Woman of the Year, Students of the Year, Team in Training, and Pennies for Patients. We also offer patient and health care professional education opportunities, local support groups and a variety of volunteer opportunities. To learn more, please visit www.lls.org/california-southland or call 310-342-5800.

To learn more about LLS Advocacy initiatives, visit www.lls.org/policy-advocacy.