Whether a child sees a loved one going through treatment or if they have been diagnosed with cancer themselves, dealing with cancer can be a scary experience. Browse the list below for books that can help your child cope.
Stars Will Twinkle, The Sun Will Shine
Stars Will Twinkle, The Sun Will Shine: The Story of Olivia's Leukemia
By Teresita Blake Kellenyi, Illustrated by Angie Jones
The Leukemia & Lymphoma Society, 2022 Each book is between 28 and 32 pages
ISBN 979-8-9850032-6-0
Ages 4-11
Available in English and Spanish

Written and illustrated to explain the cancer journey to young children. Follow Olivia and her family in this 3-book series as Olivia is diagnosed with leukemia, goes to the hospital for treatment and returns to school.  Book one Under the Weather In this first story, Olivia is diagnosed with leukemia.  Book two Stars Will Twinkle, in this second story Olivia goes to the hospital for treatment of her leukemia.  Book three Home Sweet Home, in the third story Olivia is back home after her hospital stay, has a relapse that sends her back to hospital. Before long she is better, back home, and back at school.

To order call an Information Specialist at (800) 955-4572
 
The Year My Dad Went Bald: A Tale of Cancer, Chemo and Coping with a Cold Head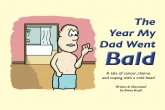 The Year My Dad Went Bald: A Tale of Cancer, Chemo and Coping with a Cold Head
By Brian Kraft
Bang Press, 2010, 36 pages
ISBN 9780615421544
Ages 6-12
A cancer diagnosis is always shocking, but the sickness of a parent is an especially scary time for kids.  A heartwarming and informative story of how a young boy copes with his father's cancer diagnosis and treatment. Written and illustrated by a lymphoma survivor, and told from the perspective of his 9-year-old sports-loving son, this book will help any family facing the fear and challenges of cancer better understand how the disease will impact their children.  Perfect for kids 6-12 years old, with easy-to-understand explanations of conditions and treatments, a resource guide, and even famous people who have faced cancer.
For more information: theyearmydadwentbald.com
My Book About Cancer

Developed by Rebecca C. Schmidt, M.Ed.
Oncology Nursing Society, 2003, 54 pages
ISBN: 1890504335: Mother ISBN: 189050436X: Father
Ages 3 to 8
This workbook for children, created by the Oncology Nursing Society (ONS), is available in two versions - one for the child whose mother has cancer and one for the child whose father has the disease. It provides an avenue for young people to explore their thoughts and feelings about the cancer of a parent. Children are supported to create and discuss their own book of experiences. With the help of parents, grandparents and other loved ones, children can identify their feelings, apprehensions, fears and concerns as the family progresses through diagnosis and treatment. Developed as well for use by helping professionals.