Whether a child sees a loved one going through treatment or if they have been diagnosed with cancer themselves, dealing with cancer can be a scary experience. Browse the list below for books that can help your child cope.
Don't Despair on Thursdays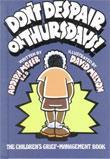 Don't Despair on Thursdays By Adolf Moser, David Melton (Illustrator)
Landmark Editions, Inc., 1996, 61 pages
ISBN: 0933849605
Examines, in simple text, how to deal with feelings of grief when people or pets die or when friends move away.