An accurate diagnosis of the type of leukemia is important. The exact diagnosis helps the doctor to
Estimate how the disease will progress
Determine the appropriate treatment.
Diagnosing acute myeloid leukemia (AML) and your AML subtype usually involves a series of tests. Some of these tests may be repeated during and after therapy to measure the effects of treatment.
Tests Your Doctor May Use to Diagnose AML
Blood and Bone Marrow Tests
Blood and bone marrow tests are used to diagnose AML and the AML subtype. A change in the number and appearance of blood cells helps to make the diagnosis. AML cells look similar to normal immature white cells. However, their development is incomplete.
Blood Tests
Blood samples are generally taken from a vein in the patient's arm. Your blood is sent to a lab for:
A complete blood count (CBC), which counts the number of red cells, white cells and platelets in your blood. Usually, patients with AML have lower-than-expected numbers of red blood cells and platelets.
A peripheral blood smear, which shows the presence of leukemic blast cells (myeloblasts). A person with AML usually has too many leukemic blast cells in the blood. These cells do not function like normal cells.
Bone Marrow Tests
Samples of marrow cells are obtained by bone marrow aspiration and biopsy. Bone marrow testing involves two steps usually performed at the same time in a doctor's office or a hospital:
A bone marrow aspiration to remove a liquid marrow sample
A bone marrow biopsy to remove a small amount of bone filled with marrow
Both samples are examined under a microscope to look for chromosomal and other cell changes.
Other Tests
"Karyotyping" and "cytogenetic analysis" are processes used to identify certain changes in chromosomes and genes. A laboratory test called "polymerase chain reaction (PCR)" may be done, in which cells in a sample of blood or marrow are studied to look for certain changes in the structure or function of genes, such as FLT3 and NPM1.
Diagnosing AML
In addition to looking at the number and appearance of the cells in the blood samples, your doctor will also order other tests to
Confirm the diagnosis
Identify the AML subtype
Develop a treatment plan.
Your doctor will work with a hematopathologist to confirm the diagnosis. A hematopathologist is a specialist who studies blood cell diseases by looking at samples of blood and marrow cells and other tissues.
The diagnosis of AML is confirmed by identifying:
Leukemic blast cells in bone marrow samples
The percentage of blast cells. Blasts are normally 1 to 5 percent of marrow cells. Having at least 20 percent blasts is generally required for a diagnosis of AML. But AML can also be diagnosed if the blasts have a chromosome change that occurs in a specific type of AML, even if the blast percentage is less than 20 percent.
Characteristic markers (antigens) on the surface of blast cells, such as CD13 or CD33 (CD is an abbreviation for "cluster designation").
Cells based on the types of markers (antigens) on the cell surface, using a process called "immunophenotyping." "Flow cytometry" is the name of one test that may be used to do immunophenotyping.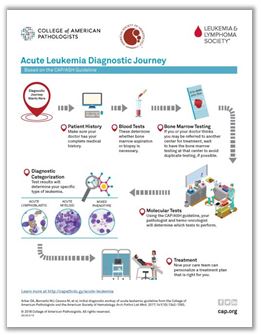 Click here for the steps involved with a new diagnosis of acute leukemia.

Chromosome and Gene Abnormalities
About 60 percent of people with AML have abnormal chromosomes (number and/or structure). These may affect a patient's response to treatment. Certain changes to chromosomes and genes can provide important information for risk assessment and treatment planning.
AML patients with normal chromosomes may have genetic mutations. Your doctor will perform a molecular analysis on your cells to identify genetic changes. See the LLS fact sheet, Cancer Molecular Profiling for more information.
Access the booklet Acute Myeloid Leukemia for a full listing of chromosome and gene abnormalities.
---
Newly Diagnosed Checklist
The College of American Pathologists (CAP) and the American Society of Hematology (ASH) provide practical guidance for patients and caregivers coping with a new diagnosis of acute leukemia. This checklist will help ensure that you receive the best treatment for your unique situation: Click Here
---
---
Related Links