An accurate diagnosis of the type of leukemia is important. The exact diagnosis helps the doctor to
Estimate how the disease will progress
Determine the appropriate treatment
Diagnosing acute myeloid leukemia (AML) and your AML subtype usually involves a series of tests. Some of these tests may be repeated during and after therapy to measure the effects of treatment.
Tests Your Doctor May Use to Diagnose AML
Blood and bone marrow tests are used to diagnose AML and the AML subtype. A change in the number and appearance of blood cells helps to make the diagnosis. 
Blood Tests
Blood samples are generally taken from a vein in your arm. Your blood is sent to a lab for the following tests:
A complete blood count (CBC) with differential counts the number of red cells, white cells and platelets in the blood. The CBC should include a differential, which measures the numbers of the different types of white blood cells in the sample. People with AML often have a high number of white blood cells, but most of these are leukemia (blast) cells that do not protect against infection. They may also have a low number of red blood cells and platelets.
A peripheral blood smear examines the number, shape and size of the red blood cells, white
blood cells and platelets to determine whether there are leukemia (blast) cells in the blood. In patients with AML, many of the white blood cells in the sample may be immature or leukemia (blast) cells which are not normally found in the circulating blood.
Bone Marrow Tests
Samples of marrow cells are obtained by bone marrow aspiration and biopsy. Bone marrow testing involves two steps usually performed at the same time in a doctor's office or a hospital
A bone marrow aspiration to remove a liquid marrow sample
A bone marrow biopsy to remove a small amount of bone filled with marrow
Bone marrow samples are usually taken from the hip bone. Both samples are examined under a microscope to look for chromosomal and other cell changes.
Cell Assessment
At the laboratory, a hematopathologist examines the blood and bone marrow samples. This is a type of doctor who has special training in identifying blood diseases by studying cells under a microscope and performing other specialized tests on these blood cells.
Immunophenotyping (Flow Cytometry) 
This test is used to diagnose leukemia and lymphoma by comparing cancer cells to normal cells in either a bone
marrow or blood sample. Immunophenotyping is done with an instrument called a "flow cytometer." A flow cytometry test can measure the number of cells in a sample, as well as specific characteristics of the cells, including their size and shape, and identify specific markers on the cell surface. A sample of cells from blood or bone marrow is tagged with a panel of antibodies that are specific to areas on the cell surface. The cells are stained with a light-sensitive dye and are passed through a laser beam in the flow cytometer. If they have an antibody specific surface marker, the cells light up and are counted.
Leukemia cells can have different antigens on their surfaces, depending on the type of leukemia. Certain antigens, called "cluster of differentiation (CD) proteins," help identify the type of leukemia cells. While the specific pattern of
antigens varies among different AML subtypes, most AML blasts express CD13, CD14, CD33 and/or CD34.
In addition to its use for diagnosis, flow cytometry is also used after treatment for evaluating minimal residual disease (MRD), also called measurable residual disease. This refers to the small number of cancer cells that may remain in the body after treatment.
Molecular Tests
These are tests used to examine the chromosomes and genes in a patient's leukemia cells. They include:
Cytogenetic analysis (karyotyping)
Fluorescence in situ hybridization (FISH)
Polymerase chain reaction (PCR)
DNA sequencing 
Pre-Treatment Tests
Before you start treatment, you doctor will perform tests to learn more about your overall health and your disease, including:
Blood chemistry profile
Human leukocyte antigen (HLA) typing 
Heart tests
Diagnosing AML
Your doctor will work with a hematopathologist to confirm the diagnosis. A hematopathologist is a specialist who studies blood cell diseases by looking at samples of blood and marrow cells and other tissues.
For a person to be diagnosed with AML, generally 20 percent or more of the cells in the bone marrow or blood must be myeloblasts.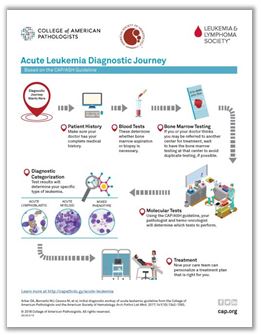 Click here for the steps involved with a new diagnosis of acute leukemia.
 
Chromosome and Gene Abnormalities
Chromosomal changes and genetic mutations are an important prognostic factor for predicting remission rates, relapse risks and survival outcomes. However, not all patients have a chromosomal abnormality, and patients may have different gene mutations from other AML patients. Your doctor will perform a molecular analysis on your cells to identify specific genetic changes. See the LLS fact sheet, Cancer Molecular Profiling for more information.
View the booklet Acute Myeloid Leukemia in Adults for a full listing of chromosome and gene abnormalities.
Newly Diagnosed Checklist
The College of American Pathologists (CAP) and the American Society of Hematology (ASH) provide practical guidance for patients and caregivers coping with a new diagnosis of acute leukemia. This checklist will help ensure that you receive the best treatment for your unique situation: Click Here
Related Links