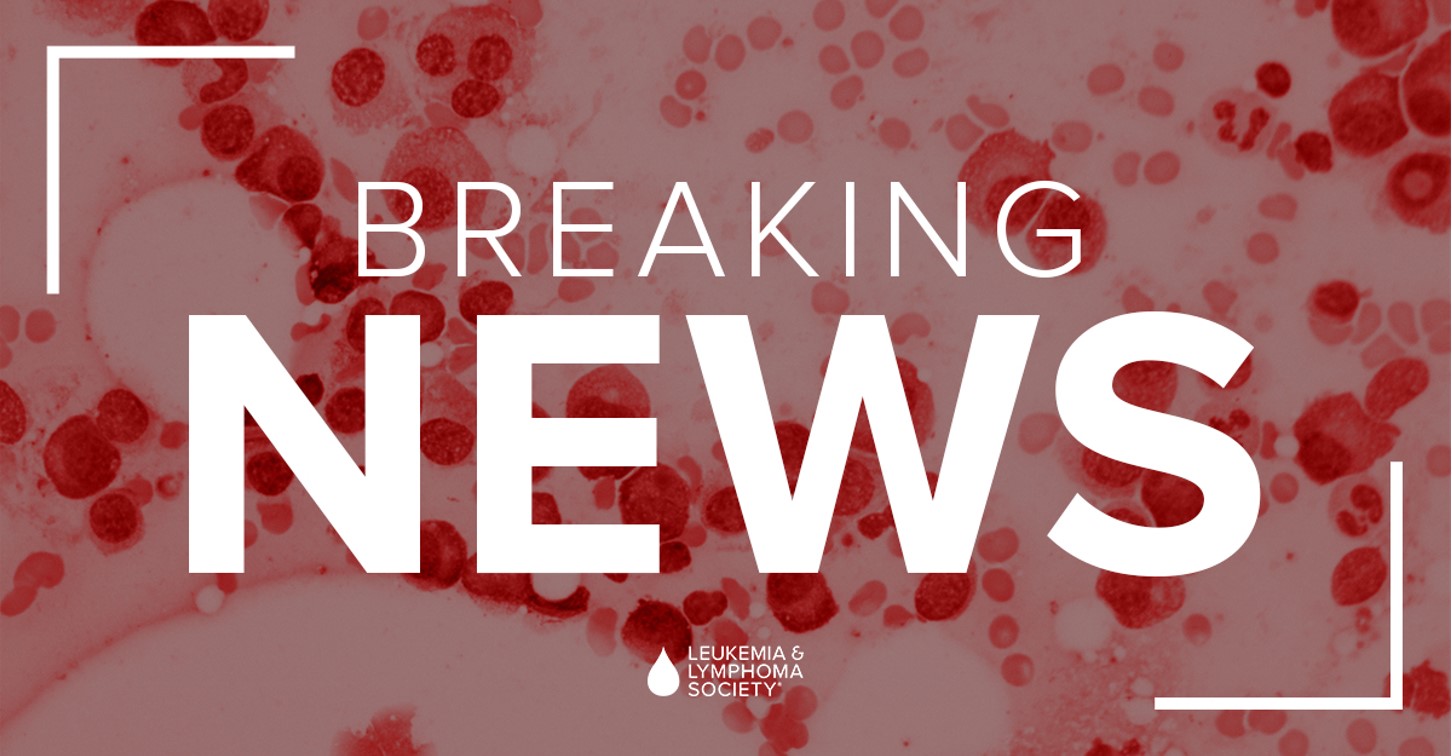 Ciltacabtagene Autoleucel (cilta-cel) is the second CAR-T approved to treat multiple myeloma
Just one year after the first CAR T-cell treatment was approved for multiple myeloma, the second is about to hit the market. The FDA approved ciltacabtagene autoleucel (cilta-cel), trade name Carvykti™, yesterday for patients with relapsed or refractory multiple myeloma who have had at least four previous treatments.
This is good news for many reasons. The first and most important is this represents a new and important treatment option for patients with advanced multiple myeloma, who otherwise face a poor prognosis. In the CARTITUDE-1 study, 78% of patients had a complete response to a one-time treatment with cilta-cel, meaning they had no detectable cancer at a median of 21.8 months after treatment. Nearly all (98%) of the patients had at least some positive response to treatment.
While only time will tell us how long cilta-cel and ide-cel (Abecma™, approved last March) will work in the real world setting, there is cause for optimism. Earlier this month, LLS-funded researcher and CAR T cell pioneer Dr. Carl June reported that two of the earliest patients treated with CAR T-therapy for chronic lymphocytic leukemia have been in remission for more than 10 years. These patients, says Dr. June, are proof that "CAR T cells can actually cure patients with leukemia." 
It's too early to say if CAR T treatments can do the same for multiple myeloma, but this new approval certainly takes us one step closer to long-term control of multiple myeloma. And with LLS support, there is so much ahead for CAR T and other forms of immunotherapy.
LLS support is advancing research and helping today's patients access the best care available
LLS has dedicated more than $100 million to investigate game-changing immunotherapy treatments. We were an early investor in the CAR T strategy when few thought would work, and we continue to invest in research today that aims to make immunotherapy even safer, more effective, less expensive and able to treat more types of cancer.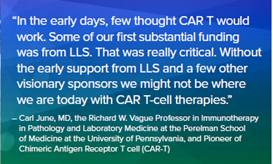 There are nine CAR T approvals in the U.S. These therapies work by reengineering a patient's own immune "T" cells (thus, CAR T) to target two specific proteins—CD19, a surface marker on leukemia and lymphoma cells, and BCMA, a surface marker on nearly all myeloma cells. 
Today we are supporting research into "off-the-shelf" therapies that can be pre-made using donor cells. This can speed up the time it takes to start treatment and reduce costs. Researchers are also targeting tumor markers beyond CD19 and BCMA, which could open the door for treatments more types of cancer. We are also looking beyond T cells, at using different parts of the immune system, like macrophages (CAR M) and natural killer cells (CAR NK). These immune cells may lead to even more durable and deeper responses and could open the door for CAR T cell treatment for non-blood cancers, such as breast, lung and prostate cancer.
Black Americans have at least double the risk of myeloma as any other race or ethnicity, and they often face additional barriers and lower access to care. As advocates for health equity, LLS is determined to erase these disparities. Myeloma Link is an LLS education and outreach initiative that directly connects Black patients and caregivers to free myeloma information and support to enhance their access to care and the latest treatments as well as their quality of life. For more information about myeloma and treatment, access the free booklets, Myeloma and Myeloma Guide: Information for Patients and Caregivers.
What's next for multiple myeloma treatment 
In addition to the two CAR T treatments, there is also an antibody that targets the BCMA protein to treat multiple myeloma. With three drugs now confirming that BCMA-targeted therapies are safe and effective, we can expect additional immunotherapies targeting BCMA in the future. 
The approval of cilta-cel, and ide-cel before it, also paves the way for clinical trials exploring the use of these agents to control multiple myeloma earlier in the disease course, as has been done with the CD19 CAR T-directed therapies for leukemia and lymphoma. CAR T-cell therapies may be even more functional—and more effective—when used earlier in the course of the disease. 
In the meantime, multiple myeloma remains a primary focus of LLS research, with over $30 million allocated to fund more than 30 active laboratory and clinical research projects. LLS is focused on preventing pre-myeloma from advancing to myeloma, identifying mutations that cause the disease and understanding why patients become resistant to certain treatments.
These new therapies place us on the road to long-term disease control with the hope of a cure for myeloma in the future, while other research avenues are working to reduce the number of people who get multiple myeloma in the first place.