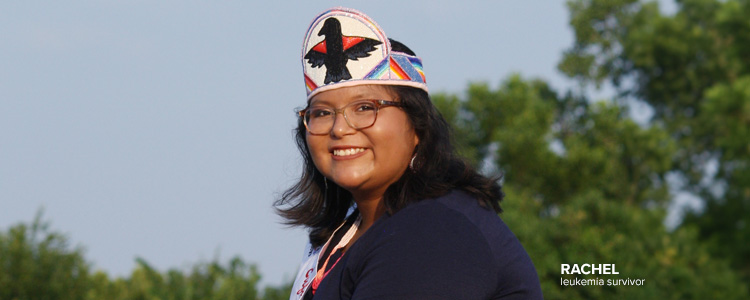 Blood is life.  
And during National Native American Heritage Month, it has special meaning. 
Teenager Rachel S's story is all about her "blood:" Her proud native heritage, her strong family ties, and… her blood cancer diagnosis. 
Rachel is full-blood Chickasaw/Creek/Seminole and lives in Little Axe, Oklahoma—a very small, rural community that was established by one of the Absentee Shawnee tribal elders. As a happy twelve-year-old, she played basketball, was a cheerleader, and enjoyed time with her close-knit family and friends. But her life changed one day when she sat down and couldn't find the energy to move. Fortunately, Rachel's pediatrician at the Tribal Health Facility was vigilant and able to take proactive measures on her behalf. 
She and her parents were quickly sent to Oklahoma Children's Hospital for a devastating diagnosis: Rachel had acute lymphoblastic leukemia (ALL), a type of blood cancer. 
 

Rachel recalls, "I had a very limited understanding of leukemia; all I could really understand was I had just been told I HAD CANCER!" 
Her treatment regimen was incredibly grueling and at one point, she had trouble with her liver, requiring a long hospitalization. As her parents silently wondered how much longer they would have her, their once vivacious daughter lost 35 pounds and at times, needed a wheelchair.  
Facts on blood cancer & Native Americans 
American Indian/Alaska Natives had the second highest incidence of blood cancer in Oklahoma, surpassed only by the non-Hispanic white population   

The 5-year survival rate for American Indian/Alaska Natives for ALL between 2012–2018 was 65.7 percent (lower than the 70.8 percent survival rate for all races)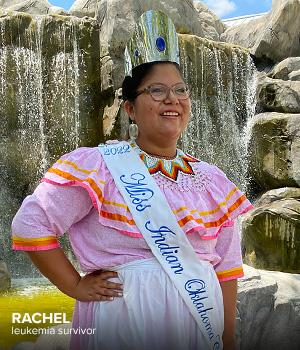 Focusing on the power of blood.  
Ironically, Rachel drew strength from her blood—from her rich heritage, and her community, her deep faith, her friends, and, of course, her family. Finally, after two and a half grueling years, she was able to ring the bell, signifying remission. She and her family believed the worst was over, but "three years after diagnosis and nine months after ringing the bell," Rachel shares, "another word was added to my life journey—relapsed!"  
Her pediatric oncologist team determined the best approach would be a bone marrow transplant from her older brother. "There's nothing like the pain of seeing your child suffer," Rachel's father shares. After months of preparation, she had the transplant. And in December of 2023, we're happy to report she will be celebrating 4 years of a successful second remission! 
Acute Lymphoblastic Leukemia Facts:  
ALL is the most common cancer in children and adolescents younger than 20 years, accounting for 19 percent of all cancer cases in this age-group 

 From 2012 to 2018, the 5-year relative survival rates overall for ALL were 92.1 percent for children and adolescents younger than 15 years and 93.3 percent for children younger than 5 years  
Incredibly, seven years after her diagnosis, nineteen-year-old Rachel is now a traditional cloth dancer and recently completed her reign as the 2022–2023 Miss Indian Oklahoma City. She wants to become a pediatrician and an advocate for children facing cancer. And she's thriving—she's already started her medical education by shadowing some of her own pediatric oncologists at Children's Hospital of Oklahoma!  
Ensuring every blood cancer patient survives and can also thrive.   
Thanks to groundbreaking research, innovative treatments, and the work of dedicated healthcare professionals, many patients like Rachel can and will achieve remission. But, as we celebrate National Native American Heritage Month this November, we are mindful that when someone from an Indigenous, underserved, and/or rural community receives a blood cancer diagnosis, they may not get the care Rachel did. Accessing affordable, quality care, and support can be challenging.  
As the largest nonprofit organization in the world dedicated to blood cancer, The Leukemia & Lymphoma Society (LLS) is dedicated to ensuring that every blood cancer patient and survivor has access to the care they need, when they need it. But for too many patients, this does not happen, so LLS is making major investments in solutions to advance equitable access to care. 
LLS is leveling the field. 
LLS will invest more than $17 million to bring clinical trials and treatment innovation to diverse and underrepresented communities across the country.  

LLS's Equity in Access Research Program will spend $2.5 million within the next year to initiate multi-year studies addressing systemic, institutional, clinician, and patient-related barriers to trial participation. 
LLS's mission is to provide free information, resources, and support to every blood cancer patient, survivor, and their loved ones—wherever and whenever they need us.  
Learn more about our DEI commitment.