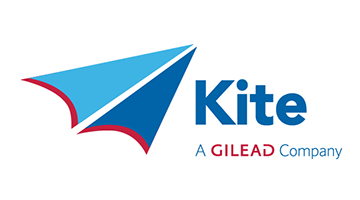 LLS TAP was part of the first FDA approval of CAR T-cell therapy for lymphoma, which signified a huge leap forward in the field of immunotherapy for cancer. LLS first started funding CAR T technology more than two decades ago, providing more than $40 million in research funding. In 2015, LLS TAP provided $2.5 million to support clinical trials of CAR T therapy, and just a year later the FDA granted approval. Called Yescarta, the treatment was first approved for aggressive B-cell lymphoma as a third-line treatment. The very same month, the biotech company was acquired by Gilead for $11.9 billion. Subsequently, a new formulation of the treatment was approved for other types of lymphoma. LLS received $6.25 million to invest back into our mission.
Click here to view a larger image of the TAP-Kite Success Story!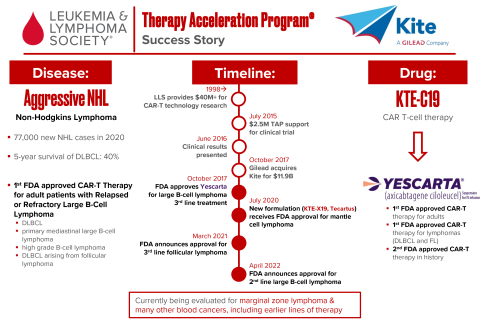 Yescarta® (KTE-C19, Axicabtagene ciloleucel), a CD19-directed genetically modified autologous chimeric antigen receptor (CAR) T-cell immunotherapy, was approved by the U.S. Food and Drug Administration on October 18 2017 and is the first approved CAR T treatment for adult patients with relapsed or refractory (R/R) diffuse large B-cell lymphoma (DLBCL), primary mediastinal large B-cell lymphoma (PMBCL), transformed follicular lymphoma (tFL). The approval label was expanded in March 5 2021 to include R/R indolent follicular lymphoma and most recently on April 1 2022, the label was further expanded to include 2L LBCL patients based on the Zuma-7 clinical trial.
Clinical data that supported the first approval application was published in Lancet Oncol.
Recent News