Being a teenager can already be a time of growing pains and social challenges. Enter in a cancer diagnosis, and life becomes all that more complicated. Browse the list below for books that can help your teen cope.
Hundred Percent Chance: A Memoir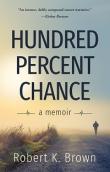 Hundred Percent Chance: A Memoir by Robert K. Brown
3/3 Press 2019, 273 Pages, Paperback or Kindle
ISBN: 9781733159005
Hundred Percent Chance: A Memoir is a raw and realistic memoir about a young college student who was diagnosed with Acute Myeloid Leukemia in 1990 while he was studying abroad in Lancaster, England – halfway across the world from his home in Seattle.  From battling life-threatening symptoms during a rushed, emergency departure from England, through multiple rounds of chemotherapy and complications over the next eight months, this moving, page-turning story will remind you to make the most of every day.
Cancer Information for Teens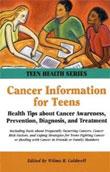 Cancer Information for Teens By Wilma R. Caldwell (Editor)
Omnigraphics, Incorporated, 2004, 450 pages
ISBN: 0780806786
This publication contains health tips about cancer awareness and information about prevention, diagnosis and treatment of cancer specific for teens.