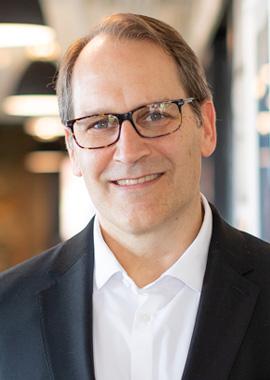 Rye Brook, N.Y., March 8, 2023 –The Leukemia & Lymphoma Society (LLS), the global leader and innovator in creating a world without blood cancer, is proud to announce E. Anders Kolb, M.D., as its new President and Chief Executive Officer (CEO). He will join LLS on May 1, 2023, succeeding Louis J. DeGennaro, Ph.D., who has led the organization since 2014 and retires on June 30, 2023.
In his new role, Dr. Kolb will lead the $500 million organization in its mission to cure leukemia, lymphoma, Hodgkin's disease and myeloma, and improve the quality of life for blood cancer patients and their families. He is joining the only cancer and healthcare organization in the not-for-profit category that made Fast Company's 2022 Brands that Matter List. An organization with a Four-Star Rating from Charity Navigator, and the only superior ranking in Cause Reports latest analysis of eight of the largest chronic disease organizations.
Dr. Kolb most recently served as Chief of the Division of Hematology and Oncology of Nemours Children's Health, Delaware Valley, Director of the Moseley Foundation Institute for Cancer and Blood Disorders, and Vice Chairman for Research in the Department of Pediatrics at the Sidney Kimmel Medical College at Thomas Jefferson University. He joined Nemours in 2007 and previously served as program director of blood and bone marrow transplantation. Over his tenure, Moseley Foundation Institute has grown from a community-based hematology and oncology division to a nationally recognized and federally funded multi-site pediatric center for treatment of cancer and blood disorders. The cancer and blood disorder programs in Wilmington and Jacksonville now routinely rank among the top pediatric cancer programs by US News and World Report. Nemours Children's saw a 60-fold increase in federal funding, a 10-fold increase in clinical trial revenue, and a 40-fold increase in philanthropy for cancer and blood disorders, including a pivotal commitment from the Moseley Foundation of a momentous $78 million gift. Dr. Kolb will remain faculty emeritus at Nemours with some limited patient care responsibilities.
Dr. Kolb also served as co-chair and member of the executive committee of LLS PedAL, the first global master clinical trial for pediatric acute leukemia patients. Dr. Kolb has authored or co-authored more than 150 articles in peer-reviewed journals and received numerous awards, including:
Top Doctor in Delaware Today and Philadelphia Magazine 2022-2016

Lifetime Achievement Award, The Leukemia & Lymphoma Society, Eastern Pennsylvania-Delaware Region, 2021
The Seema S. Sonnad Mentor of the Year Award, 2017

Nemours Researcher of the Year, 2015

Nemours Physician Award for Excellence in Scholarship, 2011

Nemours Physician of the Year, 2010
"There has been significant progress in blood cancer treatment and care over the past 75 years because of LLS's investment in scientific research and patient services, and I am committed to continue to expand LLS's lifesaving science and impact," said Dr. Kolb. "As someone who has dedicated much of my personal and professional life to treating children with blood cancer and driving forward research, I understand the importance of strong mission in a volunteer organization. My long-standing and wholehearted personal and professional dedication to LLS's mission will serve as a guiding force for the organization and the blood cancer community."
Relentlessly Committed to LLS's Mission
In 2007, Dr. Kolb's connection to LLS's mission became personal when his wife was diagnosed with follicular lymphoma and her treatment was made possible because of the pioneering work of LLS-funded investigators. The diagnosis inspired him to join LLS as a volunteer, including serving as a Regional Board of Trustees Chair and participating in many of LLS's premier fundraising campaigns.
"I have an unwavering commitment to the patients and families we serve and to the achievement of progress through strong leadership, good science and responsible stewardship of resources," shared Dr. Kolb. "To be invited to lead the organization and to be entrusted with the opportunity to broaden that sphere of influence and broaden that impact – it is a real thrill."
An Internationally Respected Pediatric Hematologist Oncologist
As a world-renowned pediatric hematologist/oncologist, Dr. Kolb has dedicated his career to treating blood cancer patients and conducting research to find cures.
"We are thrilled to have Dr. Kolb join our team as President and CEO and continue his life's work dedicated to fighting blood cancer," said Jeff Sachs, LLS Chair of the Board. "He comes to the role through the lens of a clinician, scientist, and volunteer with a personal connection to the mission. Dr. Kolb has spent much of his career in pediatric oncology, helping patients survive and thrive. His experience will transform and elevate the work LLS is doing for the blood cancer and scientific community."
Prior to his role at Nemours Children's Health, Dr. Kolb was a member of the Pediatric Leukemia and Pediatric Stem Cell Transplantation Services at Memorial Sloan-Kettering Cancer Center in New York City, and the director of the Pediatric Preclinical Chemotherapy Testing Laboratory at the Albert Einstein Cancer Center, Albert Einstein College of Medicine in the Bronx. He was also director of the Pediatric Leukemia and Lymphoma Service and Pediatric Stem Cell Transplantation at The Children's Hospital at Montefiore, also in the Bronx.
Dr. Kolb has been the principal or co-principal investigator of numerous studies and grants, including clinical trials with the Children's Oncology Group, the Nemours NCI Community Oncology Research Program (NCORP) and the Center of Biomedical Research Excellence (COBRE), which recently awarded Nemours Children's Health a $10.5 million grant to establish the Delaware Comprehensive Sickle Cell Research Center. From 2013 to 2023, he served as the Chair of the Children's Oncology Group Myeloid Disease Committee.
As co-chair and member of the executive committee of LLS PedAL he made significant strides and helped lead the overall strategy of the clinical trial and mentored early-stage investigators. While Dr. Kolb will step down from his co-chair role, he will still champion LLS PedAL, a key component of LLS's Dare to Dream Project, which envisions a world where childhood blood cancer patients not only survive but thrive after treatment.
Dr. Kolb completed his pediatric residency at St. Christopher's Hospital for Children and completed fellowship training in hematology/oncology in the Department of Pediatrics at Memorial Sloan-Kettering Cancer Center. He earned his M.D. from Thomas Jefferson University and his bachelor's degree from the University of Pennsylvania.
"Dr. Kolb has dedicated his life's work to improving the lives of people with cancer and their families by spearheading innovative clinical trials and research. Having had the opportunity to work directly with him on LLS's PedAL master clinical trial, I've seen first-hand that his commitment to patients is unwavering, and we have no doubt that his commitment to LLS will be, as well," said Gwen Nichols, M.D., Chief Medical Officer of LLS.
About The Leukemia & Lymphoma Society
The Leukemia & Lymphoma Society® (LLS) is a global leader in the fight against blood cancer. The LLS mission: Cure leukemia, lymphoma, Hodgkin's disease and myeloma, and improve the quality of life of patients and their families. LLS funds lifesaving blood cancer research around the world, provides free information and support services, and is the voice for all blood cancer patients seeking access to quality, affordable, coordinated care.
Founded in 1949 and headquartered in Rye Brook, NY, LLS has regions throughout the United States and Canada. To learn more, visit www.LLS.org. Patients should contact the Information Resource Center at (800) 955-4572, Monday through Friday, 9 a.m. to 9 p.m. ET.
For additional information visit lls.org/lls-newsnetwork. Follow us on Facebook, Twitter, Instagram, and LinkedIn.
LLS is one of Fast Company's "2022 Brands That Matter." As the only cancer organization on the list, LLS stands out among brands around the world for its relevancy, cultural impact, ingenuity, and mission impact.
LLS maintains Cause Reports highest score and earned an esteemed "Superior" rating in its new, independent analysis of eight of the largest chronic disease organizations, recognized notably for its mission-driven "innovative programs" and "well-documented impact."
Media Contact:
Kristin Hoose
(914) 821-8973
Kristin.Hoose@lls.org