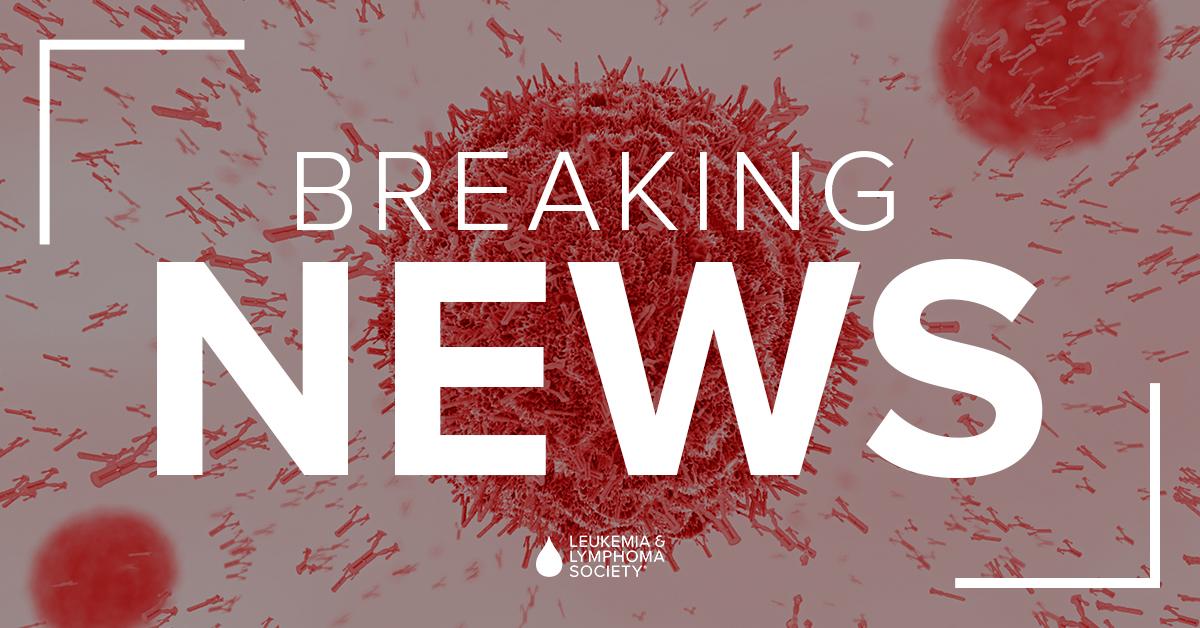 The U.S. Food and Drug Administration (FDA) granted approval yesterday to olutasidenib (Rezlidhia™) for the treatment of adults with acute myeloid leukemia (AML) with a susceptible IDH1 mutation that has returned or worsened despite earlier treatments. 

"LLS is delighted to see the approval of olutasidenib, an important targeted treatment option for people whose AML carries the IDH1 mutation," says LLS Chief Scientific Officer Dr. Lee Greenberger. AML is an aggressive, rapidly progressing form of leukemia. Mutations in IDH1 occur in approximately 10% of patients with AML and occur with increasing frequency in older patients.

With more than $93 million committed to leukemia research, LLS is leading the way toward cures and targeted therapies that zero in on specific genetic traits of individual cancers. LLS has supported work to understand the role of IDH1 and IDH2 in AML and is supporting new studies to understand how the mutation can lead to resistance to treatments, the role of drug combinations, and newer agents that can provide even more treatment options for these patients.

LLS-funded researchers include Courtney DiNardo, (MD, The University of Texas MD Anderson), who received a Career Development Program grant and Tak Mak (PhD, Princess Margaret Cancer Centre, University Health Network), who received a Specialized Center of Research Program (SCOR) grant.

LLS also leads the Beat AML® Master Clinical Trial, the first collaborative precision medicine clinical trial in a blood cancer and LLS PedAL, an international collaboration to test new, safer therapies on children. Both trials are working to improve outcome and quality of life for adults and children with acute myeloid leukemia. LLS will be presenting abstracts from both trials at the upcoming Annual American Society of Hematology (ASH) Annual Meeting. 

The FDA based this new approval on Study 2102-HEM-101 clinical trial. In the trial of 147 adult patients, the rate of complete remission (CR) plus CR with partial hematologic recovery (CRh) was 35% among patients receiving olutasidenib. The median time to CR plus CRh was just under 2 months, and the median duration of the response was 26 months among patients that achieved a CR or CRh. The treatment is taken orally twice daily. 

About The Leukemia & Lymphoma Society

The Leukemia & Lymphoma Society® (LLS) is the global leader in the fight against blood cancer. The LLS mission: Cure leukemia, lymphoma, Hodgkin's disease, and myeloma, and improve the quality of life of patients and their families. LLS funds lifesaving blood cancer research around the world, provides free information and support services, and is the voice for all blood cancer patients seeking access to quality, affordable, coordinated care.
Founded in 1949 and headquartered in Rye Brook, NY, LLS has regions throughout the United States and Canada. To learn more, visit www.LLS.org. Patients should contact the Information Resource Center at (800) 955-4572, Monday through Friday, 9 a.m. to 9 p.m. ET.

LLS is one of Fast Company's "2022 Brands That Matter." As the only cancer organization on the list, LLS stands out among brands around the world for its relevancy, cultural impact, ingenuity, and mission impact.