The Leukemia & Lymphoma Society (LLS) is closely monitoring the coronavirus (COVID-19) pandemic. One of our highest priorities is the well-being of our employees, volunteers, donors, partners, and the patients we serve – especially as many blood cancer patients are immunocompromised. We encourage patients who have specific questions or concerns to speak directly with their doctors and care team. Our Information Specialists – master's level oncology professionals who provide free, personalized assistance to patients, families and healthcare providers – are available to speak one-on-one with patients and caregivers. Patients and caregivers can call (800) 955-4572 from Monday to Friday, 9 a.m. to 9 p.m. ET or visit www.lls.org/support/information-specialists
LOCAL EVENTS:
National Volunteer Week - April 19 - April 25, 2020!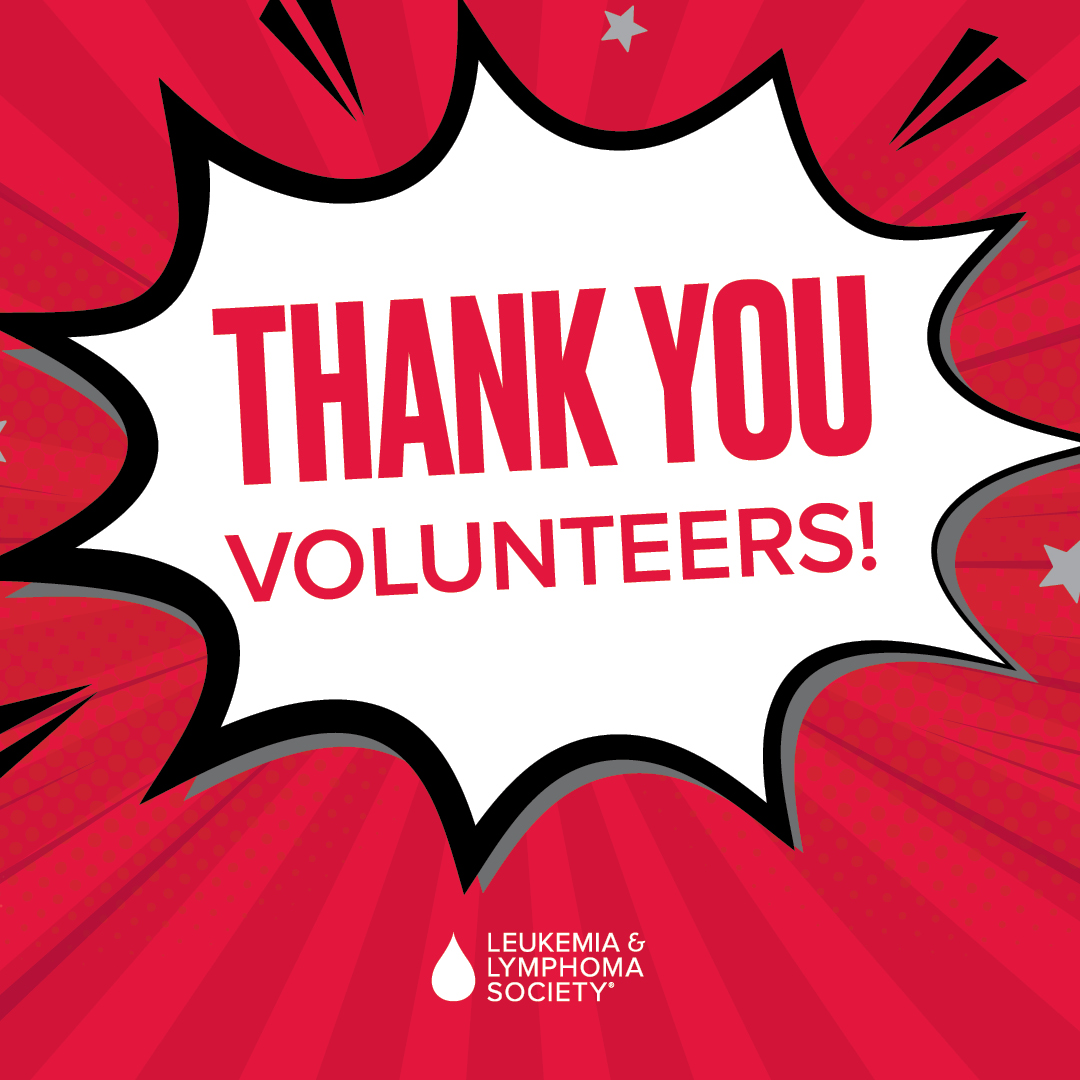 Because of dedicated volunteers at every level, LLS is able to drive forward our lifesaving mission work. We want to say thank you. Take a second to watch this short video from our staff to learn what we have been able to accomplish...because of you!
After watching the video, enjoy a game of LLS Volunteer Bingo! Check out the Bingo Board and print out or complete online to see how many lines you can get! Some squares require action items such as "Share your 'Why' and tag @LLSNATCAP on social media".
Student of the Year - January 18- March 7, 2020 (now recruiting for 2021)
Each year dynamic and motivated high school students raise funds for 7 weeks in honor of local blood cancer patients. Congratulations to Lily, Farah, and Mira of Bullis School in Potomac, MD who raised the most funds across the DC metropolitan area and earned the winning title, "Students of the Year" at the Grand Finale Celebration on March 7th at the JW Marriott in Washington, D.C.! Congratulations to our 1st Runner Up: Team Gators Beat Blood Cancer, Natalie & Molly, Stone Ridge School of the Sacred Heart, and congratulations to our 2nd Runner Up: Team Frank's Fighters, Jack, Tuscarora high school.
LLS is actively recruiting candidates for 2021 campaign, which will kick off in January of 2021. Ideal candidates are highly motivated high school students who are passionate and excited about giving back to the community and truly changing the world. To nominate a candidate or participate in our 2021 campaign, please email Jessica.Cosgriff@lls.org.
Man & Woman of the Year - May 7 - July 18, 2020
Man & Woman of the Year is philanthropic competition to support blood cancer research among a group of motivated and dedicated individuals in communities across the United States. Candidates form powerful fundraising teams and compete in honor of two local children who are blood cancer survivors. The new 2020 campaign dates are Thursday, May 7th – Saturday, July 18th. The May 7th Kickoff will be a virtual celebration and the Grand Finale Gala will be on Saturday, July 18th at The Anthem in DC. To learn more contact Alena.Krafft@lls.org.
IHOP National Pancake Day - Tuesday, February 25, 2020 (2021 date coming soon!)
LLS is the beneficiary of IHOP's National Pancake Day here in 40 area locations in the National Capital Area. Patrons receive a free short stack at participating IHOP's and in lieu of payment are asked to make a donation in support of LLS's mission!
Stay tuned for our 2021 date as we seek enthusiastic volunteers to help on this day! Please contact Christina.Crain@lls.org to learn more.
Light The Night Walk - October 2020
At Light The Night, it is our aim to bring light to the darkness of cancer through research and cures. Light The Night is a series of fundraising campaigns benefiting The Leukemia & Lymphoma Society's funding of research to find blood cancer cures. We bring hope instead of despair by working to ensure access to treatments for all blood cancer patients. We bring communities together to celebrate those who are fighting the disease and to honor those we have lost.
Each year friends, families and coworkers form teams to raise money in support of our mission. Fall 2020 will look different as we prioritize the safety of our patients, volunteers, and supporters. With these priorities in mind, we are excited to host this year's Light The Night as a virtual experience.
We will Light The Night. We will bring light to the darkness of cancer by honoring and remembering those touched by cancer and by rallying VIRTUALLY as a community in support of LLS's mission.
Friday, October 23, 2020
For more details please visit our LTN Website!
Leukemia Ball - Virtual Event, June 26, 2020
The Leukemia Ball is one of Washington D.C.'s largest and most-anticipated black tie events. Featuring top-notch entertainment, the Mercedes-Benz raffle and an amazing silent auction you won't want to miss this inspirational evening. Given the uncertainty surrounding the COVID-19 situation, we have made the difficult decision to postpone the 33rd Annual Leukemia Ball, originally scheduled for Saturday, March 21, 2020. The 2020 Leukemia Ball will be a virtual event on June 26, 2020.
The Ryan Kerrigan Leukemia Golf Classic - Rescheduled for Fall 2020
Join Ryan Kerrigan and his Washington Redskins teammates as they tee off in the fight against blood cancer. The 2020 Leukemia Golf Classic, presented by WiSC Enterprises, is a high-profile, celebrity golf tournament at one of Northern Virginia's premier courses, with live & silent auctions, reception, dinner and awards ceremony. Given the safety risks surrounding the COVID-19 situation, we have made the difficult decision to postpone the tournament. We will be announcing our new fall date soon.
Leukemia Cup Regatta - September 12, 2020
Join us on the Potomac River for the 27th Annual Washington, D.C. Leukemia Cup Regatta! Leukemia Cup Regatta is a thrilling series of sailing events that combines the joy of boating with the important task of raising money to cure cancer.
Student Series - Year-Round
Programs for schools and students at all grade levels to help support the LLS mission: Cure leukemia, lymphoma, Hodgkin's disease and myeloma, and improve the quality of life of patients and their families.

Team In Training - Year Round
Join Team In Training to take on the most iconic endurance challenges in the world – while raising money to pioneer new breakthroughs in the fight against cancer