Diagnosing acute lymphoblastic leukemia (ALL) and your ALL subtype usually involves a series of tests. An accurate diagnosis of the subtype is important. The exact diagnosis helps the doctor
Estimate how the disease will progress
Determine the appropriate treatment.
Tests your doctor may use to diagnose ALL:
Blood Tests
Your doctor needs to test your blood to make a diagnosis. Your blood is sent to a lab for:
A complete blood count (CBC), which shows the number of red cells, white cells and platelets in your blood. Usually, patients with ALL have lower-than-expected red blood cells and platelets.
A peripheral blood smear, which examines the cells within the blood and shows whether there are too many immature white cells (leukemic blast cells). The blood smear sample can also be used for

Cytogenetic analysis, which identifies certain changes in the number and size of chromosomes within cells.

Immunophenotyping, which identifies cells based on the types of proteins (antigens) on the cell surface to find out if the ALL cells are B cells or T cells. "Flow cytometry" is one type of test used for immunophenotyping.
Bone Marrow Tests
Your doctor or oncologist (cancer specialist) tests your bone marrow. Bone marrow testing involves two steps usually performed at the same time in a doctor's office or a hospital:
A bone marrow aspiration to remove a liquid marrow sample
A bone marrow biopsy to remove a small amount of bone filled with marrow
For both procedures, the patient is given medication to numb the area, or given a general anesthesia, and the sample is taken from the hip bone.
The tests' purpose is to confirm an ALL diagnosis and
Find out the percentage of ALL cells are in your bone marrow
Examine the ALL cells to find abnormalities.
Diagnosing ALL
After your doctor takes samples of your blood and bone marrow, a hematopathologist confirms a diagnosis and identifies the ALL subtype. A hematopathologist is a specialist who studies blood cell diseases by looking at samples of blood and marrow cells and other tissues.
The diagnosis of ALL is confirmed by identifying:
Leukemic blast cells in the bone marrow samples
The percentage of blast cells in the bone marrow

About 1 to 5 percent of normal marrow cells are blast cells. In ALL, at least 20 percent of marrow cells are blast cells.​
If you're diagnosed with ALL, blood and bone marrow tests are done during or after treatment to see how your ALL cells are responding to therapy.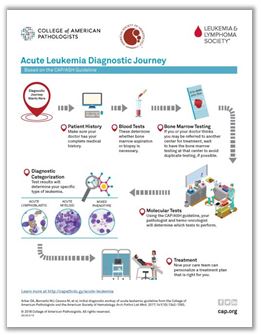 Click here for the steps involved with a new diagnosis of acute leukemia.
---
Newly Diagnosed Checklist
The College of American Pathologists (CAP) and the American Society of Hematology (ASH) provide practical guidance for patients and caregivers coping with a new diagnosis of acute leukemia. This checklist will help ensure that you receive the best treatment for your unique situation: Click Here
---
---
Related Links