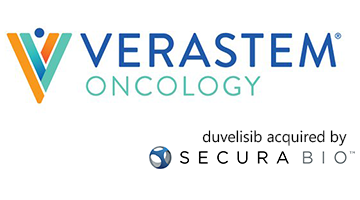 Copiktra® (duvelisib) is an oral inhibitor of phosphoinositide 3-kinase (PI3K), and was the first approved dual inhibitor of PI3K-delta and gamma pathways by the U.S. Food and Drug Administration on September 24 2018 for the treatment of patients with chronic lymphocytic leukemia (CLL), small lymphocytic lymphoma (SLL) and follicular lymphoma (FL). In December 2021, duvelisib was voluntarily withdrawn as a treatment for FL, as the logistics, costs, and timing needed to achieve post-marketing approval requirements could no longer be justified.
In December 2020, Copiktra was included in the National Comprehensive Cancer Network® T-Cell Lymphoma Guidelines® for the treatment of all subtypes of PTCL. Clinical data that supported the NCCN Guidelines inclusion was presented during the 2021 ASH meeting.
The Leukemia & Lymphoma Society's Therapy Acceleration Program® (TAP) committed $1.485 million in a partnership with Verastem Oncology between 2018-2020 to advance the therapy in PTCL. The clinical study that led to inclusion by the NCCN was supported in part by LLS TAP. Verastem sold the rights to duvelisib to Secura Bio in September 2020.
Recent News