Secura Bio Announces Final Patient Enrolled in PRIMO Study and Inclusion of COPIKTRA® (duvelisib) in NCCN Guidelines for PTCL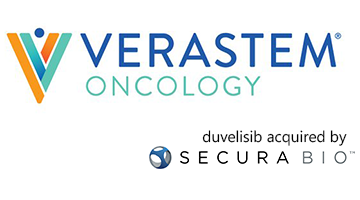 SUMMERLIN, Nev., Feb. 9, 2022 /PRNewswire/ -- Secura Bio, Inc. (Secura Bio) - (www.securabio.com), an integrated pharmaceutical company dedicated to the worldwide development and commercialization of impactful oncology therapies, today announced that it completed enrollment on February 1, 2022, in the PRIMO study. PRIMO is evaluating COPIKTRA for the treatment of adult patients with relapsed or refractory (r/r) Peripheral T-cell Lymphoma (PTCL) and has enrolled a total of 157 patients.
COPIKTRA is an oral inhibitor of phosphoinositide 3-kinase (PI3K), and the first approved dual inhibitor of PI3K-delta and gamma pathways, which are involved in the proliferation and sustenance of malignant cells. COPIKTRA monotherapy has received Fast Track status for the treatment of PTCL patients who have received at least one prior therapy. Additionally, COPIKTRA has received an Orphan Drug Designation for use in the treatment of T-cell lymphomas. Treatment of T-cell lymphomas is a disease category for which COPIKTRA is not currently indicated.
The PRIMO study is a global, multi-center, open-label, parallel cohort, Phase 2 study. In the dose optimization portion of the study, 33 patients were randomized to receive COPIKTRA 25mg twice daily (Cohort 1) or COPIKTRA 75mg twice daily continuously (Cohort 2) until progressive disease (PD) or unacceptable toxicity. Based on the dose optimization results, an expansion group of 124 patients was added in which COPIKTRA is dosed at 75mg twice daily for two cycles, followed by 25mg twice daily, until PD or unacceptable toxicity. The primary endpoint of the expansion phase of the study is overall response rate (ORR; complete response [CR] + partial response). 
Interim results from the first 78 patients of the PRIMO study were presented at ASH in December 2021, and demonstrated an ORR of 50% and a CR rate of 32%.
Shortly following the presentation of these data at ASH, COPIKTRA was included in the National Comprehensive Cancer Network® T-Cell Lymphoma Guidelines® (Version 1.2022, 12/22/21) as a Category 2A designated option for the treatment of all subtypes of r/r PTCL.