Combination Targeted Therapy in Chronic Lymphocytic Leukemia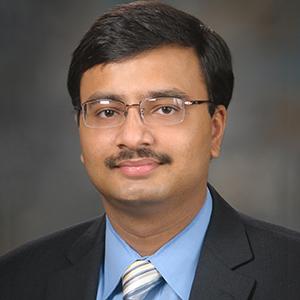 Nitin Jain
MD
The University of Texas MD Anderson Cancer Center
Project Term: July 1, 2022 - June 30, 2027
Targeted therapies have replaced chemoimmunotherapy in chronic lymphocytic leukemia (CLL). We previously reported that combined BTK inhibitor (ibrutinib) and BCL2 antagonist (venetoclax) is highly synergistic. In this proposal, we will conduct a phase II trial of combined non-covalent BTK inhibitor (pirtobrutinib) with venetoclax and obinutuzumab in patients with untreated CLL with primary endpoint of marrow MRD. We will perform BH3 profiling and scRNAseq and correlate with clinical outcomes.
Lay Abstract
Chronic lymphocytic leukemia (CLL) is a blood cancer of B cells and is the most common blood cancer in the United States. Until recently, chemotherapy was the standard therapy for patients with CLL. In the last decade, new targeted therapies that inhibit specific disease pathways within cancer cell have been developed; these include BTK inhibitors (such as ibrutinib, acalabrutinib) and BCL2 protein inhibitor (such as venetoclax). Randomized trials comparing these targeted therapies to chemotherapy have shown lower risk of disease progression with targeted therapies. Currently, BTK inhibitors and BCL inhibitor are FDA approved for use for patients with CLL individually, but not as a combination approach.
Our group at MD Anderson Cancer Center previously showed that the combination of ibrutinib and venetoclax was synergistic in the laboratory; we then conducted a clinical trial investigating this combination in patients with CLL and reported high response rates with a combined therapy of 24-month duration. However, ibrutinib is associated with adverse events such as atrial fibrillation which is an abnormal rhythm of the heart in up to 10-15% of the patients. Additionally, patients can develop resistance to ibrutinib.
Pirtobrutinib is a novel BTK inhibitor which has excellent safety profile with no increase in atrial fibrillation, and responses noted in patients who have previously failed ibrutinib. Based on these data, we have developed a clinical trial to investigate the combination of pirtobrutinib, venetoclax and obinutuzumab in patients with previously untreated CLL. We will assess patients for toxicity and efficacy. Notably, we plan to only give 6 cycles of the combination therapy in patients who achieve remission in bone marrow as assessed by flow-cytometry. This provides for a 6-month time-limited treatment approach. We will collect blood samples from the patients prior to starting therapy and at serial time-points during therapy. We will analyze these samples for levels of BCL2 and other proteins and assess if levels predict for response or resistance.
Because venetoclax and obinutuzumab combination is already approved in CLL and pirtobrutinib has shown an excellent safety and efficacy profile, we believe that the combination proposed in this clinical trial is highly feasible. This work is likely to have a high impact in the therapy for CLL, and if successful, will further refine the treatment landscape for patients with CLL.
Program
Career Development Program
Grant Subprogram
Scholar in Clinical Research
To All Projects