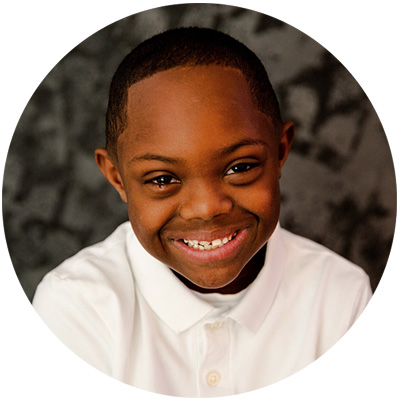 Manny's Story
To his family, Emmanuel ("Manny") was a typical little boy until he was 18 months old—that's when Manny, who was born with Down Syndrome, was diagnosed with AML. Manny fought blood cancer with a brave smile on his face as he received round after round of chemotherapy. And from the physicians to the cleaning staff at Texas Children's Hospital, everyone was touched by Manny's hope and joy in some way as he went through his blood cancer journey. The great news is that Manny has been in remission for nine years, and he continues to spread warmth, hope, and joy to everyone he meets.
SUBARU LOVES TO CARE
Subaru and LLS understand that a good support system makes all the difference for blood cancer patients and their families.
Since 2016, Subaru and its retailers nationwide have donated over 230,000 warm blankets and 31,000 arts and crafts kits to patients fighting blood cancers, delivering hope along with information on the wide variety of support available from LLS. To let patients and families know we care, Subaru customers write hundreds of thousands of messages of hope in-store to accompany the blankets and brighten patients' lives—sharing love and warmth with those who need it most, when they need it most.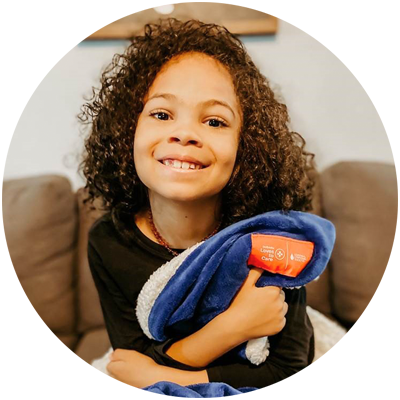 JJ
At four years old, JJ was sent to the emergency room when his pediatrician noticed an abnormality in his blood work. After several tests and even a misdiagnosis, his family received unimaginable news: JJ had acute lymphoblastic leukemia (ALL). Today, JJ is a childhood cancer survivor. After countless days in the hospital fighting for his life, he hasn't let cancer stop him from shining light on others. "He is such a sweet boy, and we are in awe of his courage as he reaches each milestone. The strength he shows at his young age is incredible," says JJ's mom Ashley. His family found hope and support from the LLS community.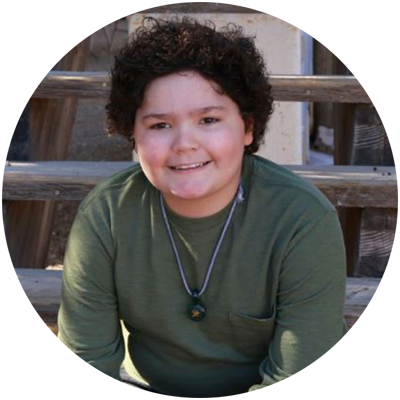 Nikolas
Nik has spent the past four years in cancer treatment. Diagnosed with acute lymphoblastic leukemia at age 10, Nik was confined to a hospital bed for months, where he dealt with infections and side effects from the strong medications he was on. Throughout his cancer experience, LLS helped Nik connect with other patients and families, and provided support to his family through the Susan Lang Pay-It-Forward Patient Travel Assistance program. "I have met so many amazing cancer warriors over the years. I am proud to be part of the LLS family," he says.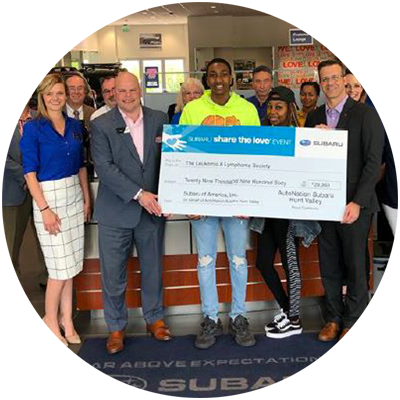 Subaru Hunt Valley, Maryland
AutoNation Subaru Hunt Valley is dedicated to supporting the fight against blood cancers, raising more than $57,000 for LLS since 2018 alone. In April 2019, the retailer presented LLS's Mid-Atlantic Region with a check for nearly $30,000 from the Subaru Share the Love® Event to support our mission. During a special presentation at its showroom in Cockeysville, representatives from LLS and AutoNation Subaru honored employees touched by cancer and Maurice Smith, a local high school student and two-time cancer survivor. Maurice was LLS's Baltimore Light The Night Honored Hero in 2018, and loves basketball and fishing. The retailer surprised him with a portable soft cooler to take on all his deep-sea fishing and basketball adventures.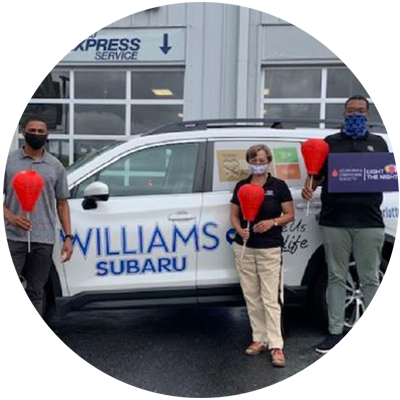 Williams Subaru, North Carolina
For the past four years, Williams Subaru and LLS's North Carolina–Virginia Region have been making a difference in the lives of cancer patients and families. Local lymphoma survivor Ally Davis loves partnering with Williams Subaru to help others. In 2019, Ally took part in LLS's Students of the Year campaign, leading fundraising efforts from her hospital bed after a lifesaving bone marrow transplant. The Williams Subaru team proudly rallied behind Ally, from holding a test drive benefit to attending the Students of the Year Grand Finale celebration in her honor. The retailer also supported LLS's Light The Night event in 2020, bringing us closer to a world without blood cancers.
*Group photos taken prior to COVID-19

Help LLS, Subaru, and its retailers spread hope, love, and warmth to blood cancer patients across the country.
During the month of June, visit your local participating Subaru retailer to write a message of hope for a blood cancer patient in your area. Patients will receive these special care cards along with information on LLS resources and a free blanket from Subaru.