X4 Pharmaceuticals to Present Research Data at the 2022 European Hematology Association (EHA) Congress Supporting Mechanism and Market Potential for Mavorixafor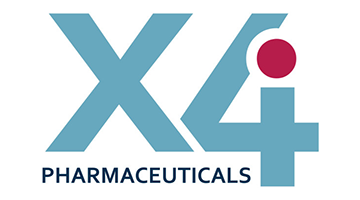 BOSTON, May 16, 2022 (GLOBE NEWSWIRE) -- X4 Pharmaceuticals, Inc. (Nasdaq: XFOR), a leader in the discovery and development of novel CXCR4-targeted small molecule therapeutics to benefit people with rare immune system disorders, today announced that it will present research data supporting the mechanism and market potential of its lead drug candidate, mavorixafor, as part of three posters at the upcoming European Hematology Association (EHA) congress to be held in Vienna, Austria, June 9-17, 2022.
Mavorixafor is an oral, small molecule, CXCR4 antagonist currently being evaluated across three clinical studies: a fully enrolled Phase 3 trial in adults and adolescents with WHIM (Warts, Hypogammaglobulinemia, Infections, Myelokathexis) syndrome; a Phase 1b clinical trial in adults with chronic neutropenia; and a fully enrolled Phase 1b clinical trial in adults with Waldenström's macroglobulinemia (WM), a rare B-cell lymphoma.
Key highlights:
WHIM genetics: Identification of 17 new CXCR4 genetic variants that caused in vitro functional defects resembling those exhibited by known WHIM variants, with potential to enrich current estimates of WHIM syndrome prevalence.
Development of first cell-based model recapitulating heterozygous CXCR4WT/R334X mutations found in patients with WHIM syndrome, which enriches the toolbox of models available for studying WHIM's biology and treatment options.
WM: Study provides preliminary evidence for the potential mechanism of mavorixafor in disrupting the interaction of WM cells with the tumor microenvironment, enhancing the efficacy of B-cell targeted therapies in the treatment of WM and potentially other lymphomas.
Poster Details:
Poster Title: Screening of Naturally Occurring CXCR4 Variants for Identification of Novel Pathogenic Mutations for WHIM Syndrome
Poster #: P793
Session Date/Time: June 10 at 16:30 – 17:45 CEST
Poster Title: Crispr/Cas9-Based Model of Heterozygous CXCR4WT/R334x Mutation to Study Cellular Phenotypes in WHIM Syndrome
Poster #: P792
Session Date/Time: June 10 at 16:30 – 17:45 CEST
Poster Title: Mavorixafor Disrupts the Cross Talk Between Waldenström's Macroglobulinemia Cells and the Bone Marrow Microenvironment Resulting in Enhanced Sensitivity to B-Cell Targeted Therapies
Poster #: P1253
Session Date/Time: June 10 at 16:30 – 17:45 CEST