X4 Pharmaceuticals Announces Key Enrollment Milestone Achievements in Ongoing Mavorixafor Clinical Trials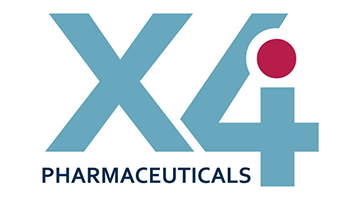 BOSTON, Aug. 03, 2021 (GLOBE NEWSWIRE) -- X4 Pharmaceuticals, Inc. (Nasdaq: XFOR), a leader in the discovery and development of novel therapies targeting diseases of the immune system resulting from dysfunction of the CXCR4 pathway, today reported financial results for the second quarter and six months ended June 30, 2021. The company also announced key enrollment milestone achievements for its lead product candidate, mavorixafor, a novel, oral small molecule currently being evaluated in a Phase 3 clinical trial (4WHIM) for patients with WHIM (warts, hypogammaglobulinemia, infections, and myelokathexis) syndrome and in two Phase 1b clinical trials for patients with Waldenström's macroglobulinemia and Severe Congenital Neutropenia (SCN) and chronic neutropenia disorders, respectively.
Mavorixafor Clinical Trial Updates
Phase 3 Trial in WHIM Syndrome (4WHIM):

The company today announced that it has surpassed the 18-patient minimum enrollment needed for primary endpoint analyses, determination of clinical benefit, and U.S. regulatory filing (if supported by the Phase 3 data), having enrolled 23 patients to date in its ongoing Phase 3 trial in WHIM syndrome. Enrollment will be completed in the third quarter of 2021, allowing the remaining identified patients to complete screening and potential enrollment. Top-line data are expected to be announced in the fourth quarter of 2022.
The 4WHIM Phase 3 trial is a global, randomized, double-blind, placebo-controlled, multicenter study designed to evaluate the safety and efficacy of mavorixafor in 18-28 genetically confirmed WHIM patients over the course of a 52-week study with open-label extension. The primary endpoint for the trial will compare the level of circulating neutrophils relative to a clinically meaningful threshold in response to treatment with mavorixafor versus placebo over 24-hour periods. Secondary endpoints will assess infection rates, wart burden, markers of immune system function, and quality of life, among others.
The company is planning to announce new data from the open-label extension of its ongoing Phase 2 clinical trial, as well as an update on patient prevalence, and new data from research into the genetics of WHIM that will detail new insights into genotype/phenotype correlations and the identification of a new WHIM variant.

Phase 1b Trial in Waldenström's Macroglobulinemia (WM):

The company also announced today that it has surpassed enrollment of the minimum 12 patients (Cohorts A and B) required to determine optimal dosing of mavorixafor in combination with ibrutinib in the ongoing Phase 1b clinical trial. The company is continuing enrollment in the optional Cohort C (up to an additional 6 patients).
This ongoing Phase 1b, open-label, multicenter, single-arm study examines intra-patient dose escalation, safety, pharmacokinetics (PK), and pharmacodynamics (PD) of mavorixafor (200 mg, 400 mg, and 600 mg) in combination with ibrutinib (420 mg), both delivered orally once daily, in patients with Waldenström's macroglobulinemia and confirmed MYD88 and CXCR4 mutations. Patients are followed for adverse events and change from baseline in IgM and hemoglobin, PK, and PD (including peripheral white blood cell counts), in addition to clinical response.
The company remains on track to announce additional dosing, efficacy, safety, and clinical response data from the ongoing trial in the fourth quarter of 2021, including patient data at the highest planned mavorixafor dose of 600 mg.