Sesen Bio and Carisma Therapeutics Announce Merger Agreement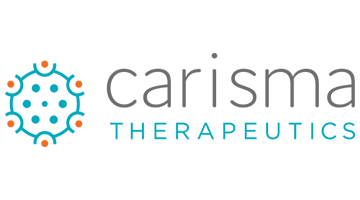 CAMBRIDGE, Mass. & PHILADELPHIA - Sep. 21, 2022-- Sesen Bio, Inc. (Nasdaq: SESN) and Carisma Therapeutics Inc. (Carisma), a privately held, clinical stage biopharmaceutical company focused on discovering and developing innovative immunotherapies, announced today that they have entered into a definitive merger agreement to combine the companies in an all-stock transaction. The combined company will focus on the advancement of Carisma's proprietary cell therapy platform that utilizes engineered macrophages and monocytes to potentially transform the treatment of cancer and other serious disorders. Carisma is pioneering the development of chimeric antigen receptor macrophage (CAR-M) therapies and is believed to be the only company developing CAR-M therapies with demonstrated proof of mechanism and safety data in clinical trials. The combined company is expected to operate under the name Carisma Therapeutics Inc. and trade on Nasdaq under the ticker symbol "CARM".
Carisma's CAR-M platform provides the ability to fine-tune the specific targets of the immune cells, potentially enabling multiple therapeutic applications in and beyond oncology. The first clinical application of this technology is CT-0508, a CAR-M cell therapy currently being evaluated by Carisma in a Phase 1 multi-center clinical trial with a lead target indication of advanced HER2+ solid tumors. Carisma believes this Phase 1 clinical trial marks the first time that engineered macrophages are being studied in humans. Carisma is leveraging its proprietary CAR-M platform to expand its oncology pipeline both independently and through a strategic partnership with Moderna. Additionally, Carisma is exploring the potential to develop its proprietary macrophage engineering platform for non-oncology applications such as liver fibrosis, as well as autoimmune and neurodegenerative disease indications.