ImCheck Therapeutics
Partnership since June 2022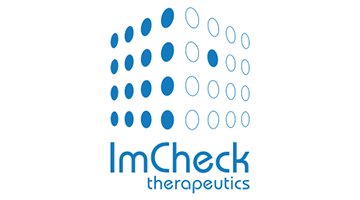 In June 2022, LLS made an equity investment in ImCheck Therapeutics to "Support Clinical Development of the ICT01 Program for Blood Cancer Indications."
ImCheck Therapeutics is designing and developing a new generation of immunotherapeutic antibodies targeting butyrophilins, a novel super-family of immunomodulators.
ICT01 is a humanized, anti-BTN3A (also known as CD277) monoclonal antibody that selectively activates γ9δ2 T cells, which are part of the innate immune system that is responsible for immunosurveillance of malignancy and infections. ImCheck's "first-in-class" activating antibodies may be able to produce superior clinical results as compared to the first-generation of immune checkpoint inhibitors and, when used in combination, to overcome resistance to this group of agents.
EVICTION (NCT04243499) is a first-in-human, dose escalation (Part 1) and cohort expansion (Part 2) clinical trial of ICT01 in patients with various advanced relapsed or refractory solid or hematologic cancers (includes acute myeloid leukemia, acute lymphocytic leukemia, follicular lymphoma, and diffuse large B cell lymphoma patients).
For more information about ImCheck, visit www.imchecktherapeutics.com/.
Recent News
November 11, 2022 – at SITC, presented first patient data from EVICTION-2, a Phase I/II clinical trial evaluating the combination of ImCheck's lead program, ICT01, a γ9δ2 T cell-activating monoclonal antibody targeting BTN3A, combined with low-dose (LD) IL-2, to selectively expand the number of γ9δ2 T cells in relapsed/refractory patients with solid tumors. 
June 13, 2022 – announced the completion of an upsized $103 million Series C financing to advance clinical program of first-in-human gamma-delta T cell activating antibody and accelerate development of disruptive immunotherapeutic pipeline by bringing on board top-tier global venture funds Earlybird, Andera Partners and Invus and patient organization The Leukemia & Lymphoma Society Therapy Acceleration Program® (LLS TAP) to prestigious syndicate.