ImCheck Closes Upsized EUR 96 Million (USD 103 Million) Financing to Advance Clinical Program of First-in-human Gamma-delta T Cell Activating Antibody and Accelerate Development of Disruptive Immunotherapeutic Pipeline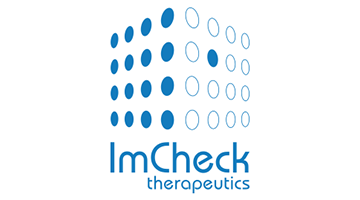 Marseille, France, June 13, 2022 – ImCheck Therapeutics announced today the close of a EUR 96 million (USD 103 million) financing, co-led by Earlybird and Andera Partners. The Series C round (EUR 80 Million - USD 86 Million) and the last outstanding tranche of Series B converted in Series C shares (EUR 16 Million - USD 17.2 Million) solidifies ImCheck's financial position and leadership in the gamma-delta T cell space. Invus and The Leukemia & Lymphoma Society Therapy Acceleration Program® also joined the round as new investors. Existing investors including the Growth Opportunity Fund of founding investor Kurma Partners, Eurazeo, Gimv, EQT Life Sciences (previously LSP), Boehringer Ingelheim Venture Fund, Pfizer Ventures, Bpifrance through its Innobio 2 and Large Venture funds, Wellington Partners, Agent Capital, Pureos Bioventures and Alexandria Venture Investments participated.
The proceeds will be used to support the Phase IIa expansion arms of EVICTION in solid tumors and hematologic cancers, and completion of randomized, double-blind, placebo-controlled clinical trials evaluating ImCheck's lead candidate ICT01 in combination with a PD-1 inhibitor for multiple solid tumors. The Company also will apply the capital to investigate ICT01 in combination with other therapeutic agents, including IL-2, in the forthcoming EVICTION-2 clinical trial. The funding will accelerate the further advance toward the clinic of additional antibody candidates in immuno-oncology, auto-immune and infectious diseases. In addition, it will allow the Company to achieve pivotal study readiness for ICT01 and expand its footprint through extended clinical operations and regulatory affairs in Europe and the US.
EVICTION (NCT04243499) is a first-in-human clinical trial of ICT01 in patients with various advanced relapsed or refractory solid or hematologic cancers (includes acute myeloid leukemia, acute lymphocytic leukemia, follicular lymphoma, and diffuse large B cell lymphoma patients). ICT01 is a humanized, anti-BTN3A (also known as CD277) monoclonal antibody that selectively activates γ9δ2 T cells, which are part of the innate immune system that is responsible for immunosurveillance of malignancy and infections.