Constellation Pharmaceuticals
Partnership since July 2012 (Acquired by MorphoSys in July 2021)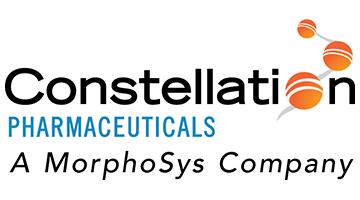 In July 2012, LLS began its partnership with Constellation to support three first-in-human Phase 1 clinical trials for blood cancer patients and is currently supporting "A Phase 3, Randomized, Double-blind, Active-Control Study of CPI-0610 and Ruxolitinib vs. Placebo and Ruxolitinib in JAKi Treatment Naive MF Patients."
Constellation Pharmaceuticals is a clinical-stage biopharmaceutical company developing novel therapeutics that selectively modulate gene expression to address serious unmet medical needs in patients with cancer. The Company has a deep understanding of how epigenetic and chromatin modifications in cancer cells and in the tumor and immune microenvironment play a fundamental role in driving disease progression and drug resistance. Constellation is driving development of the BET inhibitor pelabresib (CPI-0610) for the treatment of myelofibrosis.
Constellation developed CPI-0610 which inhibits members of the BET family of chromosome-binding proteins to selectively inactivate various cancer-promoting genes, including MYC, a master control gene that plays a role in many cancers. Inhibiting BET can kill a broad range of blood cancers.
After completing Phase 2 trials in myelofibrosis, Constellation is currently enrolling myelofibrosis patients in a Phase 3 clinical trial of the BET inhibitor CPI-0610 (NCT04603495).
For more information about Constellation, visit www.constellationpharma.com.
Recent News
December 12, 2021 - presented the latest data from the ongoing MANIFEST study, an open-label, Phase 2 clinical trial of pelabresib, an investigational BET inhibitor, in patients with myelofibrosis, a rare bone marrow cancer for which only limited treatment options are available. These latest results, which included more patients and longer-term follow-up than previously reported data, suggest the potential of pelabresib in the treatment of myelofibrosis. These findings were presented during poster and oral sessions at the 63rd American Society of Hematology Annual Meeting and Exposition (ASH 2021), held December 11 - 14, 2021 in Atlanta, Georgia and virtually.
July 15, 2021 - MorphoSys announced the successful completion of its previously announced cash tender offer for all outstanding shares of Constellation Pharmaceuticals, Inc. for a total equity value of the transaction of approximately $1.7 billion. MorphoSys will promptly complete its acquisition of Constellation through a second step merger of MorphoSys Development Inc. with and into Constellation resulting in Constellation surviving as an indirect wholly owned subsidiary of MorphoSys.
June 11, 2021 - announced that three posters relating to the MANIFEST clinical trial of pelabresib (CPI-0610) in myelofibrosis (MF) were published online in association with the European Hematology Association (EHA) annual meeting. The data in these posters from the MANIFEST Phase 2 clinical trial reflect an analysis of pelabresib clinical and translational activity.