Constellation Pharmaceuticals
Partnership since July 2012 (Acquired by MorphoSys in July 2021)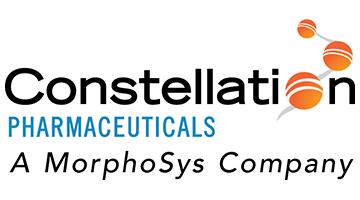 In July 2012, LLS began its partnership with Constellation to support three first-in-human Phase 1 clinical trials for blood cancer patients and is currently supporting "A Phase 3, Randomized, Double-blind, Active-Control Study of CPI-0610 and Ruxolitinib vs. Placebo and Ruxolitinib in JAKi Treatment Naive MF Patients."
Constellation Pharmaceuticals is a clinical-stage biopharmaceutical company developing novel therapeutics that selectively modulate gene expression to address serious unmet medical needs in patients with cancer. The Company has a deep understanding of how epigenetic and chromatin modifications in cancer cells and in the tumor and immune microenvironment play a fundamental role in driving disease progression and drug resistance. Constellation is driving development of the BET inhibitor pelabresib (CPI-0610) for the treatment of myelofibrosis.
Constellation developed CPI-0610 which inhibits members of the BET family of chromosome-binding proteins to selectively inactivate various cancer-promoting genes, including MYC, a master control gene that plays a role in many cancers. Inhibiting BET can kill a broad range of blood cancers.
After completing Phase 2 trials in myelofibrosis, Constellation is currently enrolling myelofibrosis patients in a Phase 3 clinical trial of the BET inhibitor CPI-0610 (NCT04603495).
For more information about Constellation, visit www.constellationpharma.com.
Recent News