Calming Anxiety and Fear: Coronavirus (COVID-19)
The COVID-19 pandemic is unsettling. Cancer survivors and their loved ones may feel particularly vulnerable today. 
Join this program as we talk about caring for yourself today: fine-tuning self-awareness, seeking control during times of stress and other strategies to navigate the road ahead.
---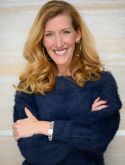 Julie Larson, LCSW
Psychotherapist & Speaker-Educator
Audio Replay
Program Materials
Program Support
Support for this program is provided by AbbVie Inc., Autolus Therapeutics plc, Bristol Myers Squibb Foundation, and  Pharmacylics, An AbbVie Company & Janssen Biotech
---
The Leukemia & Lymphoma Society (LLS) is closely monitoring the coronavirus (COVID-19) pandemic. For more information and resources, click here.