"Coloring Outside the Lines" follows the life-or-death journeys of four patients with aggressive leukemia and the groundbreaking clinical trial designed to save them.
Rye Brook, NY (November 15, 2023) – The story of a clinical trial that is unlocking a new, personalized treatment approach with the power to save the lives of thousands of people living with an aggressive and deadly form of leukemia was screened at the American Public Health Association Film Festival this week.   
From two-time Peabody and six-time Emmy award-winning journalists and filmmakers Geraldine Moriba and Jamila Paksima, the documentary is an eye-opening story about a group of scientific visionaries and the patients who trusted them. The film captures the stories of Dorila, Jerry, Martha and Susan, who enrolled in the Beat AML® Master Clinical Trial. 
"Leading scientists saw a major unmet need in blood cancer treatment and dove in to create something the medical world had never seen before: the first collaborative precision medicine master clinical trial for blood cancer," said E. Anders (Andy) Kolb, M.D., president and CEO of The Leukemia & Lymphoma Society (LLS). "It is incredible to see the stories of four patients who enrolled, and to think about the hundreds and eventually thousands of others who will benefit from our work together."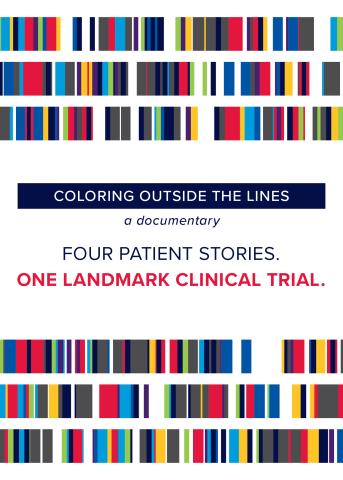 Through their stories, the filmmakers show how the trial took a bold and innovative approach using advanced technology to examine the genetic make-up of each patient's cancer to match them with the most promising targeted treatment. These treatments can replace chemotherapy, which can be very difficult for patients to tolerate, especially those 60 and older. These patients are most likely to get this form of cancer and face a life expectancy of just months or even weeks at diagnosis. 
"Coloring Outside the Lines" was five years in the making, starting shortly after LLS launched the trial in 2016 to capture in-depth stories about how all four individuals -- after given a devastating prognosis -- were able to continue to enjoy their lives, hobbies, interests and extra time with their families. Today, more than 1,400 patients have joined the trial, which is improving survival rates and quality of life compared to standard chemotherapy. 
In addition to the stories of individuals enrolled in the trial, the documentary also features the doctors who treated them and the scientific leaders and partners behind the trial.  
"I watched my mother undergo three months of chemotherapy in 1996, and it was devastating. My work will not be over until people no longer need to experience harsh cancer treatment," said John Byrd, M.D., Chief Medical Officer of Beat AML and Chair of the Department of Internal Medicine at University of Cincinnati. "I'm pleased to say that the Beat AML Master Clinical Trial has given me hope that we will one day accomplish this, as I have witnessed that half of the patients with a subtype of AML can take a pill and go into remission without any chemotherapy."  
To learn more and watch the trailer, visit www.lls.org/documentary. 
About The Leukemia & Lymphoma Society
The Leukemia & Lymphoma Society® (LLS) is the global leader in the fight against blood cancer. The LLS mission: Cure leukemia, lymphoma, Hodgkin's disease, and myeloma, and improve the quality of life of patients and their families. LLS funds lifesaving blood cancer research around the world, provides free information and support services, and is the voice for all blood cancer patients seeking access to quality, affordable, coordinated care.  
Founded in 1949 and headquartered in Rye Brook, NY, LLS has regions throughout the United States and Canada. To learn more, visit www.LLS.org. Patients should contact the Information Resource Center at (800) 955-4572, Monday through Friday, 9 a.m. to 9 p.m. ET.   
LLS is the only organization featured in the nonprofit category on both Fast Company's 2022 Brands That Matter list and the 2023 Best Workplaces for Innovators list. LLS stands out among brands around the world for its relevancy, cultural impact, ingenuity, and mission impact.   
For additional information, visit lls.org/lls-newsnetwork. Follow us on Facebook, X, Instagram and LinkedIn. 
About the Beat AML® Master Clinical Trial 
The Beat AML® Master Clinical Trial is the first collaborative precision medicine clinical trial in a blood cancer. Launched by The Leukemia & Lymphoma Society in 2016 and focused on newly diagnosed patients aged 60 or older, the trial uses advanced genomic technology to match patients to the most promising targeted treatment based on their unique genetic mutations.  
The trial tests multiple therapies in multiple study arms simultaneously under a "Master Trial" protocol that not only has the power to bring new therapies to acute myeloid leukemia patients faster, but also has the potential to stand as a model for future clinical trials. The trial has already generated strong results, showing superior survival rates and better quality of life when genomic analysis is used to match patients to targeted therapies. For more information, www.lls.org/beataml.