LLS President & CEO, Louis J. DeGennaro, Ph.D., Announces Retirement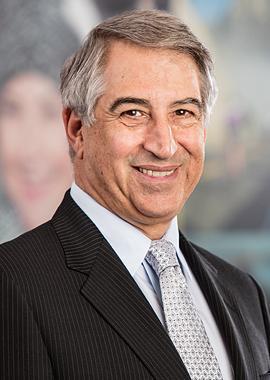 Dear friends and colleagues,
Seventeen years ago, I made a lifechanging decision to join LLS, fueled by my desire to work at a mission driven organization where I could have greater impact on the day-to-day lives of blood cancer patients and their families.
Since then, I have been fortunate, and humbled, to work in leadership roles at LLS—as vice president of research, Chief Mission Officer, and since 2014 as CEO—working alongside dedicated staff and volunteers to lift the organization to new heights, grow resources and improve the quality of life for blood cancer patients and their families. The experience has often brought me both joy and sorrow: joy when we save a life and sorrow when a life is lost to blood cancer.
Today I share with you another lifechanging decision. I've informed the LLS Board of Directors that I plan to retire in June 2023, when my contract expires—14 months from now. After 17 years at LLS and 9 years as CEO, it will be time to transition my role to the next generation of leadership. Retirement will allow me more family time and visits with my daughter and grandchildren in London, more time in the garden, and more time cooking with my wife.
This was not an easy decision. It is not easy to retire from an organization where I wake up every day knowing that in partnership with staff and volunteers LLS is saving lives and improving the quality of life for blood cancer patients, survivors, and their families. It is not easy to leave treasured colleagues who are relentlessly committed to the LLS mission. In my virtual tours with teams across the organization, I've heard staff's enthusiasm, drive, innovative ideas, and passionate commitment to setting a bold vision and course for the future. I know that our executive leadership team, with support and oversight from our National Board, will continue the momentum we have created together. I have never been more optimistic and confident in the organization's ability to grow. I extend my deepest gratitude to all who have joined me on this journey.
As I reflect on our organization's history and impact on the patients we serve, I am inspired and exceptionally proud of all we've accomplished.
Together, we have helped countless families who have faced a blood cancer diagnosis. LLS has made a tremendous difference in their lives through our research leading to better treatment options, our support and education throughout their cancer journey, and our advocacy efforts to break down barriers to care.
Together, we listened to patients and responded with programs like financial assistance, one-to-one counselling, and clinical trial navigation to meet their needs. LLS has become a respected, sought-after voice in both federal and state legislative arenas as we championed programs to do right by patients.
Together, we have transformed the landscape of cancer care. The evolution of new blood cancer therapies has been nothing short of breathtaking! In the last five years alone, LLS-funded research has helped accelerate the discovery and development of 75% of the 100 blood cancer treatments approved by the FDA. And LLS's Therapy Acceleration Program (TAP), which was pioneered under my leadership, is one of the most successful venture philanthropy programs in the country, investing more than $125 million in over 70 projects, since its establishment in 2007.
I'm often asked what I'm most proud of at LLS: first and foremost, it's the people – staff and volunteers. People drawn from every walk of life, united in our mission. I am equally proud of LLS's entrepreneurial spirit – the willingness to take calculated risks to drive the best outcomes for cancer patients.
The Board will soon begin a comprehensive search for my replacement, and I will be engaged in helping to transition the new CEO when appointed.
In the meantime, our work together is not finished. Over the next year I will continue important work to plan for where LLS goes next. We will build on our successes to create a path forward, and staff insights will lay the foundation of that path.
I remain committed to moving our mission forward because, as Ralph Waldo Emerson says, in one of my favorite quotes, "To know even one life has breathed easier because you have lived, this is to have succeeded."
With patients at our center, we will continue to succeed!
Warm regards,
Louis J. DeGennaro, Ph.D.
President & CEO