LLS Applauds FDA Approval of New Treatment Option for Pediatric Patients with Hodgkin Lymphoma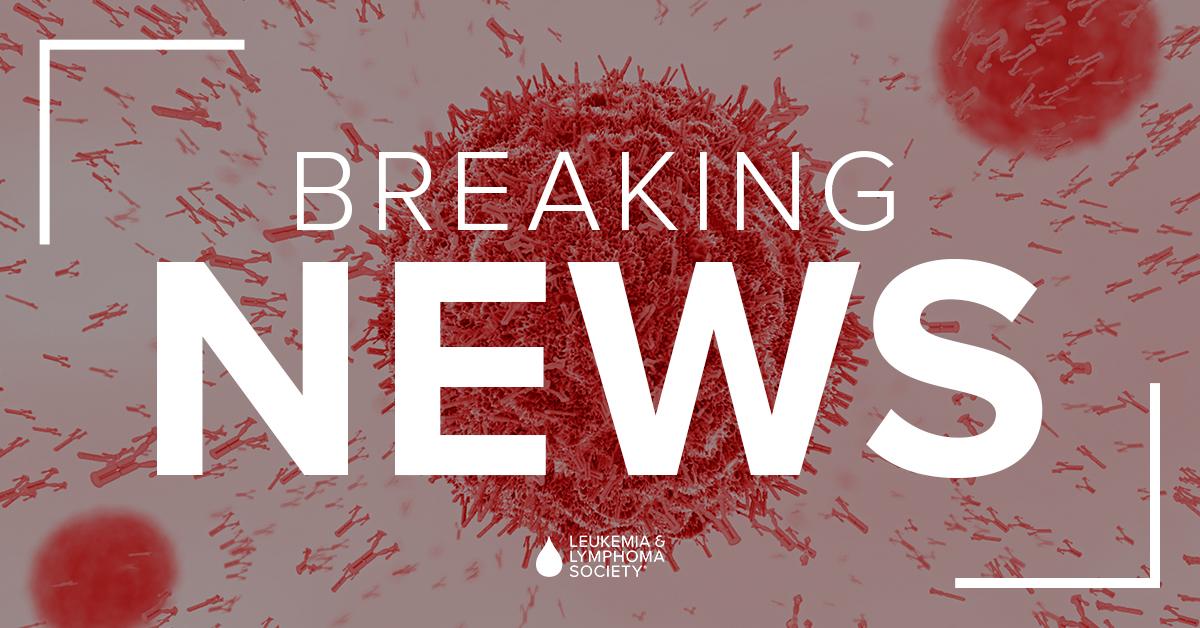 The U.S. Food and Drug Administration (FDA) yesterday approved brentuximab vedotin (Adcetris®) in combination with standard dose-intensive chemotherapy in children 2 years and older with previously untreated high-risk classical Hodgkin lymphoma. The drug is already a standard treatment for adults with the same form of blood cancer, but this is its first indication in children.
The FDA based approval of brentuximab vedotin in children on data from a large phase 3 trial funded by the National Cancer Institute with additional support from LLS. LLS funding supported gathering of quality of life and cost-effectiveness data in this lengthy trial, which followed patients for more than three years. LLS is committed to finding better treatments that also have less impact on patients' quality of life.
The study compared the standard combination treatment to a combination that included brentuximab vedotin but removed bleomycin, which can lead to long-term pulmonary complications, including pulmonary fibrosis. The brentuximab-based regimen reduced the risk of disease progression or relapse, second cancer, or death by 59% compared to the standard combination. The study enrolled nearly 600 patients aged 2 to 21 years across 151 clinical trial sites. 
Brentuximab vedotin is a more precise form of chemotherapy. Instead of affecting the entire body, this therapy specifically delivers the toxin to the tumor cell by attaching to a marker called CD30. Targeted therapies are designed to selectively attack cancer cells while leaving healthy cells alone, to boost effectiveness and reduce potential side effects. 
"This year, 11 of the 12 new drugs approved to treat blood cancer are targeted treatments, and LLS supported more than half of them" says LLS Chief Scientific Officer Dr. Lee Greenberger. "While chemotherapy remains an essential part of care for some blood cancers, this trend toward precision targeting of cytotoxic therapy is good news and a strong focus of LLS research dollars, along with finding new and better ways to recruit the immune system in the fight against cancer."
Currently, only 5% of oncology drugs have been approved for first time use in children. LLS has set out to change that. The LLS Dare to Dream Project envisions a world where kids with blood cancer not only survive but thrive after treatment. A key component of the project is the Pediatric Acute Leukemia Master Clinical Trial (LLS PedAL).
"Every new medicine that improves outcomes for children with blood cancer is a win," says LLS Chief Medical Officer Dr. Gwen Nichols. "It is critical that agents first approved in adults move forward to children quickly and safely, but we also need trials for agents specifically for children. Children are not little adults; their bodies work in different ways, and we need unique treatment approaches for them."
LLS PedAL is a master clinical trial that screens children with aggressive forms of leukemia to identify the unique tumor biology of each child to help match them to the most promising treatment for them. This is the first trial of its type to be led by a nonprofit featuring a broad, international collaboration with industry leaders and academic institutions. 
To learn more about PedAL click here or call (800) 955-4572 to speak to an Information Resource Specialist. You may also contact us at askpedal@lls.org. 

About The Leukemia & Lymphoma Society

The Leukemia & Lymphoma Society® (LLS) is the global leader in the fight against blood cancer. The LLS mission: Cure leukemia, lymphoma, Hodgkin's disease, and myeloma, and improve the quality of life of patients and their families. LLS funds lifesaving blood cancer research around the world, provides free information and support services, and is the voice for all blood cancer patients seeking access to quality, affordable, coordinated care.
Founded in 1949 and headquartered in Rye Brook, NY, LLS has regions throughout the United States and Canada. To learn more, visit www.LLS.org. Patients should contact the Information Resource Center at (800) 955-4572, Monday through Friday, 9 a.m. to 9 p.m. ET.
LLS is one of Fast Company's "2022 Brands That Matter." As the only cancer organization on the list, LLS stands out among brands around the world for its relevancy, cultural impact, ingenuity, and mission impact.