New effort to rapidly accelerate the pace of cancer innovation, as part of the White House Cancer Moonshot

Rye Brook, N.Y., April 3, 2023 - The Leukemia & Lymphoma Society (LLS) has joined on as a proud partner of  CancerX's inaugural project, "Advancing Digital Innovation to Improve Equity and Reduce Financial Toxicity in Cancer Care and Research." CancerX is co-hosted by the Digital Medicine Society (DiMe) and Moffitt Cancer Center alongside the Office for the National Coordinator for Health Information Technology (ONC) and Office of the Assistant Secretary for Health. This new public-private partnership effort is designed to rapidly accelerate the pace of cancer innovation in the U.S. as part of the White House Cancer Moonshot.

CancerX was recently announced by U.S. President Joe Biden and Dr. Jill Biden as part of the reignited Cancer Moonshot, with a new national goal to cut the death rate from cancer by at least 50% over the next 25 years and improve the experience of people and their families living with and surviving cancer.  It will unite the diverse stakeholders and innovators necessary to unleash the power of innovation to design and create a future that's free of the burden of cancer.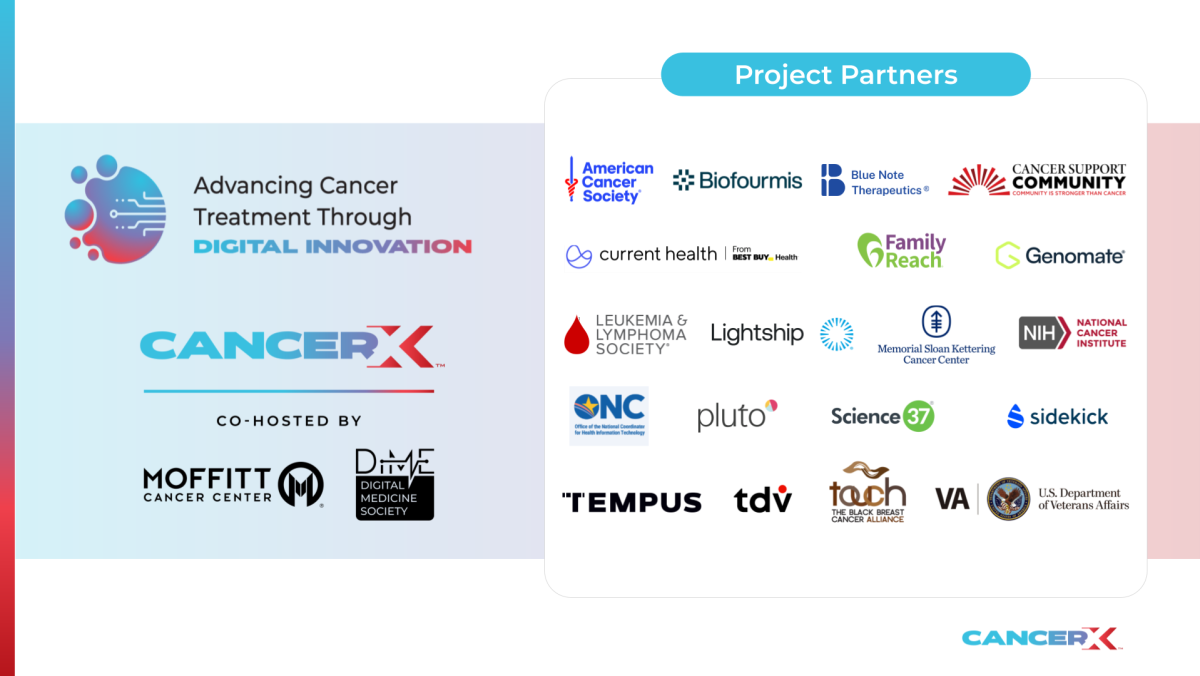 LLS is joining CancerX's first pre-competitive evidence generation project which convenes a multi-stakeholder group of experts to assess, quantify, and enhance the impact of digital solutions on cancer care cost, access, and outcomes dimensions. Other organizations participating include: American Cancer Society; Biofourmis; Blue Note Therapeutics; Cancer Support Community; Current Health, A Best Buy Health Company; Family Reach; Genomate Health; Lightship; Memorial Sloan Kettering Cancer Center (MSK); National Institutes of Health (NIH), National Cancer Institute (NCI); Office of The National Coordinator for Health Information Technology (ONC); Pluto Health; Sidekick Health, Science 37; Takeda Digital Ventures; Tempus; TOUCH, The Black Breast Cancer Alliance; and the U.S. Department of Veterans Affairs (VA).
As part of the CancerX project team, LLS will be instrumental in:
Focusing on the root causes of health inequity and financial toxicity in cancer to accelerate human-centered digital innovation to solve some of the most pressing challenges facing cancer patients, providers, and researchers. 
Championing the value of high-quality digital innovation in cancer, address methodological gaps where they exist, and define best practices for successful and equitable implementation.
Identifying the biggest areas of impact, developing actionable tools, and providing incentive models as a path forward for oncology field for tapping into the promise of digital innovation across the full continuum of care.
To learn more, visit https://cancerx.health/. 
About The Leukemia & Lymphoma Society
The Leukemia & Lymphoma Society® (LLS) is a global leader in the fight against blood cancer. The LLS mission: Cure leukemia, lymphoma, Hodgkin's disease and myeloma, and improve the quality of life of patients and their families. LLS funds lifesaving blood cancer research around the world, provides free information and support services, and is the voice for all blood cancer patients seeking access to quality, affordable, coordinated care. 
Founded in 1949 and headquartered in Rye Brook, NY, LLS has regions throughout the United States and Canada. To learn more, visit www.LLS.org. Patients should contact the Information Resource Center at (800) 955-4572, Monday through Friday, 9 a.m. to 9 p.m. ET.
For additional information visit lls.org/lls-newsnetwork.  Follow us on Facebook, Twitter, Instagram, and LinkedIn.
LLS is one of Fast Company's "2022 Brands That Matter."  As the only cancer organization on the list, LLS stands out among brands around the world for its relevancy, cultural impact, ingenuity, and mission impact.