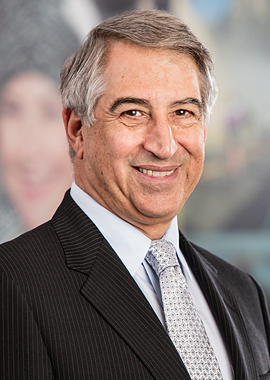 Louis J. DeGennaro, Ph.D.
President and Chief Executive Officer
Louis J. DeGennaro, Ph.D., is president and chief executive officer of The Leukemia & Lymphoma Society (LLS), a global leader in the fight against cancer. Dr. DeGennaro leads the mission and operations of this $400 million cancer patient advocacy agency with headquarters in Rye Brook, New York.
Dr. DeGennaro has been a member of the LLS executive leadership team since he joined LLS as chief scientific officer in 2005. He was named LLS chief mission officer in 2009, with responsibility for leadership of all of LLS's mission functions, including research, patient education and support, public policy and advocacy. He was named president and CEO in September 2014.
As the key architect of LLS's cures and access agenda, Dr. DeGennaro conceived and pioneered LLS's Therapy Acceleration Program® - a venture philanthropy approach to accelerating new treatments to patients through drug discovery and development partnerships with the biotechnology industry. LLS's foray into venture philanthropy helped redefine the activist role of nonprofits to meet urgent unmet medical needs. Under Dr. DeGennaro's leadership LLS launched its groundbreaking precision medicine Beat AML® Master Trial in October 2016, leading the offensive against acute myeloid leukemia, one of the most deadly blood cancers.
Dr. DeGennaro has devoted his career to saving lives through drug discovery – first in academic research, later directing drug development at several pharmaceutical companies. At LLS he has found the perfect intersection of science and patient care, overseeing the funding of cutting-edge research, supporting patients and engaging in patient advocacy work. In addition to providing leadership and vision for his staff, he is committed to keeping a significant constituency of volunteers motivated and dedicated to the organization.
After receiving his doctorate in biochemistry from the University of California at San Francisco, Dr. DeGennaro did his post-doctoral research at the Yale University School of Medicine. His previous academic appointments include research group leader, Max Planck Institute in Munich, Germanyand associate professor of neurology and cell biology, University of Massachusetts Medical School. His previous private sector appointments included Senior Director, Molecular Genetics, Wyeth Pharmaceuticals and Executive Vice President, Synex Pharmaceuticals.