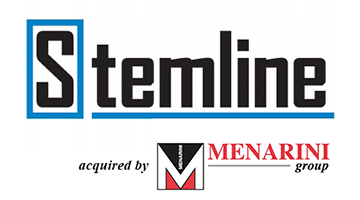 Blastic plasmacytoid dendritic cell neoplasm (BPDCN) is a rare blood malignancy that, until recently, had no FDA-approved treatment and average survival of just 9-12 months. This changed with SL-401, a drug LLS started supporting early in its development in the lab of Dr. Arthur Frankel (University of Texas Southwestern Medical Center). LLS TAP invested $3 million to test the drug in clinical trials, leading to Breakthrough Therapy designation and later, full approval by the FDA as a first-line treatment for BPDCN. As a result, in 2019 it was reported that survival rates doubled for more than half of patients with BPDCN. An acquisition by Menarini in 2020 helped bring in returns of $7.25 million for LLS and our mission.
Click here to view a larger image of the TAP-Stemline Success Story!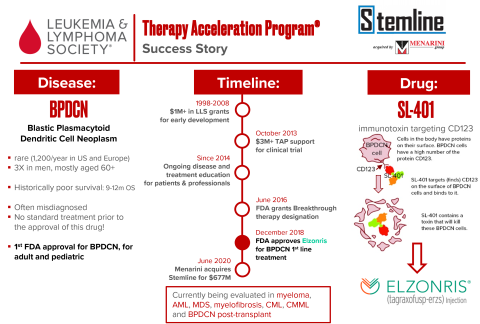 Elzonris® (SL-401, Tagraxofusp-erzs) is a CD123-directed cytotoxin, was approved by the U.S. Food and Drug Administration on December 21 2018 and is the first approved therapy for children and adults with blastic plasmacytoid dendritic cell neoplasm (BPDCN).
Clinical data that supported the first approval application was published in N Engl J Med.
Recent News