On Wednesday, November 7, The Leukemia & Lymphoma Society California Southland Chapter held a dinner to honor Dr. Sherie Morrison, a preeminent researcher recognized with the LLS Award of Excellence in Research for making seminal contributions to basic and translational research. The theme for the evening was Women in Research where Dr. Morrison shared anecdotes from her incredible career as a pioneer for all research and a pioneer for women in the lab.
The dinner was hosted by Shannon Sullivan, Executive Director of the California Southland Chapter, and Lori Loo, an attorney and long-time volunteer and supporter of The Leukemia & Lymphoma Society. Dr. Michael Teitell, Director of the Jonsson Comprehensive Cancer Center at UCLA Health, introduced Dr. Morrison, his long-time colleague and friend. Attendees included supporters and volunteers of the local chapter.
Upon accepting the award, Dr. Morrison shared insights as a top researcher, a female professor, a wife and a mother.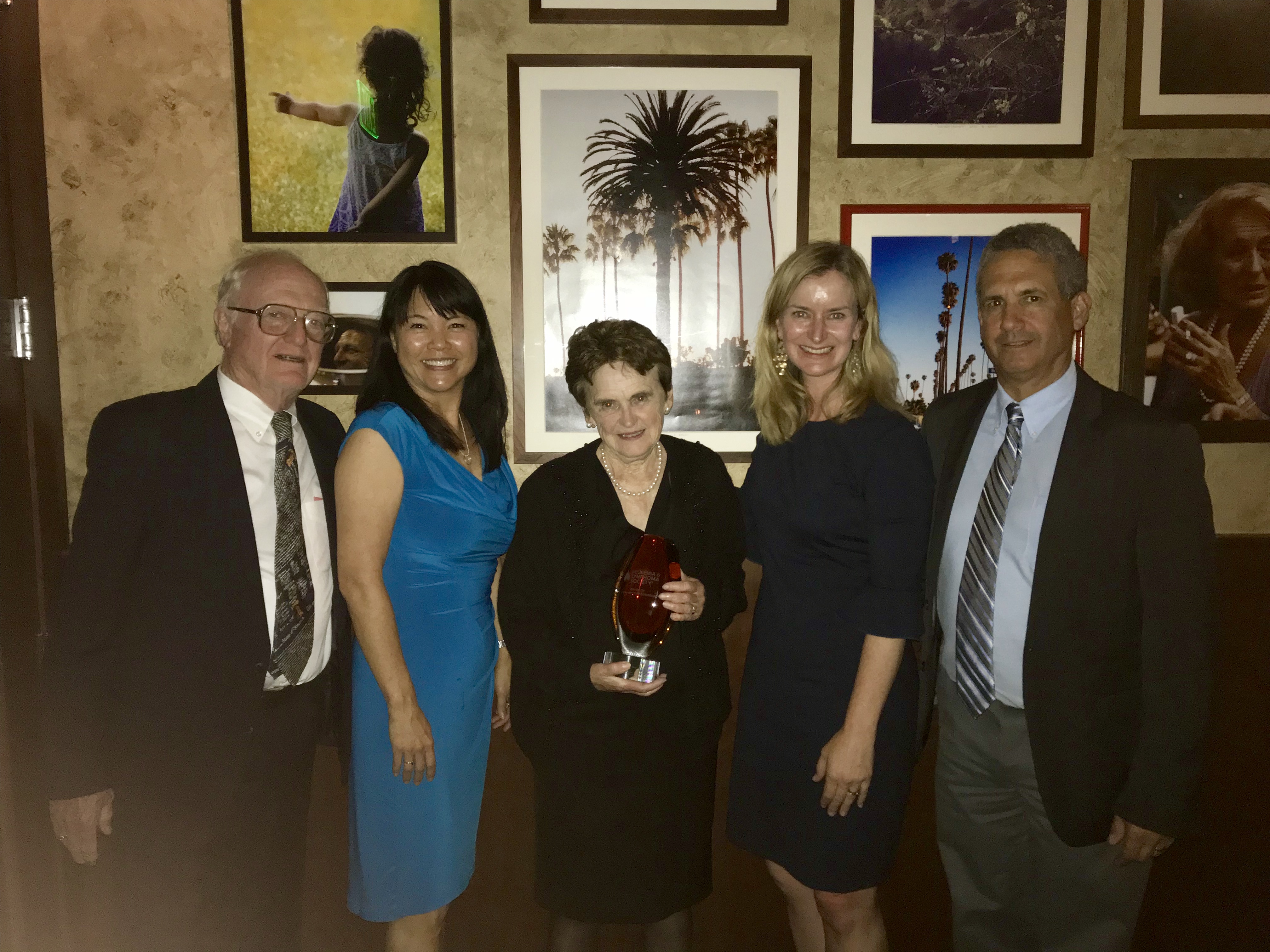 (L-R Don Morrison, Lori Loo, Dr. Sherie Morrison, Shannon Sullivan, Dr. Michael Tietell)
She spoke of her early passion for research, sparked when she took a job in high school washing dishes in a local clinical laboratory. Dr. Morrison conducted her first science projects at the lab, ultimately building an apparatus to separate blood proteins. This research was recognized with local awards and ultimately she became one of 40 winners of the Westinghouse Science Talent search. As a top winner, she was honored with a trip to Washington, DC and the opportunity to meet the President of the United States. "To get some idea of how long ago that was, the President was Eisenhower and the Westinghouse sponsors were concerned about the safety of newly developed air travel so I journeyed to Washington by train."
As an undergraduate and graduate student at Stanford, Dr. Morrison continued her passion for laboratory research and focused on immunology. She met her husband, Don, at Stanford, and had her first child after completing her thesis.
Upon moving to New York where her husband accepted a job at Columbia University, Dr. Morrison found a position as a part-time postdoctoral fellow. "I chose to work part-time because I wanted to be able to spend time with my daughter - and I was very concerned that I work at hard as any of my male colleagues. I felt it was very important that no one could point their finger at me and say that women were not working as hard as their male colleagues." Dr. Morrison commented that female scientists faced challenges. "When I was a graduate student, about half of the graduate students were women. But when I became a full professor, very few of the full professors were women."
Dr. Morrison noted her collaborations with Dr. Matthew Scharff at Albert Einstein, where she focused on isolating cells making mutant antibodies. This research helped her attain a full time position in Microbiology at Columbia College where she achieved tenure.
While on sabbatical at Stanford University, her research in the laboratory of Dr. Paul Berg turned to developing therapeutics for hematology/oncology. "Molecular biology was in its infancy and the technique of expressing genes by putting them back into cells was just beginning. With my interest in antibody function, it seemed that the best way to approach those problems was to manipulate antibody genes in the test tube and then to put them back into cells and see how the new antibody functioned. We succeeded in doing this and then we knew that we could consider making genetically altered antibodies." Dr. Morrison and her colleagues successfully created mouse models that used genetic engineering to make mostly human antibodies that could be used successfully in humans. "The other bonus from these studies was that we could now make antibody-like proteins that are never found in nature, including antibody fusion proteins."
Upon her move to UCLA, Dr. Morrison began a fruitful collaboration with Dr. John Timmerman, a lymphoma researcher and clinician. "Interferons are molecules that have great promise as cancer therapeutics because they both directly kill malignant cells and can elicit an anti-cancer immune response. However, they are toxic if injected at concentrations that are effective. John and I reasoned that we could directly target them to the lymphoma cells by fusing the interferon with an antibody specific for the molecule CD20 that is found on lymphoma cells." Dr. Timmerman and Dr. Morrison received research funding from LLS to show the feasibility of this approach. "Without LLS support, the studies would have stopped at this point. Instead, we obtained positive preclinical results, which resulted in a company, ImmunGene, moving forward into clinical trials."
Dr. Morrison's current research is focused on treatments for multiple myeloma. "CD138 is a molecule present on the malignant plasma cells in myeloma. We have made interferon fusions with an antibody that binds CD138 and have found them to be very effective against myeloma cells." Dr. Morrison has formed a new company, Qwixel Therapeutics, to move these anti-CD138 fusions into the clinic.
"I have been blessed to pursue a career as a scientist. I find nothing more satisfying than having a friend tell me that using one of our genetically engineered antibodies has changed their quality of life. You can see from my journey that it is basic science that lays the groundwork for the development of effective therapeutics. And basic science is a very expensive undertaking. It is supported by agencies and societies such as LLS that provide the critical funding to move science forward."
When asked to reflect on the future of treating blood cancer, Dr. Morrison's self-effacing nature was evident. "I can only comment that things that are currently routine undertakings were not even imagined when I was beginning. I remain the eternal optimist that current untreatable cancers will be cured."
A recurring theme for the evening was gratitude, for the researchers like Dr. Morrison who are making treatment breakthroughs possible, for the clinicians who help patients benefit from new therapies, and for the LLS community who helps raise funds to support this research.
More about Dr. Sherie Morrison: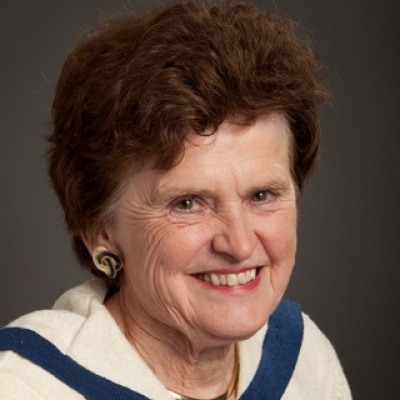 Dr. Morrison received her B.A. and Ph.D degrees from Stanford University in 1963 and 1966. After pursuing a part-time postdoctoral fellowship at Columbia University, UC Berkeley and Albert Einstein College of Medicine, she joined the faculty of the Department of Microbiology at Columbia University in 1974 where she remained until 1988, rising to the rank of Professor. In 1988, she joined the faculty of UCLA where she is currently Distinguished Professor of Microbiology, Immunology and Molecular Genetics. Her long-time research interest has been the functional properties of antibodies and novel antibody-related proteins. A current focus of her laboratory is antibody fusions with interferon with the treatment of malignancy. Dr. Morrison's research on antibody function and engineering has significantly advanced our understanding of how antibodies function and how we can use antibodies to treat human diseases.
---
About The Leukemia & Lymphoma Society
The Leukemia & Lymphoma Society (LLS) is the largest voluntary health organization dedicated to funding research, finding cures and ensuring access to treatments for blood cancer patients. Since 1949, The LLS has been on the forefront of blood cancer advances such as chemotherapies and stem cell transplantation leading the way to the targeted therapies and immunotherapies that are saving thousands of lives today. LLS is changing the landscape of cancer with more than 300 active research projects that explore different avenues of new and adventurous research; ones with promise and ones that will save lives not someday, but today. Learn more at www.lls.org.
The California Southland Chapter, headquartered in Los Angeles, empowers community members to help beat cancer through Light The Night, Man & Woman of the Year, Students of the Year, Team in Training, and Pennies for Patients. We also offer patient and health care professional education opportunities, local support groups and a variety of volunteer opportunities. To learn more, please visit www.lls.org/california-southland or call 310-342-5800.