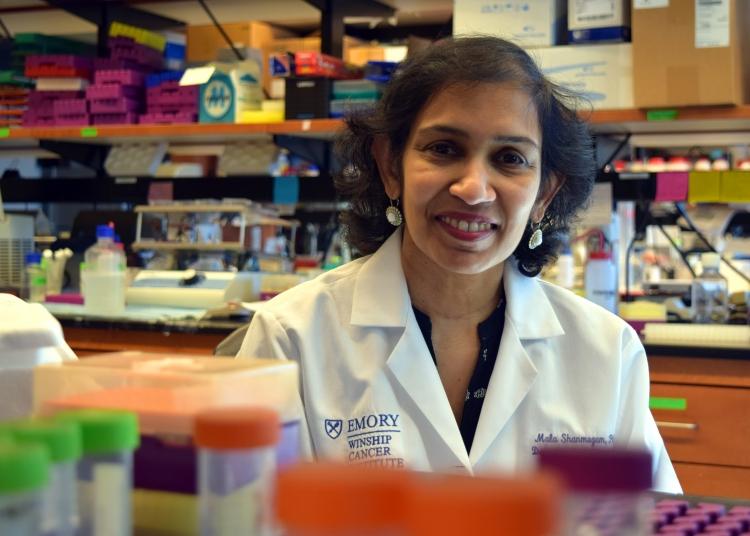 In honor of International Women's Day on March 8, The Leukemia & Lymphoma Society (LLS) is shining a light on our community of women trailblazers who are leading the way to cancer cures. Malathy Shanmugam, PhD, MS, Winship Cancer Institute of Emory University in Atlanta, is at the forefront of finding new treatments and cures for myeloma. With support from LLS, Dr. Shanmugam is researching an innovative targeted therapy called venetoclax, which is showing promise in multiple myeloma and has proven to be a game changer for some patients with chronic lymphocytic leukemia and acute myeloid leukemia. As March is also Myeloma Awareness Month, we thought it was the perfect opportunity to learn more about Dr. Shanmugam, her cutting edge research and what inspires her.
What's the focus of your research and its primary goal?
We are investigating how cancer cells rely on their metabolism to evade cell death. Cells use different nutrients like glucose and amino acids to generate energy, grow and survive. Interestingly, cancer cells alter their metabolism to survive under various harsh conditions, including exposure to therapy. Ultimately, our goal is to enhance the effectiveness of existing drugs and find new ways to target cancer cells.
What makes you excited about the work you are doing?
I am excited about the translational implications of our work. We intend to make a difference in the treatment of multiple myeloma by bringing discoveries from the lab into clinical trials. I am also excited every day to meet with fellow researchers in my lab. Their enthusiasm and passion are infectious.
Describe the "a-ha" moment when you knew you wanted to become a scientist.
During my master's program, I was working in an immunology lab. I came up with a robust, highly sensitive laboratory procedure — called a sandwich "ELISA" protocol — to detect a specific protein on the bacteria that causes typhoid. I could not wait to describe the experiment to my professor, who told me that I came up with a beautiful experiment. Knowing that I could think of a meaningful experiment independently was extremely rewarding and validating for me.
What role has mentorship played in your career? Are you mentoring others?
Mentorship has played an immense role. I wouldn't be here without it. I have had many mentors at each stage, both male and female. I would say a critical mentor of mine has been Dr. Steve Rosen, currently the provost of City of Hope. He gave me the first break in allowing me to be senior corresponding author on our publications and giving me the time to apply for research grants. I could not have moved on to an independent tenure track without his support and guidance. Now, I try to understand where my mentees would like to see themselves and provide the right guidance to help them achieve their unique career paths.
Describe your experience as a woman in science. Have you faced any obstacles?
I would say the biggest obstacle is wondering if my work is good enough or trying to be too perfect. I think it comes down to lack of confidence, but once you develop a strong research niche and continue to ask meaningful questions diligently, then you overcome those doubts. I haven't followed a traditional route. I had three children and after postdoctoral training, I started a non-tenure track research appointment. I encountered setbacks, but I never gave up my dream of having my own lab. That happened when I came to Emory in 2013 and joined the multiple myeloma team at Winship. They have been wonderfully supportive and having support from your peers is invaluable.
What are your tips to help women break the glass ceiling in science?
Find an area you are passionate about and the right mentors and put in the effort. Effortless passion and passionless effort will take you nowhere.
What and/or who inspires you?
My mother is the first female physician from our community in Southern India and she has inspired not only her own family but many other women in our community to follow non-traditional paths. She has made seminal contributions as a pediatric pulmonologist and I always think if she can do it, I can, too. I also draw unconditional support from my entire family, including my sister who is the director of the Division of Digestive Diseases right here at Emory.
What would you tell young students to encourage them as they pursue their science studies?
Hypotheses and experiments might not work for a reason. Don't get discouraged — keep steering toward the big question you are trying to answer. You are solving a big puzzle!
Finish this sentence: I'm proud to be a woman in science today because…
It's never too late to jump in even if you have had to take some time off to raise children and take care of family. Your ideas, passion and goals only get more focused.