September is Blood Cancer Awareness Month and The Leukemia & Lymphoma Society (LLS) is increasing awareness about the urgency to find cures for blood cancers – the third most common cancer killer in the U.S. Throughout the month, our blog series will focus on the three main types of blood cancers: leukemia, lymphoma and myeloma.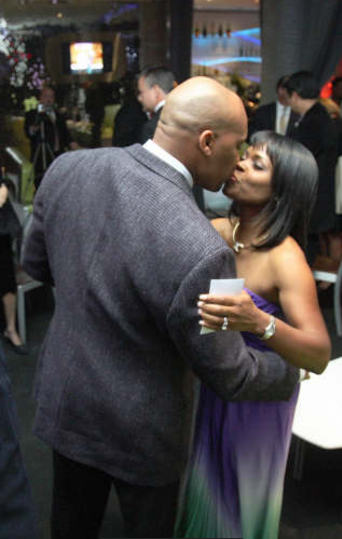 When Elijah was diagnosed with multiple myeloma in 2005, shortly after retiring from the Oakland Raiders, we were stunned. Neither of us had ever heard of it.
I searched online from his hospital room and what I read made no sense. How could my 35-year-old husband, who still looked like he could run out on to a football field in his pads and helmet, have a terminal blood cancer?
Life with multiple myeloma became an instant roller coaster. As his caregiver I knew it was my job to learn as much as possible about what we were facing, while trying to keep things normal for our two young sons.
He fought a good fight and stayed positive throughout his treatment. He epitomized living with cancer.
We lost him suddenly in 2010 and it was devastating. I held it together because I knew our boys needed me.
Even though I had to figure out how to navigate life without Elijah, one thing I knew for sure was that I wanted to stay connected with the multiple myeloma community to raise awareness, to help find a cure.
The advancements that have been made since I first learned of multiple myeloma have been incredible. I share our story as one of hope for those living with it now. New treatments options are promising and my fingers are crossed that they will lead to a cure, but I know continued research is critical.
The Leukemia & Lymphoma Society was a great resource for us during my husband's treatment, and because of their mission, getting involved with the organization just felt right.
Now that our sons are adults, the oldest is in college and the youngest plays baseball in the New York Yankees minor league system, I can focus even more of my efforts on educating others about multiple myeloma.
This is my way of keeping Elijah's memory alive. It's the least I could do.
Kimberly Alexander is the owner of KimCONNECTS, based in Dallas, Texas. She spends her time traveling the country speaking on issues related to multiple myeloma and co-hosts a radio show. She can be reached at: kim@kimconnects.com.
DID YOU KNOW?
1) Myeloma is a cancer of the plasma cells, a type of white blood cell.
2) Black Americans are twice as likely as white Americans to be diagnosed.
3) 110,345 people are living with or in remission from myeloma in the U.S.
4) 30,280 new cases are expected to be diagnosed in 2017.
5) Most people diagnosed are older than 50 years old.
For more information about myeloma, visit: www.lls.org/myeloma