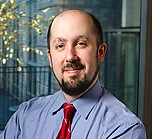 Matthew Matasar is a hematology and oncology specialist at Memorial Sloan-Kettering Cancer Center in New York City. He has a Translational Research Program grant through The Leukemia & Lymphoma Society and is investigating which Hodgkin lymphoma survivors are at greater risk for developing heart disease after receiving radiation therapy to the chest and what diagnostic tests are best.
What kind of research do you do?
There's been a lot of progress in the treatment of Hodgkin lymphoma, but the treatments we use to cure the disease can lead to health problems later in life. Think of giving treatment for the disease as tossing a rock into a pond from the shore. The rock sinks to the bottom quickly, but it can take a long time for the ripples to reach you at the shoreline. Late effects from treatment are like that – it can take years, or even decades, before they become apparent. But we know that patients who get certain treatments are at increased risk, statistically, for a range of potentially serious medical illnesses. My research focuses specifically on trying to better understand who is at greater risk for getting heart disease after radiation therapy to the chest and, more importantly, what are the best tests available at finding heart disease before actual damage to the heart has occurred.
What is novel and innovative about your approach?
Our study will bring in as many as 200 long-term survivors of Hodgkin lymphoma who received radiation therapy to the chest at our center, Memorial Sloan Kettering Cancer Center. This will be the largest study of adult survivors of Hodgkin lymphoma ever performed. What's more, we're limiting this work to patients who don't already have a diagnosis of heart disease. We're looking only at healthy patients, because we're interested in learning how to identify heart disease before heart damage occurs (seeing heart problems after the damage is done is, as you might imagine, much easier). All survivors will undergo two types of testing. First, a cardiac magnetic resonance imaging (cardiac MRI) both resting and after giving medicine to "stress" the heart, and second, an ultrasound of the heart (echocardiogram) both resting and after running on a treadmill.
How are Hodgkin lymphoma and heart disease linked?
Unfortunately, the most effective treatments that we have for the treatment of Hodgkin lymphoma – chemotherapy containing the drug doxorubicin, and radiation therapy – have the potential to damage the heart. Doxorubicin can lead to weakening of the heart muscle, or even congestive heart failure. And radiation therapy, when given to the middle of the chest, can damage the heart in a number of ways, increasing the chances of congestive heart failure, early hardening of the arteries or heart attack, damage to the valves of the heart, the lining of the heart, even increasing the risk of stroke.
What are you trying to learn about heart disease in HL survivors?
There are a few fundamental questions we expect this research to answer. First, we will be able to really describe the relationship in detail between exposure of the heart to radiation and risks of heart disease – because we've limited the work to only those patients who received radiation therapy at our center. We have detailed radiation treatment simulations, or "maps," that show which parts of the heart received radiation, and at what dose. Second, we'll be able to really fully explore these two cardiac tests – echocardiogram and cardiac MRI – that we believe are the two best heart tests we have. What can they really show us? How do the results of the two tests compare? Is an echocardiogram – a test that is easier to perform, and more widely available – enough to screen for heart disease, or does the cardiac MRI really add substantively to the screening process? And lastly, with cutting-edge MRI programming, we will be trying to gain some more fundamental insight into how the damage is occurring. MRI has the potential to show very early signs of fibrosis, or scarring, which is how many of us believe radiation leads to heart damage. It's possible that we'll see this evolution occurring in the survivors participating in this program.
How are you going about it?
We're inviting our Hodgkin survivors to come in and undergo these two screening tests, echocardiogram and cardiac MRI. Sounds easy, but in reality this requires a lot of work by a lot of people – staff to identify who these survivors are and tracking them down, staff to speak with potential participants to explain the research program and discuss the potential risks and benefits, staff to coordinate testing day visits, technicians and physicians to interpret the results, clinical trial staff to collect and store data, and so on. And of course, since these tests are not "standard," none of this work could be done without the support of The Leukemia and Lymphoma Society or the donors that support the Society!
How do you hope this research will change the outlook or treatment for people with lymphoma 10 or 20 years from now?
We continue to work at reducing the toxicity of our treatments – limiting the amount of chemotherapy given, reducing the number of patients treated with radiation, and being more nimble in determining how much treatment a patient needs, not just based on their diagnosis but by adjusting treatment plans based on how well treatments are working. But there are hundreds of thousands of Hodgkin survivors, and more every day, who may be at higher risk of heart disease. As we learn how better to screen for early signs of heart disease, and learn more about the mechanisms underlying the development of late cardiac toxicity, we'll be able to better safeguard the heart health of our survivors – and given that heart disease is the leading cause of death in patients with Hodgkin disease other than their lymphoma, that's a big deal.
Read Q&A's with other LLS-funded researchers here.