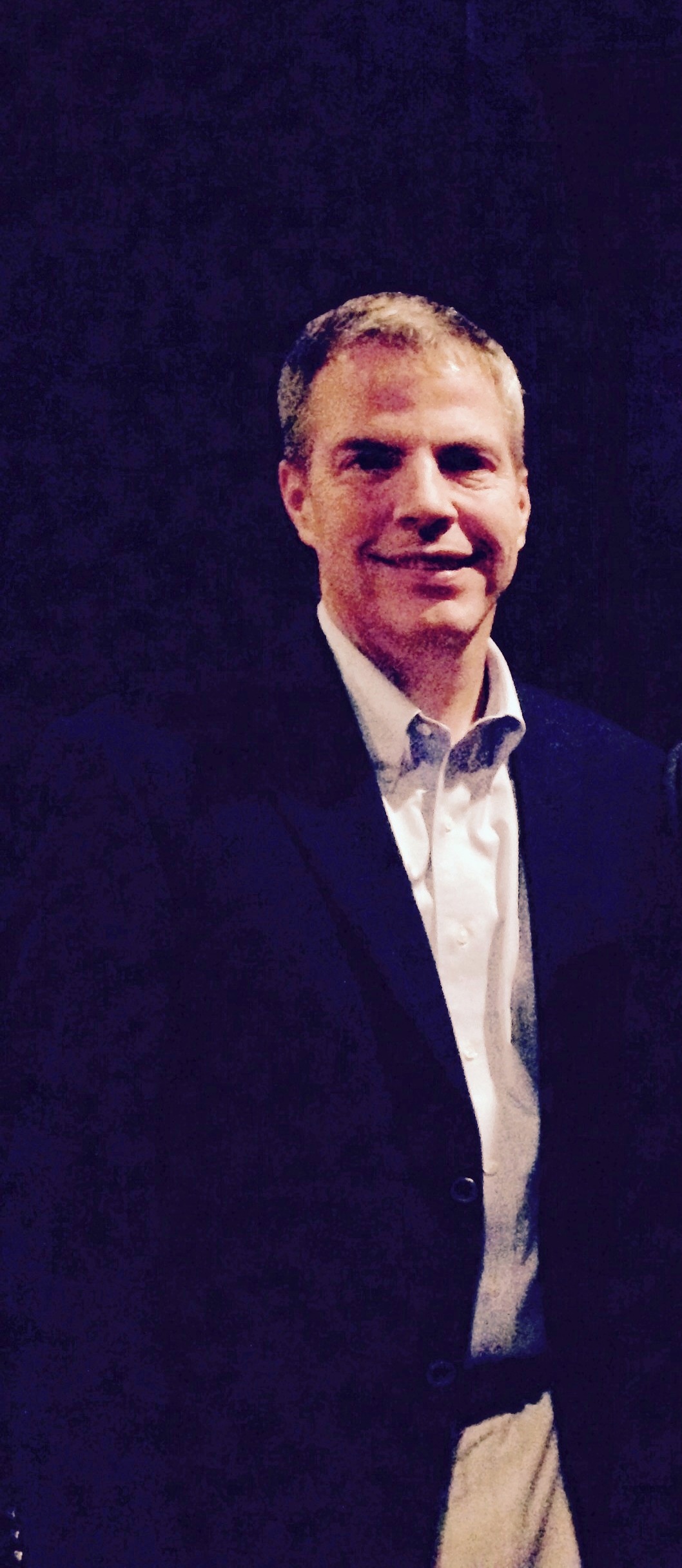 John Byrd, M.D., of the Ohio State University Comprehensive Cancer Center, is one of the world's renowned scientists in the field of blood cancer. LLS has been supporting his work for the better part of two decades. While Byrd has, of late, turned his attention to the problem of finding better therapies for patients with acute myeloid leukemia (AML), it is in chronic lymphocytic leukemia (CLL) that he has made his mark.
Byrd defined the mechanism of action in rituximab, the antibody that targets the CD20 protein expressed on the surface of B-cells. Rituximab was the first therapy to extend lives of patients with CLL. Further, Byrd led the Phase 3 clinical trial that led to the FDA approval in 2014 of ibrutinib, a therapy that targets the BTK protein found on the surface of B-cells. Ibrutinib has changed the standard of care for patients with CLL. Byrd currently leads an LLS Specialized Center of Research (SCOR) grant, a major collaborative effort bringing together an interdisciplinary team of investigators to undertake groundbreaking research.
In recognition of Dr. Byrd's seminal contributions to translational research over his career, the American Society of Hematology tomorrow will present him with the prestigious William Dameshek award, which recognizes outstanding achievement in hematology.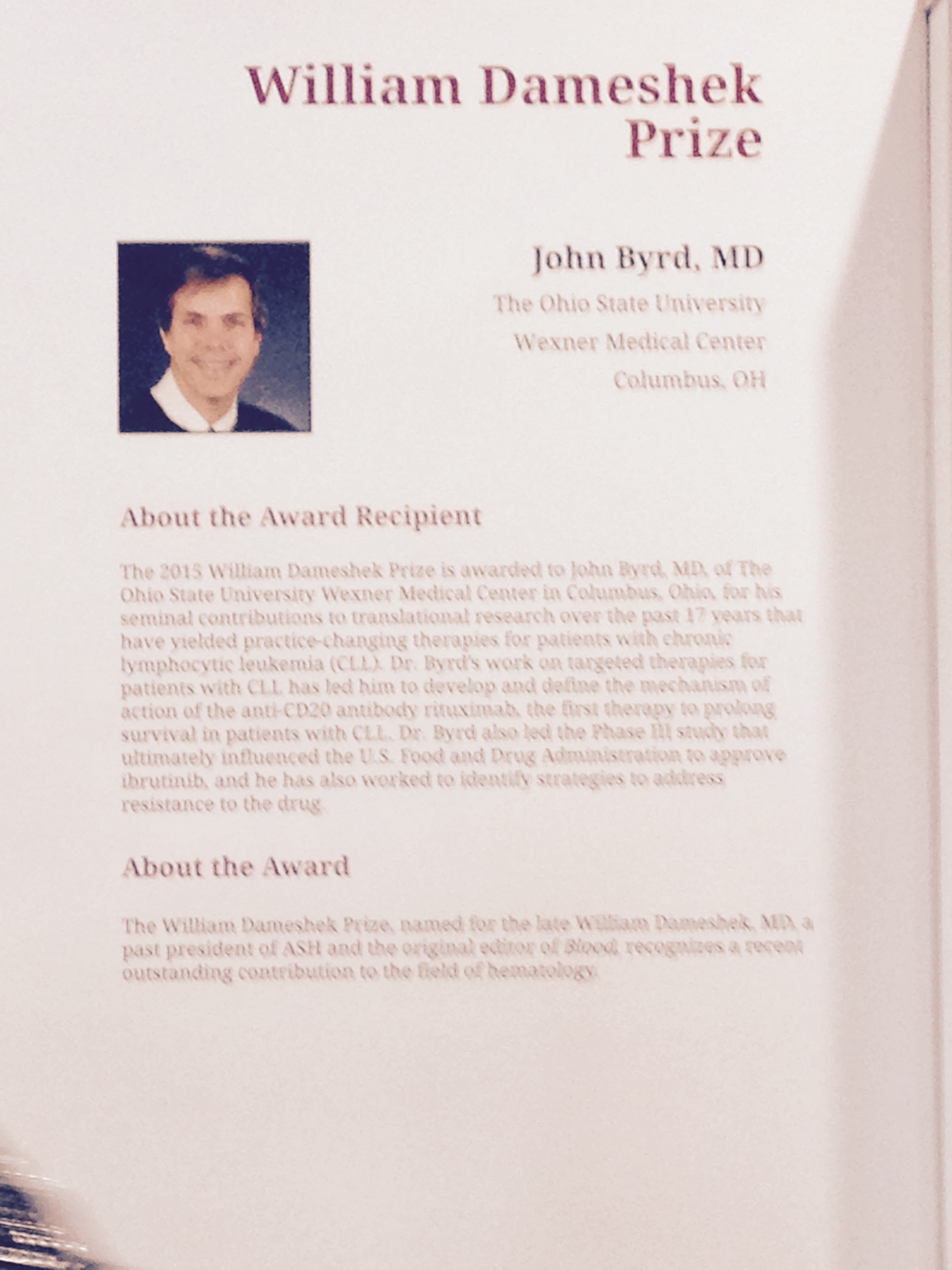 New Byrd Study
Today, on the third day of the American Society of Hematology (#ASH2015) Annual Meeting in Orlando, Byrd presented data on yet another investigational therapy for CLL. The drug, acalabrutinib (ACP-196), is a potent second-generation BTK inhibitor that appears to be even more effective and targeted than ibrutinib with less toxic side effects. The data was also published today in The New England Journal of Medicine (NEJM). The study can be viewed here. (Subscription required for full access).
The BTK protein plays a central role in sending growth signals to cells, so when BTK is inhibited the CLL cancer cells die. The Phase 1 and 2 data for ACP-196 shows that 95 percent of the patients in the trial – all relapsed CLL patients – responded to the drug. Some had complete responses, meaning they were in full remission, and some had partial response, meaning there was still some evidence of disease though it was much reduced.
More CLL Studies
Two other important studies focused on therapies for patients diagnosed with CLL were published in yesterday's issue of NEJM, both also featuring work supported by LLS.
Thomas Kipps, M.D., Ph.D., University of California San Diego, also the leader of an LLS SCOR, is one of the authors of one of these studies. His colleague, Jan. A. Burger, M.D., Ph.D., of MD Anderson Cancer Center, also an LLS-funded scholar, presented the data yesterday during the ASH meeting.
The Phase 3 study compares ibrutinib with a standard chemotherapy used to treat patients with CLL, chlorambucil, and finds ibrutinib to be far superior. The patients in the trial were all older adults (median age 73) who had not received any previous treatment for their cancer. The study found that the risk of progression of disease and the risk of death were both 84 percent lower with ibrutinib than with chlorambucil. The implication is that ibrutinib may replace chemotherapy as a first-line treatment for newly diagnosed CLL patients. The study is covered in this article by Alice Park in Time magazine. The NEJM article can be seen here. (Subscription required for full access).
And the other study published yesterday in NEJM was for a therapy called venetoclax, formerly known as ABT-199. Another LLS SCOR, this led by Jerry Adams, Ph.D., of Walter & Eliza Hall Institute of Medical Research (WEHI) in Australia, has supported this work. Adams' colleague, Andrew W. Roberts, Ph.D., of WEHI, was the lead author. Venetoclax targets the BCL2 protein, also central to the survival of CLL cells. In this study of relapsed CLL patients, 92 percent responded to the drug; 20 percent achieved a complete remission. The 15-month progression-free survival estimate for the 400-mg dose groups was 69 percent. Data regarding venetoclax has also been reported by Roberts' colleagues and others throughout the ASH meeting.
The NEJM article can be read here. (Subscription required for full access).