Targeting GCK as a novel and selective therapeutic strategy against RAS mutated Multiple Myeloma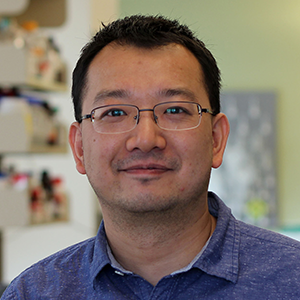 Shirong Li
PhD
Columbia University Medical Center
Project Term: July 1, 2023 - June 30, 2026
RAS/MAPK mutations are the key drivers in MM, which occurs in 50% of newly diagnosed and higher in relapsed MM patients. However, RAS remains undruggable in MM. We found that RAS mutation MM growth is highly dependent on germinal center kinase(GCK). The goal of this project is to develop small molecule inhibitors against GCK with the expected outcome to provide novel treatments for relapsed/refractory and especially multi-drug resistant MM with RAS mutation, as well as other B-cell malignancies.
Lay Abstract
"Multiple myeloma (MM) is an incurable plasma cell dyscrasia. Despite the newly approved drugs and the introduction of highly efficient monoclonal antibodies, all patients inevitably relapse and become resistant to the existing treatments. To overcome this hurdle, new approaches are urgently needed. Next-generation sequencing revealed that RAS/MAPK pathway mutations are the key drivers in MM, which are found in 50% of newly diagnosed MM patients, and even higher in relapsed/refractory patients. Most of the RAS/MAPK mutations occur in hotspots causing constitutive activation of the pathways, making the MAPK pathway an attractive therapeutic target in MM. Our work demonstrated that germinal center kinase (GCK) is highly expressed in RAS mutation myeloma cells, and plays a critical role in regulating MAPK signaling activation, myeloma cell growth, and survival. Inhibition or silencing of GCK induces cell death and apoptosis in RAS mutation MM cells in vitro and in vivo.
Moreover, GCK inhibition overcomes the drug resistance to Immunomodulatory Derivatives (IMiDs), which are the current backbone of MM therapy, therefore, it represents a highly attractive therapeutic approach for relapsed/refractory and especially drug-resistant MM. In this proposal, we will examine the mechanism of GCK inhibitors in MM killing, evaluate the pharmacokinetic property and the in vivo activities of the GCK inhibitors, as well as address the synergetic effects of IMiDs with the new generation of IMiDs and explore the feasibility of their combination as a personalized therapeutic strategy in RAS mutation MM. The success of this project will lay the groundwork for a personalized treatment approach based on specific RAS mutations for patients with MM as well as other B-cell malignancies."
Program
Translational Research Program
To All Projects