Predictors of response to therapy in A051902, a US Intergroup study of duvelisib+CHO(E)P vs CC-486+CHO(E)P vs CHO(E)P in peripheral T-cell lymphoma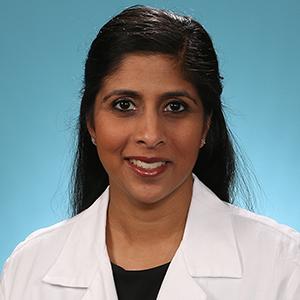 Neha Mehta-Shah
MD
Washington University School of Medicine in St. Louis
Project Term: July 1, 2022 - June 30, 2027
We are evaluating if adding duvelisib or azacitidine to standard chemotherapy increases the complete remission rate compared to chemotherapy alone in peripheral T-cell lymphoma. We believe that adding novel agents to chemotherapy will most benefit lymphomas with a T-follicular helper phenotype. We will also study if tests for lymphoma cells in the blood can predict outcomes. We hope these novel therapies will cure more patients and we can identify who is most likely to benefit from them.
Lay Abstract
Peripheral T-cell lymphomas (PTCL) are a rare group of non-Hodgkin lymphomas that are difficult to treat and treatment strategies have been adopted from B-cell lymphomas. There are multiple types of PTCL including one recently identified subgroup that originates from T-follicular helper (TFH) cells. Only 25-40% of patients with most types of PTCL are cured with initial therapy if they have low expression of the CD30 protein. Therefore, newer, potentially curative therapies for these T-cell lymphomas represent an unmet need.
Some novel therapies for PTCL have shown considerable promise for patients who were not cured with initial chemotherapy. In these patients, currently approved therapies only achieve remission in 20-30% of cases. One novel agent is an oral targeted therapy that blocks PI3-kinase called duvelisib. In relapsed PTCL, ~50% of patients respond to duvelisib including ~66% of patients PTCL of TFH origin. Azacitidine, which changes the way genes are expressed by cancer cells, has shown remissions in 75% of patients with PTCL originating from TFH cells. Therefore, we believe that adding these agents to standard chemotherapy (CHOP or CHOEP) can lead to a higher complete remission rate especially in lymphomas stemming from TFH cells.
Therefore, I am leading a US Intergroup Study to study whether the addition of either duvelisib or an oral form of azacitidine to standard chemotherapy improves the rate of achieving a complete remission in patients with previously untreated PTCL with low CD30 expression who are being treated for curative intent. This NIH/NCI funded study is the first US Intergroup study in this patient population and gives us an opportunity to improve outcomes in this rare and difficult to study disease.
We plan also to evaluate if the addition of either duvelisib or oral azacitidine to chemotherapy is more effective than standard therapy in patients who have lymphomas originating from the TFH cell. We will be evaluating this by using standard staining techniques (immunohistochemistry) as well as by genomic analysis with DNA and RNA sequencing.
Additionally, we know that the majority of patients with PTCL will relapse even if they achieve a complete remission on their scans following treatment. Better techniques are needed to understand who is most likely to be cured. Therefore, we will also be evaluating whether blood tests to look for circulating tumor DNA can help predict who is more likely to be cured from their lymphoma.
Program
Career Development Program
Grant Subprogram
Scholar in Clinical Research
To All Projects