Mosunetuzumab with lenalidomide augmentation as first-line therapy for patients with follicular and marginal zone lymphoma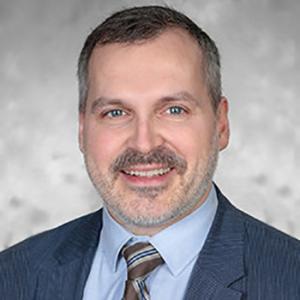 Adam Olszewski
MD
Rhode Island Hospital
Project Term: April 1, 2022 - March 31, 2027
Dr. Olszewski's trial will examine mosunetuzumab as a first-line treatment for follicular and marginal zone lymphomas—slow-growing types of B-cell lymphoma which remain incurable using current therapies. Mosunetuzumab is a "bispecific antibody" that can trigger an immune attack of patients' own cancer-killing T-cells against the lymphoma. Dr. Olszewski team will look for characteristics that predict complete responses when this novel immunotherapy is applied as first-line treatment.
Lay Abstract
Follicular lymphoma (FL) and marginal zone lymphoma (MZL) are 2 common types of non-Hodgkin lymphoma. These cancers grow slowly, they are usually diagnosed at an advanced stage, and are generally incurable. Because no curative treatment exists, patients are often observed without treatment until they develop symptoms. This "watchful waiting" approach is a source of anxiety. Treatment, when ultimately needed, involves chemotherapy that disrupts lifestyle or work and has significant side effects. Long-term immune damage from chemotherapy can also cause infections after treatment (shingles, pneumonia).
Recently, a new treatment approach for FL/MZL has been discovered: bispecific antibodies are drugs that stimulate the body's own immune system to attack the lymphoma. One such experimental drug, mosunetuzumab (which attaches simultaneously to the lymphoma B-cell and to the "immune killer" T-cell, triggering an immune attack against the cancer) has led to a complete response for 52% of patients whose FL was no longer responding to chemotherapy. This rate of complete response is remarkably as high as what is seen after standard first-line treatments. In this project, the researchers propose that treating patients with mosunetuzumab as first-line therapy (before any damage to the immune system) will provide even better results and might eradicate the disease altogether.
The researchers will conduct a phase 2 clinical trial in 3 centers in the US, in which 52 patients with previously untreated FL/MZL will receive mosunetuzumab injections for 6 months. Patients who do not achieve a complete response during the first 3 months will also receive low dose of lenalidomide—an oral drug that has activity against lymphoma and can boost the body's immune response. This study is designed to minimize adverse effects and length of therapy—without interrupting work or lifestyle for patients. The researchers will also study the patients' immune system and monitor the amount of lymphoma in the body using a new method (DNA in blood samples) to discover which patients benefit most from the new immunotherapy. The trial aims to show that 70% of patients will achieve complete response to treatment. Achieving this may change the way newly diagnosed patients with FL/MZL are managed, offering possibly the first curative therapy with relatively few side effects. It will also help us focus future research on patients whose cancer is most amenable to treatment with immune-stimulating drugs.
Program
Career Development Program
Grant Subprogram
Scholar in Clinical Research
To All Projects