Celebrating Survivorship: Dr. Larry Saltzman
I am a 66 year old Family Practice physician who was diagnosed with CLL/SLL in January 2010 and given an 8-year survival prognosis based on my genetic and chromosome mutations. I was initially treated with 6-months of chemotherapy from July to December 2013. I relapsed one year later and was placed on Ibrutinib although due to a bowel obstruction caused by my enlarged
lymph nodes I required surgery in October 2015 to remove the right side of my colon. I began a clinical trial of Venclexta in January 2016 that failed within 6 months. In consultation with my Oncologist I began a combination of both Ibrutinib and Venclexta.This held me in remission for 3-years. I relapsed this past July, 2019, and since then have had local radiation as well as CAR T therapy.
I have been active in Team in Training and have run the Boston Marathon 3 times from 2012-2014, including the year of the bombing in 2013, raising over $200,000 for LLS.
At the moment, I am not running, cycling, swimming, or climbing a mountain. Having said that I am living, breathing, and recovering from my last leukemia treatment.
This past August 2019 I was preparing to enter a clinical trial for Chimeric Antigen Receptor T-cell therapy – a means to reprogram my white blood cells to eviscerate my cancer cells. That treatment was administered on December 19, 2019. To get to that point and thereafter is not a pretty story. When I arrived in Seattle at the Fred Hutchinson-Seattle Cancer Care Alliance in October 2019, as fate would have it, my leukemia had relapsed like a wildfire. I was in deep trouble and because the leukemia had taken up 75% of my bone marrow, I could not immediately have the CAR T therapy. My clinicians would not take no for an answer and for two months they threw everything at me, a virtual kitchen sink of chemotherapies to smolder the embers. My course was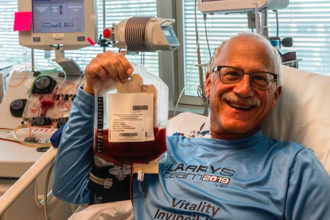 like threading a needle. Sometimes, threading a needle is no problem depending on the width of the thread and the opening of the eye of the needle. In my case consider the thread was thick and the eye was miniscule. So, after months of treatment, three hospitalizations, liver and kidney failure, fungal pneumonia, blood and platelet transfusions too many to count, the "eye" opened a bit and the CAR T cells were infused. From that point it was another two months of side effects, cytokine release syndrome (similar to what is now described in Covid), 15 pounds of water retention, abnormal heart rhythm – atrial fibrillation – more transfusions, and lastly one of the scariest side effects, neurotoxicity where I lost my ability to form intelligible words along with extremity tremors. 
Currently, I am writing from the safety of our home in Sacramento. Sheltered in place as most of us are. We have been actually living this sheltered way since last October although it is scarier now since my immunity is zilch. After our return I continued to have blood transfusions and weekly blood testing. I am getting stronger and take daily walks. I am happy to be alive.
My survival is in large part due to the efforts of the Leukemia & Lymphoma Society (LLS). They have had a major role in research and development of all the drug regimens I have been on the last 10 years, extending my 8-year initial survival prognosis to 10 years and counting. CAR T is the latest example of the amazing support they have provided for innovative treatments.