All About "The 100 Days Agenda: A Patient-First Blueprint"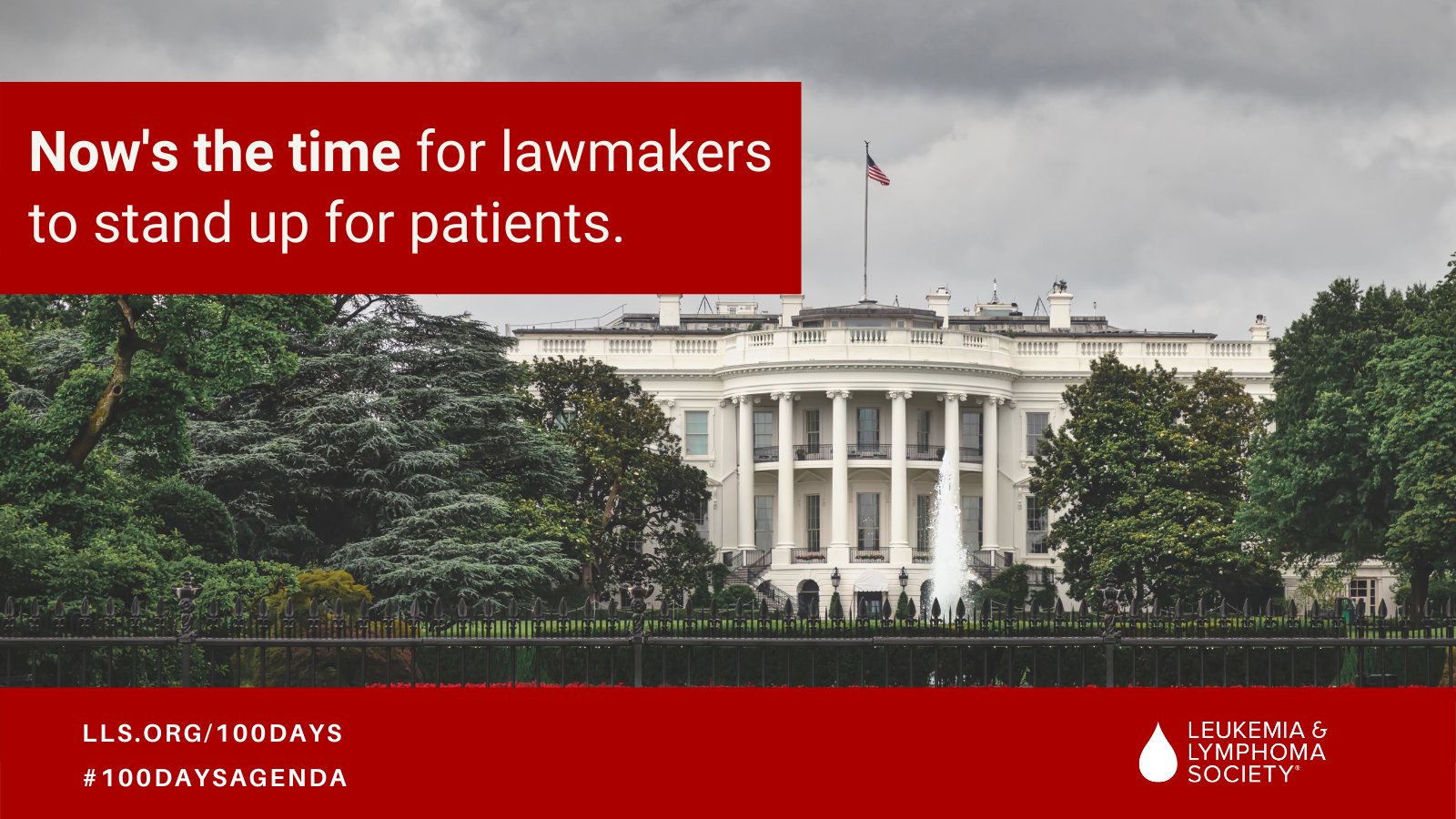 The whole world can change in 100 days. 
We learned that lesson painfully in early 2020. But what if something positive could happen just as quickly? 
This week, we're sharing one of our most ambitious policy efforts yet. We call it "The 100 Days Agenda: A Patient-First Blueprint."  It's our step-by-step guide for public officials that describes how all three branches of government can quickly begin to improve patients' access to quality, affordable healthcare in the new year.  
We're proud that 33 patient organizations, representing millions of people, have signed on to this LLS-led effort. We encourage you to tell everyone in the LLS community about this vital work and point them to www.lls.org/100DAYS to learn more. Never before have patient organizations come together with such a powerful, unified voice. Our patient community is a powerful force that can encourage lawmakers to do what's right for patients.  
Inauguration Day – when Donald Trump's second term or Joe Biden's first term officially begins – is Jan. 20. LLS has already shared our plan with both campaigns. We need whoever wins, including members of Congress and state lawmakers nationwide, to work with us to immediately begin the work of improving patients' lives. 
Our blueprint offers 29 specific steps lawmakers can begin implementing right away. Broadly speaking, the plan highlights six big priorities: 
Ensuring affordability 
Protecting patients from substandard health plans 
Expanding and protecting Medicaid 
Promoting access to high-quality insurance 
Standing up for patients in the courts 
Protecting patients from surprise medical bills 
Click here to join our advocate network and learn how you can share this important information with your representatives through an email, phone call or social media post.  
But why, you may wonder, 100 days? 
For decades, lawmakers have touted what they aim to accomplish in their "first 100 days in office." It's a period when new presidents and a new Congress can ride the wave of voter support that propelled them into office, and leverage it into real policies that reflect the will of those voters.  
The concept was pioneered by Franklin D. Roosevelt, who signed 15 pieces of major legislation after taking office in 1933 as the country faced the Great Depression.   
Today, many of us feel the same sense of worry that Americans felt back then. Millions have lost their jobs and their health insurance. And patients face the very real threat of losing the protections they've counted on for years.  
Through the 100 Days Agenda, LLS is serving as an important voice in Washington D.C. and state capitals nationwide. Together, we're proud to be working with the entire blood cancer community towards policies that better serve all patients.