X4 Pharmaceuticals Completes Enrollment in Phase 3 Mavorixafor Trial in Patients with WHIM Syndrome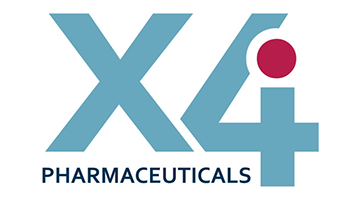 BOSTON, Oct. 04, 2021 - X4 Pharmaceuticals, Inc. (Nasdaq: XFOR), a leader in the discovery and development of novel CXCR4-targeted small molecule therapeutics to benefit patients with diseases of the immune system, announced today that it has completed enrollment in the ongoing pivotal Phase 3 clinical trial of its lead candidate, mavorixafor, in the treatment of patients with genetically confirmed WHIM (warts, hypogammaglobulinemia, infections, and myelokathexis) syndrome, a primary immunodeficiency caused by gain-of-function mutations in the CXCR4 gene. Thirty-one adult and pediatric patients have enrolled in the 4WHIM trial, which compares a once-daily, oral dose of mavorixafor to placebo across primary and secondary endpoints that include clinically relevant counts of neutrophils and lymphocytes, the frequency and severity of both infections and warts, as well as certain quality of life measurements. 
Top-line data from the 4WHIM trial is expected in the fourth quarter of 2022, and a possible regulatory filing in the first quarter of 2023.
The efficacy and safety of mavorixafor is also being evaluated in a Phase 1b clinical trial – in combination with ibrutinib in patients with Waldenström's macroglobulinemia in partnership with LLS TAP.