The Academic Concierge Division capitalizes on LLS's academic grant-supported portfolio of development-stage projects. This division supports the further development of selected academic projects (with or without prior LLS grant support) to gain clinical proof of concept. Successful projects will potentially be advanced for further clinical development by creating additional partnerships with pharmaceutical or biotechnology companies.
TAP funding is different from the traditional grant at LLS. The TAP review process is separate from the grant process and each approved project is closely monitored by TAP staff.
For information on how to apply to TAP, please click here.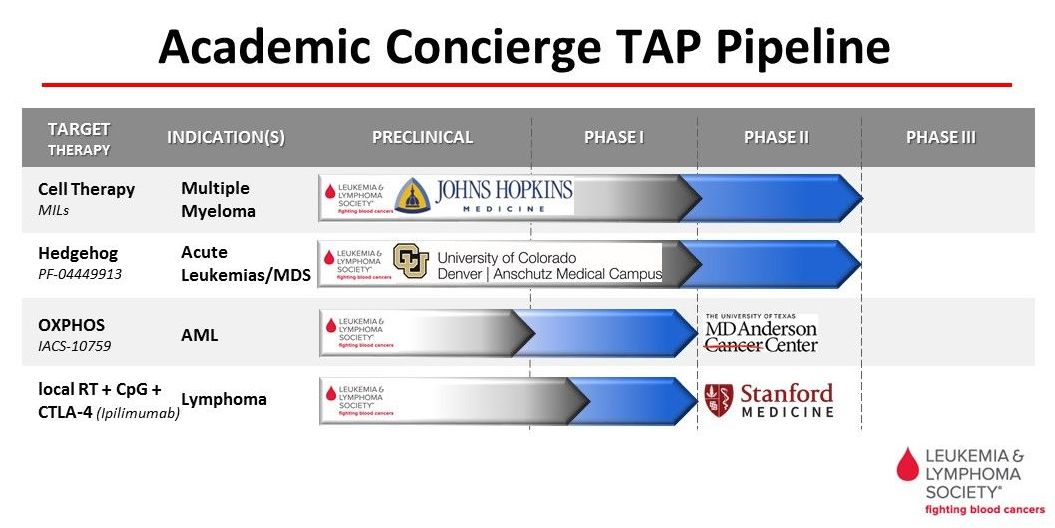 Clinical Studies Ongoing
Johns Hopkins University and The Leukemia & Lymphoma Society
Randomized Phase II Study of Autologous Stem Cell Transplantation With Tadalafil and Lenalidomide Maintenance With or Without Activated Marrow Infiltrating Lymphocytes (MILs) in High Risk Myeloma
This research is being done to find out if altering the immune system by giving activated marrow-infiltrating lymphocytes (aMILs) and Tadalafil can improve outcomes for high risk multiple myeloma patients who receive a standard autologous stem cell transplant.
ClinicalTrials.gov identifier: NCT01858558
For more information contact:
Ivan Borrello
Sidney Kimmel Comprehensive Cancer Center at Johns Hopkins
Baltimore, Maryland, 21231
(410) 955-4967
iborrell@jhmi.edu
Visit the Johns Hopkins University website for additional information.
University of Colorado and The Leukemia & Lymphoma Society
A Phase 2 Study of PF-04449913 for the Treatment of Acute Leukemia Patients With High Risk of Post-Allogeneic Stem Cell Transplantation Relapse
Disease relapse is the most common cause of death after allogeneic stem cell transplantation for acute leukemia. Patients at high risk for relapse may benefit from a novel, biologically rational therapeutic intervention to prevent this outcome. PF-04449913 is a small molecule inhibitor of the hedgehog (Hh) pathway that inhibits the protein Smoothened (SMO). Aberrant Hh signaling may contribute to the survival and expansion of the leukemia stem cell, and inhibiting the Hh pathway can eliminate these cells. Therefore, targeting Hh may be a logical intervention in the post-transplantation setting for those with high risk of relapse.
This is an open label, phase 2 study employing PF-04449913 in acute leukemia patients who received allogeneic stem cell transplantation and are at high risk of relapse. Patients will receive consecutive 28-day cycles of PF-04449913 at 100 mg/day, beginning on post-transplantation day 80 /- 10 days, after their routine post-transplant bone marrow biopsy. Treatment will continue for up to one year or until they experience toxicity or disease relapse.
ClinicalTrials.gov identifier: NCT01841333
For more information contact:
Nicole Ayodeji
University of Colorado Cancer Center
Aurora, Colorado, 80045
(720) 848-0701
Nikki.Ayodeji@ucdenver.edu
Visit the University of Colorado website for additional information.
MD Anderson and The Leukemia & Lymphoma Society
Phase 1 Study of IACS-010759 in Subjects With Relapsed or Refractory Acute Myeloid Leukemia
This clinical research study has 2 parts: dose escalation and dose expansion. The goal of dose escalation in this clinical research study is to find the best dose of IACS-010759 that can be given to patients with relapsed or refractory AML. The goal of dose expansion in this clinical research study is to learn if the dose of IACS-010759 found in the dose escalation part of the study is the best dose to use in future studies using IACS-010759 in patients with AML. The safety and tolerability of this drug will also be studied. This is the first study using IACS-010759 in humans.
ClinicalTrials.gov identifier: NCT02882321
For more information contact:
Marina Konopleva, MD, PHD
University of Texas MD Anderson Cancer Center
Houston, Texas, 77030
(713) 794-1628
Visit the MD Anderson website for additional information.
Stanford University and The Leukemia & Lymphoma Society
A Phase I/II Study of Intratumoral Injection of SD-101, an Immunostimulatory CpG, and Intratumoral Injection of Ipilimumab, an Anti-CTLA4 Monoclonal Antibody, in Combination With Local Radiation in Low-Grade B-Cell Lymphomas
This phase I/II trial studies the side effects and best dose of ipilimumab in combination with toll-like receptor 9 (TLR9) agonist SD-101 and radiation therapy in treating patients with low-grade B-cell lymphoma that has returned. Monoclonal antibodies, such as ipilimumab, may block cancer growth in different ways by targeting certain cells. Biological therapies, such as TLR9 agonist SD-101, use substances made from living organisms that may stimulate or suppress the immune system in different ways and stop cancer cells from growing. Radiation therapy uses high energy x-rays to kill cancer cells and shrink tumors. Giving ipilimumab in combination with TLR9 agonist SD-101 and radiation therapy may be a better treatment for B-cell lymphoma.
ClinicalTrials.gov identifier: NCT02254772
For more information contact:
Kathleen McDonald
Stanford University Hospitals and Clinics Recruiting
Stanford, California, 94305
650-725-8589
kmcdonal@stanford.edu
Principal Investigator: Ronald Levy
Visit the Stanford University website for additional information.
Other Active Programs
None
Criteria/How to Apply
If you'd like your organization to be considered for TAP funding, you must meet the following criteria:
Your organization must have active proprietary projects in the blood cancer field.

Your project must be at a late preclinical or an early clinical development stage.

The compounds, biologics or diagnostics in development must have a high, near-term probability of providing benefits to patients.
The funding TAP provides is not a grant.
LLS's TAP team reviews all organizations that make an inquiry but will only invite those deemed to meet diligence criteria to complete a proposal template and be considered for TAP funding.
To submit an inquiry for initial non-confidential review, contact Dr. Jun Xu, Executive Director, Therapy Acceleration Program®, The Leukemia & Lymphoma Society, 3 International Drive, Suite 200, Rye Brook, NY 10573; jun.xu@lls.org.