LLS Introduces Random Acts of Light
Celebrities Surprise Their Biggest Fans Who Have Been Touched by Blood Cancers


The Leukemia & Lymphoma Society® Introduces Random Acts of Light To Help Bring Moments of Light To Darkness of Cancer
Celebrities Surprise Their Biggest Fans Who Have Been Touched by Blood Cancers
Rye Brook, NY (October 6, 2016) – Today, The Leukemia & Lymphoma Society (LLS) is introducing Random Acts of Light, a new initiative to support its powerful and unique fundraising campaign, Light The Night® (www.LightTheNight.org).
This fall, celebrities will surprise people touched by blood cancers with special surprise meetings – Random Acts of Light – to bring light to the darkness of cancer and create awareness for the critical need to find new treatments and cures for blood cancer patients.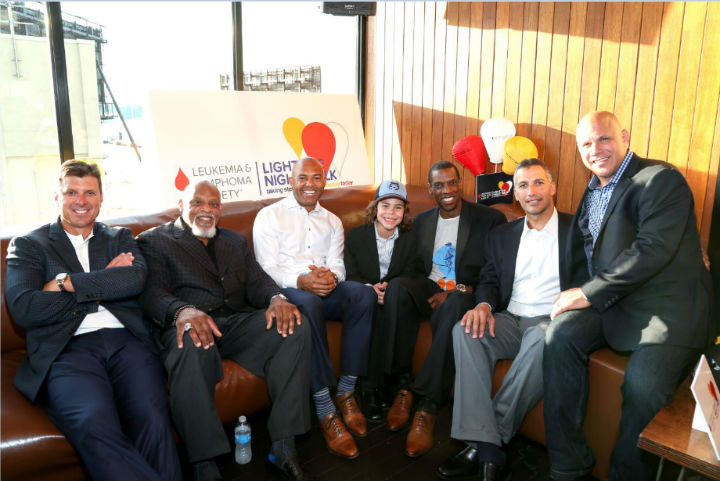 As the first Random Act of Light for the 2016 Light The Night fundraising campaign season, LLS surprised Quinton Ward, an 11-year-old cancer survivor who was diagnosed with Stage 3 lymphoblastic lymphoma at age seven, with a once-in-a-lifetime visit with his heroes, Yankees greats Mariano Rivera, Tino Martinez, Andy Pettitte, Dwight Gooden, Jim Leyritz and Cecil Fielder at the recent Dynasty Event hosted by Steiner Sports in New York City.
"When you or someone you love hear the words, 'you have cancer,' it's a very dark moment," said Louis J. DeGennaro, Ph.D., LLS President and Chief Executive Officer. "Our iconic Light The Night campaign is the perfect platform for Random Acts of Light, as it creates moments of light and hope for those dealing with cancer, and reinforces the urgent need to raise more funds to fight cancer."
Light The Night has helped LLS invest more than $1 billion in research to advance lifesaving treatments and cures. As the world's largest voluntary health organization dedicated to fighting cancers, LLS provides free education and support to patients and families. As well, LLS advocates in Washington, DC, and across the country for legislation to ensure that patients have access to the treatments they need.
More than 175 Light The Night Walks take place across North America each fall; Walk participants carry illuminated lanterns – white in honor of survivors and the power of research, red in support of patients and finding cures, and yellow in remembrance of those who have been lost.
Light The Night Walks bring together people from different walks of life because blood cancers affect all kinds of people. Blood cancers can affect family, friends, co-workers and even people in the spotlight, who often seem bigger than life. Some of these notables turn out to be LLS's biggest supporters, like "Nashville" star Charles Esten.
"When my daughter Addie was diagnosed with leukemia at age two and a half, it was a very dark time for my family," said Charles Esten, National Light The Night Walk Honorary Chair. "The moments of hope and light provided by The Leukemia & Lymphoma Society gave us the strength and support to fight, and we hope to bring those meaningful moments to others touched by cancer through Random Acts of Light." 
This year, LLS will bring moments of light to those touched by blood cancers by conducting Random Acts of Light timed to designated Light The Night Walks, in Long Island, New York, San Diego and Silicon Valley, California, and Atlanta, Georgia.
For more information on LLS visit www.lls.org.
About The Leukemia & Lymphoma Society
The Leukemia & Lymphoma Society® (LLS) is the world's largest voluntary health agency dedicated to blood cancer. The LLS mission: Cure leukemia, lymphoma, multiple myeloma, and improve the quality of life of patients and their families. LLS funds lifesaving blood cancer research around the world, provides free information and support services, and is the voice for all blood cancer patients seeking access to quality, affordable, coordinated care.
Founded in 1949 and headquartered in Rye Brook, NY, LLS has chapters throughout the United States and Canada. To learn more, visit www.LLS.org. Patients should contact the Information Resource Center at (800) 955-4572, Monday through Friday, 9 a.m. to 9 p.m. ET.