LLS-Funded Groundbreaking Immunotherapy Receives Initial Approval at FDA
A new kind of cancer treatment that uses genetically engineered cells from a patient's immune system to attack their cancer easily cleared a crucial hurdle Wednesday.
A Food and Drug Administration advisory committee unanimously recommended that the agency approve this "living drug" approach for children and young adults who are fighting a common form of leukemia. The agency doesn't have to follow the committee's recommendation but usually does.
The treatment takes cells from a patient's body, modifies the genes, and then reinfuses those modified cells back into the person who has cancer. If the agency approves, it would mark the first time the FDA has approved anything considered to be a "gene therapy product." Read more about this exciting news!
Read about LLS's multi-million investment in the development in this therapy in an article by Chief Medical Officer Dr. Gwen Nichols.
Watch Fire with Fire (4 minutes) for a powerful explanation of this therapy and its promise.
---
LLS Highlights Significant Advances in Research and Treatments That Improve Survival Rates and Quality of Life in Its New "Report to the Nation: Leading the Way to Cancer Cures"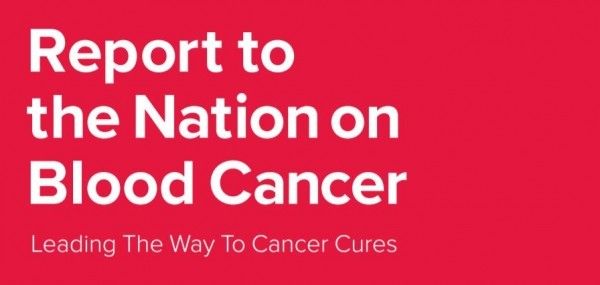 The nation's leading experts on blood cancers and healthcare policy convened in early May in Washington, D.C. to discuss the ever-increasing cost barriers that patients and their families face to access high-quality care, as well as discuss cutting-edge blood cancer research and treatments. The event was organized by The Leukemia & Lymphoma Society (LLS), the world's largest voluntary health organization dedicated to funding research, finding cures and ensuring access to treatments for blood cancer patients.
In conjunction with the event, LLS issued its Report to the Nation: Leading the Way to Cancer Cures, a comprehensive overview on the major scientific, treatment and policy advances of the last 68 years that have impacted blood cancer patients, including new treatments—many funded through LLS's support—that are now helping patients with other cancers and chronic diseases.
"One of LLS's differentiating strengths is our ability to bring together all the stakeholders in the cancer ecosystem to ensure patients have access to the latest and most effective therapies," said Louis J. DeGennaro, Ph.D., LLS president and CEO. "We are seeing remarkable advances in the fight against cancer, and we believe that it is through collaboration that we will achieve our goal of a world without cancer." Continue reading
---
Precision Medicine and Cancer's Past and Future – a Peek Inside the American Society of Clinical Oncology Meeting

The annual American Society of Clinical Oncology (#ASCO17) meeting drew a multinational gathering of more than 38,000 cancer researchers, clinicians, patient advocates, and pharmaceutical and biotechnology companies to Chicago in early June to share the latest advances in cancer care.
As has been the case in recent years at these major cancer conferences, the emphasis has been on emerging approaches to immunotherapy, which are therapies that harness the body's immune system to fight cancer, and precision medicine, which are therapies that target the genetic drivers of the disease. While much of the focus of this meeting is on solid tumor cancers, such as lung, breast and colon cancer, there has also been news of interest in the blood cancers.
The big news of the day on Saturday was from several remarkable clinical trials that reinforce the concept of precision medicine. Precision medicine is when a patient is treated with a targeted therapy based on their specific genetic profile. Continue reading
---
Majority of 26,000 Calls to LLS Reflect Patient Financial Stress

The rising cost of treatment and care for blood cancer patients has reached a boiling point, with an increasing number of patients foregoing their medications or reducing the dosage or frequency of their doctor‐prescribed treatments solely for cost reasons. In 2016, LLS's free Information Resource Center received more than 26,000 calls from patients and families – the majority included concerns about financial stress and difficulties accessing treatment.
The cost of cancer care has been steadily rising and patients are bearing more of the financial burden, paying increasingly larger portions out of their own pockets for their care. These rising costs are found in every element of cancer care: hospitalizations, diagnostic testing, co‐pays and co‐insurance, and the exponentially‐increasing prices of specialty drugs. All indications suggest that these costs will only continue to escalate under present conditions. In fact, the U.S. will spend $158 – $173 billion each year on cancer care by 2020 – a 27 percent to 39 percent increase since 2010.
"One of the worst side effects of fighting cancer is the cost of care, and that situation is quickly deteriorating" said Louis J. DeGennaro, Ph.D., LLS president and CEO. "LLS is on the frontlines of the battle against blood cancers and we are alarmed by the stories that patients and their families are sharing with us about their struggles to access affordable, high‐quality and stable care. We can no longer just quietly advocate on behalf of the blood cancer community – we need to take bold action and call on all stakeholders in the cancer ecosystem to ensure that patients are not the only ones who are shouldering the rising cost of cancer care."
LLS unveiled today a new public position statement and policy recommendations related to the cost of cancer care, grounded in the principle that patients must have guaranteed access to high‐quality, affordable and stable care. LLS is directly calling on every player in the healthcare system – from patient organizations, drug, device and diagnostic manufacturers, to insurers and pharmacy benefit managers, healthcare providers, hospitals, and state and federal governments – to put patients first by enacting new reforms and lowering overall costs and financial distress for cancer patients. Continue reading
Read more about the cost of cancer care, our position statement, and policy recommendations.