Winship Joins The Leukemia & Lymphoma Society's Innovative Clinical Trial
Emory Winship Cancer Institute is one of the latest major cancer research institutions to join The Leukemia & Lymphoma Society's Beat AML Master Clinical Trial, a paradigm-shifting collaboration to bring precision medicine to patients with acute myeloid leukemia.
The Beat AML Master Clinical Trial is the first precision-medicine clinical trial for a blood cancer, in which multiple therapies are being tested simultaneously against multiple subtypes of acute myeloid leukemia, one of the most deadly forms of blood cancer.
The master trial, launched by The Leukemia & Lymphoma Society (LLS) in 2016, is now enrolling patients at 12 cancer centers around the United States.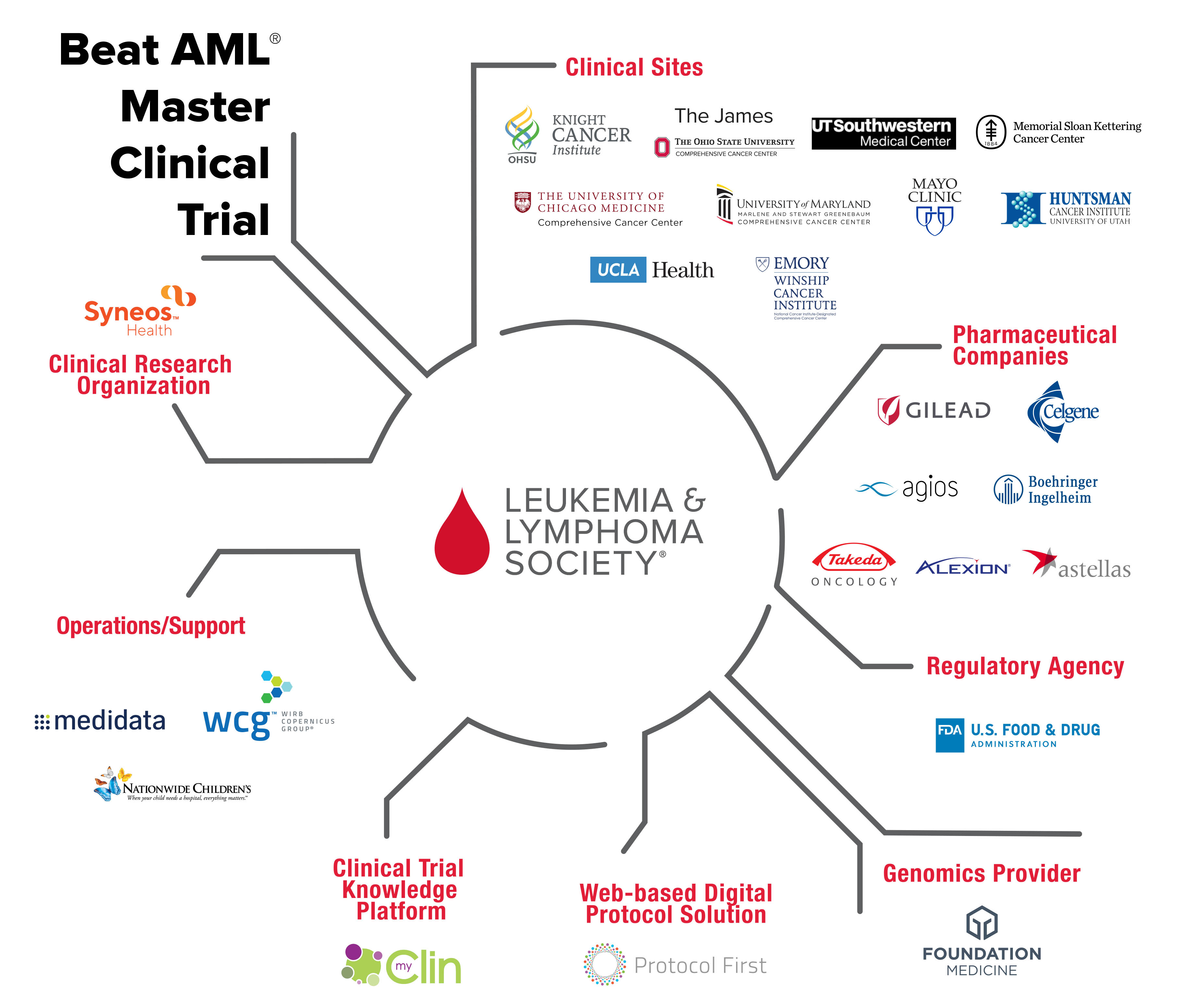 The need is urgent
For more than 40 years, there has been little progress in treating patients with AML, despite major advances in science and medicine for other types of blood cancers. More than 21,000 patients are diagnosed with AML in the United States each year, and the standard therapy has remained virtually unchanged: a combination of chemotherapy and for some patients, a stem cell transplant. But many patients, particularly those over the age of 60, cannot tolerate the harsh chemo and stem cell transplant regimen.
Through the Beat AML Master Clinical Trial, LLS and its collaborators at cancer centers, pharmaceutical companies and the U.S. Food and Drug Administration, have undertaken an ambitious offensive against this deadly disease. This unprecedented collaboration is accelerating the development of new targeted treatments and to date has enrolled more than 300 patients. Patients who are newly diagnosed and 60 and older are eligible for the trial. Patients are screened for genetic changes or mutations driving the disease and then assigned to the best therapy based on their genetic profiles. There are currently ten different study arms, each treating patients with a specific genetic mutation.
The Emory Beat AML program will be led by William Blum, M.D.
"For too long we've treated AML as a one-size-fits-all disease when it is really a much more complex grouping of multiple subtypes of blood cancer, and this trial sets out to change that paradigm," said Louis J. DeGennaro, Ph.D, LLS's president and CEO. "Our goal with this innovative trial is to deliver the right drug to the right patient at the right time, and we're encouraged by the progress we've seen in the past year. The addition of a prestigious institution such as Emory's Winship Cancer Institute will help us deliver critical help to patients who urgently need better options, now."
The following centers are currently enrolling patients:
Huntsman Cancer Institute at University of Utah
Memorial Sloan Kettering Cancer Center
The Ohio State University Comprehensive Cancer Center
Knight Cancer Institute at Oregon Health and Science University
University of Texas Southwestern Medical Center
The University of Chicago Medicine Comprehensive Cancer Center
University of Maryland Marlene and Steward Greenbaum Comprehensive Cancer Center
Mayo Clinical (Phoenix, AZ; Jacksonville, FL; Rochester, MN)
UCLA Health
Winship Cancer Institute of Emory University