Winship Joins The Leukemia & Lymphoma Society's Innovative Clinical Trial
Emory Winship Cancer Institute is one of the latest major cancer research institutions to join The Leukemia & Lymphoma Society's Beat AML Master Clinical Trial, a paradigm-shifting collaboration to bring precision medicine to patients with acute myeloid leukemia.
The Beat AML Master Clinical Trial is the first precision-medicine clinical trial for a blood cancer, in which multiple therapies are being tested simultaneously against multiple subtypes of acute myeloid leukemia, one of the most deadly forms of blood cancer.
The master trial, launched by The Leukemia & Lymphoma Society (LLS) in 2016, has enrolled more than 400 patients in over 10 study arms at more than a dozen prestigious cancer centers across the country. More than six pharmaceutical companies are providing their innovative investigational therapies. The trial continues to gain momentum, with the goal of enrolling 1,000 patients at 15-20 cancer centers.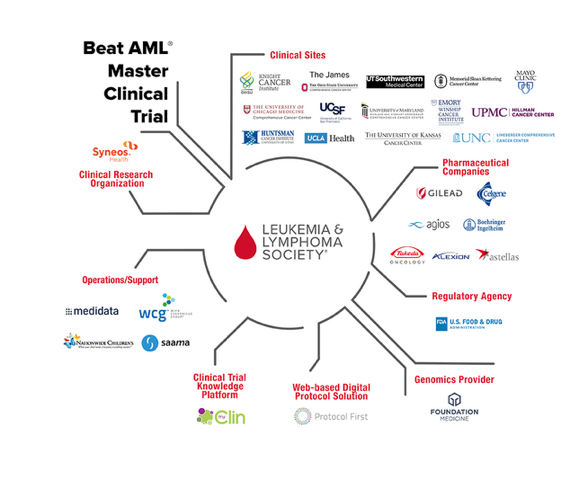 LLS is leading the charge against AML.
LLS is bringing together the best and brightest minds across the cancer ecosystem, including three world-renowned scientists who are leading the trial: Brian Druker, MD, The Knight Cancer Institute at Oregon Health & Science University; John Byrd, MD, The Ohio State University Comprehensive Cancer Center; and Ross Levine, MD, Sloan Kettering Cancer Center. Additionally, multiple pharmaceutical companies, prominent scientists at top cancer centers, several technology companies and the FDA join us in a shared commitment to bring the promise of precision medicine to AML patients.